Due to an influx of spam accounts getting through and joining the site, user registrations have once again been disabled until further notice as we work on a different solution.
KARA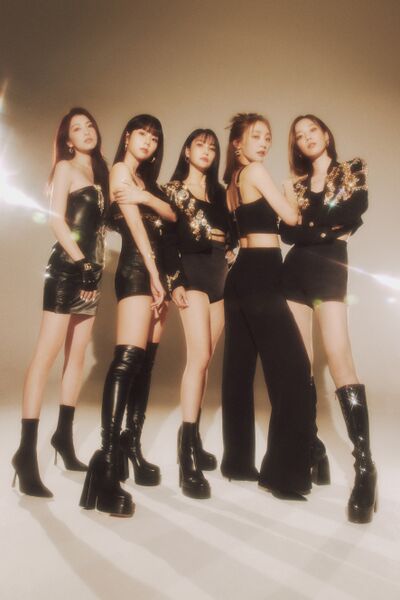 KARA (카라) was a Korean pop girl group formed by DSP Entertainment. They were originally a four member group where they were marketed as the second Fin.K.L, however Sunghee withdrew from the group and was replaced with Jiyoung and Hara. They became well known for the "butt dance", which was a part of their "Mister" choreography, and their hit songs "Honey" and "Pretty Girl". In 2010 they changed to a darker concept with their hit song "Lupin". In Japan, they were signed under Universal Music Japan's EMI Music Japan.
On January 2011, it was stated that four KARA members (all minus Gyuri) filled a lawsuit to terminate their exclusive contracts with DSP Entertainment. However, it was later revealed that Hara decided not to join Seungyeon, Nicole and Jiyoung in terminating her contract. Due the conflict DSP Entertainment suspended any Korean group activities as they declared they will no longer be managing the three members. On the following days reports about the five members and DSP Entertainment meetings surfaced, however the company has not yet released an official statement about a possible agreement.
In October, it was announced that Nicole will depart from the group. She left the group in January 16, 2014, when her contract with DSP expired. Following Nicole's departure, Jiyoung also stated she will not renew her contract, which expired in April 5, 2014. They added a new member through the reality show KARA Project in July 1st, Youngji.
Speculations of the group's disbandment started in January 2016, saying that Gyuri, Seungyeon and Hara would not resign their contracts with DSP. This information was later confirmed by the agency in January 15, followed by the expiration of their contracts. The only member left, Youngji, remained on the agency due to her contract being different than the other members.
After multiple discussions of a reunion over the years, a 15th anniversary album was confirmed on September 19th, for November 2022, with members Nicole and Jiyoung rejoining.
Members
Honorary Members
Hara (Vocal, Visual, Lead Rapper, Main Dancer) (2008–2016) †
Former
Information
Debut
2007: Early beginnings and debut
The group started off as a quartet with members consisting of Gyuri, Seungyeon, Sunghee, and Nicole. The group debuted on March 29, 2007 with "Break It" on M.net's M! Countdown from their first album The First Bloooooming while displaying a strong female image and R&B sound. The album also produced the singles "Mame Deulmyeon (If U Wanna)" and "Secret World". Music videos for the first two singles were created. They were often compared to their senior labelmates, Fin.K.L, because of their similarity and the fact that the two groups were signed to the same label. Additionally, each individual member of Kara was paralleled to a member of Fin.K.L. In response to the comparisons, the group stated that they regarded the comparison as beneficial and inspiring. Although their album was acclaimed by critics, it was not well received by the general public and was overshadowed by other girl groups who debuted the same year. All promotions for their first album ended in the summer of 2007. In August 2007, the group came out with a documentary on M.net called Kara Self Camera which showcased the group and their talents, as well as the relationship they had with each other. The first season debuted on August 8, 2007, and chronicled the lives of the girls over 15 episodes, ending on December 12, 2007. As their first album was not a commercial success, member Seungyeon participated in many television variety shows in the following months to keep the group's name recognizable to the public.
2008: Changes to group line-up and image and career breakthrough
The group was scheduled to have their comeback in March 2008 with their second album, however, member Sunghee suddenly announced that she would be leaving the group due to parental pressure because her participation in the group was contingent on the maintenance of her grades. In response, DSP stated that the second album that was recorded would be shelved and replaced by a mini-album to come in May; in addition, two members would join the group. Auditions were held, and the two new members were eventually revealed to be Hara and Jiyoung. The group made their return in the music industry as a quintet on July 24, 2008 with "Rock U" on M! Countdown. They made their comeback with the "cute" and "playful" image which was the complete opposite of the group's original image from their debut. In the same month, their first mini-album titled Rock U was also released. The second season of Kara Self Camera was premiered on August 18, 2008, which chronicled how the group was adapting to their two new members.
On November 29, 2008, DSP released a teaser video for their upcoming single, "Pretty Girl", which received over 40,000 hits within 12 hours. The full video was released on December 2, 2008 online and was positively received by the public. The mini-album, Pretty Girl, was released on December 4, embodying a "fun-party" concept. The group began its comeback on all major music shows on December 4, 2008, starting with M! Countdown. Gyuri attributed their popularity increase to their "pretty but natural" appeal, while media reports gave credit to the band for finally finding its own identity in the music industry since the group's debut and to older male fans, most notably singer Shin Hae Chul. Due to their increasingly hectic schedule as their popularity rose, a few of the group's members were taken to the hospital on December 19 after a Music Bank rehearsal for cold symptoms and exhaustion.
2009: Rise of popularity in South Korea
Kara performing at the Hanyang University Festival, 2009 At the end of January 2009, DSP announced that it would commence voting on January 28 at the group's official website for the follow-up single to "Pretty Girl", which ended on February 2. By the deadline of February 2, "Honey" was the clear winner, with 60% of the votes. The song was remixed from the original version, and also underwent a slight name change from "하니" (Hani) to "Honey". The group released the music video for "Honey" on February 16 and had their first live broadcasting comeback on KBS's Music Bank program on February 13, 2009; a repackaged mini-album entitled Honey followed on February 19 which featured remixed versions of songs from the group's previous mini-album. "Honey" became the group's first number one single when it topped Gaon's weekly singles chart. The song earned the group their first music show award on M! Countdown on March 5. It held onto the position for three nonconsecutive weeks. The song also won the Mutizen award on program SBS Inkigayo and the "Best Dance Award" at the 2009 Mnet Asian Music Awards.
In June 2009, the group stated they would make their comeback in late July, with their concept upgraded. The first teaser pictures of the group were then released in mid-July, showing radical changes in the group's style and also saw a slight return of their "strong and mature" image previously seen from their debut. Their single "Wanna" was released on July 28, 2009 and immediately charted on various digital music charts. The music video was released on July 29, with the full album, Revolution, available online on July 30. Comeback activities commenced on July 31, beginning with Music Bank; the group performed both "Wanna" and "Mister". "Mister" proved to be popular with netizens due to the "butt dance" that is featured prominently in the choreography. Due to the popularity of "Mister", Kara's overall popularity increased, evidenced by an influx of advertisement requests by various companies; in total, they had more advertisements in October 2009 than they had had the previous two years. "Wanna" also became a number one single for the group and won the Mutizen award on August 30, 2009 from Inkigayo. During promotions for Revolution, the group also performed internationally, including at Bangkok's Parc Paragon.
2010: Continued success in South Korea and successful debut in Japan
After a short hiatus, DSP released two teaser photos of the group's comeback concept on February 9, 2010. The photos garnered a lot of interest because compared to their past album concepts, the new photos showed the members in dark outfits and smokey makeup that elicited a darker, more mature, and sexier feel. The next day, the album jacket was unveiled with a "Stealer" concept as well as the title track named "Lupin", which became number one on several online music charts shortly after release. The teaser video was released on February 12 on Naver; the mini-album, Lupin, followed on February 17. The music video was released on February 22, garnering more than 90,000 views in the first 2 hours. The group began their broadcasting comeback starting on M! Countdown on February 25, 2010. On March 4, 2010, the group won their first number one award for "Lupin" on M! Countdown. On August 11, the group released their debut single, the Japanese remake of their Korean song, "Mister". The single ranked in various music charts and proved to be very popular in Japan. Following the release, the single exceeded expectations as it charted at number five on Oricon's Daily Singles Chart with debut sales of 29,238 copies. The song eventually became the most downloaded song of all time by a Korean artist in Japan, with downloads exceeding 2 million as of March 2012. The group later on released their second single entitled "Jumping" on November 10, 2010. The song quickly climbed up on many charts including mobile downloads, and debuted at number 5 on the Daily Singles Chart of Oricon. It eventually rose to number 2, only behind Arashi. The single peaked at number 5 on Oricon's Weekly Singles Chart with debut sales of 54,977. On September 29, 2010, the group released their compilation album, KARA BEST 2007-2010. The album is a compilation of their selected Korean tracks. It ranked number two on the Oricon Daily Albums Chart on the first day of release, selling 18,223 copies. It was announced on November 3, 2010 that the album was certified gold by the RIAJ, making the group the first ever Korean group since the 1990s to release an all-Korean album that was able break the 100 thousand copies barrier in Japan. It was eventually certified platinum with shipments exceeding 250,000 copies.
Their debut Japanese album, Girl's Talk, was released on November 24, 2010. It sold 107,000 copies in its first week and ranked number 2 in the Oricon Weekly Album Chart, making this the first album by a non-Japanese girl group in Japan in 6 years and 9 months to sell more than 100,000 albums in its first week. The album was certified double platinum by the RIAJ on November 18, 2011 with sales exceeding half a million in Japan.
After taking a nine-month hiatus in the Korean music industry, the group announced the release of their single "Jumping", which was then promoted in both Korea and Japan. It was released as the title track for their fourth Korean mini-album of the same name, Jumping. The group began their weekly promotion cycles starting from MBC's Show! Music Core on November 20, 2010. On December 10, the group eventually got their fourth number one win on KBS's Music Bank for "Jumping". Two days after their win on Music Bank, the group won the Mutizen award for "Jumping" on SBS's Inkigayo's 600th episode.
2011: Rise of popularity in Japan and Step
On February 23, 2011, the group released a DVD called Kara Best Clips, which is a compilation of their past music videos. After one week, the group was able to set a record when they ranked number one in the Oricon's Weekly Composite DVD Chart for two weeks. This made them the first ever foreign artist to be number one for two consecutive weeks since the charts implementation in 1999. The DVD has sold approximately 230,183 copies. On April 6, 2011, the group released their third Japanese single, "Jet Coaster Love", after the original release date was pushed back due to the 2011 Tōhoku earthquake and tsunami. The single debuted at number one on Oricon's Weekly Singles Chart with 122,820 copies sold on its first week. It also peaked at number two on Billboard's Japan Hot 100. Despite its success, plans for promotion in Japan were hindered due to the natural disaster. Instead, the group announced that all proceeds from the single will be donated to Japan's natural disaster relief aid. On June 22, the group released their fourth Japanese single, "Go Go Summer!". The single debuted at number two on Oricon's Weekly Singles Chart with sales of 113,873 copies sold on its first week. The song became the group's second single to sell over 100,000 copies on its first week.
On August 4, 2011, the group officially announced that they will be releasing their third official album in mid-September and will resume their activities in South Korea for the first time in over six months. According to industry representatives, the group has used some of their spare time recording songs for the album while they were busy promoting their fourth Japanese single, "Go Go Summer!". However, the group would only promote in Korea for about three weeks as they have many things scheduled in Japan. The group eventually released their third Korean studio album titled STEP, on September 6. The album's title song, "Step", immediately topped various music charts in South Korea hours after its release. The song peaked at number two on Gaon's Weekly Singles Chart and number two Billboard's Korea K-Pop Hot 100. The group won first place on M! Countdown on September 15 and Music Bank on September 16, holding onto both positions for two consecutive weeks. The song also won first place on Ingikayo on September 25. By the end of 2011, the album has sold over 100,000 copies in South Korea.
After the group finished their promotions in South Korea, they returned to Japan to release their fifth Japanese single, "Winter Magic", on October 19. The single ranked at number three on Oricon's Weekly Singles Chart with around 79,000 copies sold on the first week. On November 21, the group released their second Japanese studio album, Super Girl, which included all their Japanese singles released that year. The album received over 360,000 pre-orders alone. The album eventually went on to debut at number one on Oricon's Weekly Album Chart with sales of 275,206 copies sold, making it the group's first number one album in Japan. With it, the group broke the record set by The Nolans, becoming the first foreign female group in thirty years to top both the singles and albums rankings. The album was eventually certified triple platinum by the RIAJ with sales exceeding 750,000 copies.
2012: Karasia, international venture, Pandora, and Girls Forever
On March 21, the group released their sixth Japanese single and first double A-side single, "Speed Up / Girl's Power". The single debuted at number two on Oricon's Weekly Singles Chart with sales of 99,236 copies sold on its first week. On April 13, following the gold certification of their sixth Japanese single for sales exceeding 100,000 copies, it was reported that the group had sold more than one million physical copies of their singles in Japan, making them the third South Korean artist to do so after BoA and TVXQ. On July 14, 2012, the group performed at the MTV World Stage in Malaysia. They were one of the four acts including Justin Bieber, Jay Park, and local singer Mizz Nina.
On August 3, 2012, DSP announced that the group are set to release their fifth mini-album in South Korea at the end of August and will be aiming to show their matured charms through its concept. On August 6, their agency revealed the album's title, "Pandora", based on Greek mythology. They explained that the girls will be "reinterpreting the myth to express the most captivating and beautiful woman of this generation". The mini-album along with the music video for the title track, "Pandora", was released on August 22. Hours after release, the mini-album's title track topped various music charts in Korea. The song peaked at number two on Gaon's Weekly Singles chart and number three on Billboard's Korea K-Pop Hot 100, and was voted the most popular song in the month of August on Melon. On August 28, the group won their first award on Show Champion. On September 7, the group won an award on Music Bank, and on September 13, they won an award on M! Countdown. By the end of September 2012, the mini-album has sold over 90,000 copies.
On September 5, 2012, the group released a special album entitled Kara Collection in Japan. The album includes the members' solo songs performed on their first tour, Karasia, in Japanese. The album debuted at number three on Oricon's Weekly Albums Chart with debut sales of 47,533 copies sold on its first week. On October 17, the group released their seventh Japanese single, "Electric Boy". The single debuted at number two on Oricon's Weekly Singles Chart with sales of 57,942 copies sold on its first week. On October 29, the group achieved their first number one single on Billboard's Japan Hot 100 when "Electric Boy" jumped to the top position. The single has been certified gold by the RIAJ. In the same month, DSP announced the release of the group's third Japanese album, Girls Forever, which was released on November 14. It debuted on Oricon's Weekly Album Chart at number two with first week sales of 73,224 copies. DSP also announced that the group will hold a concert in the Tokyo Dome on January 6, 2013. This makes the group the first female South Korean act to hold a concert at this particular venue. On December 14, 2012 Kara released a short version of "Orion". The full version was released on December 17, 2012.
2013: Tokyo Dome Concert, Fantastic Girls, Full Bloom and Member Departures
On January 6, Kara held a special New Years concert at the Tokyo Dome in Japan called "Karasia 2013 Happy New Year in Tokyo Dome" . The concert was a complete success; selling out all 45,000 tickets within 5 minutes and becoming the first female Korean artist to hold a concert at the Tokyo Dome.
On March 1, the group's first anime series later premiered, which featured five 27 minute episodes about each of the members pursuing different careers. Two feature Jiyoung as a firefighter and Nicole as a captain of a ship. On March 27, Kara released their 8th Japanese single titled "Bye Bye Happy Days!". The single debuted at number 2 on the Oricon Weekly Single Chart, with sales of 65,588. On June 23, KARA held their 2nd Japanese fan-meeting called 'Kamilia School' at the Yokohama Arena on the 23rd with total 24,000 fans attendees. KARA transformed into professors and split up the meeting into three educational sessions focusing on music, art, and language. On July 24, the group released their ninth Japanese single titled "Thank You Summer Love". It was announced on July 29 that the group's fourth Japanese album, Fantastic Girls would be released on August 28.
On August 16, it was announced that the group will be releasing their fourth South Korean full-length album with a title-track called "Can't Be A Lady", on September 2. Teaser pictures show each member wearing formal androgynous attire. The album's first single, "Dul Junge Hana (Runaway)", was released ahead of the album on August 21.
The music video for the song contained scenes from the group's upcoming Korean drama titled Secret Love. The group will be holding an album showcase at UNIQLO-AX Hall to celebrate its release and will be live streamed on Naver. On August 22, a photo album was uploaded on the group's Facebook page titled 'Princesses' showing each member in white feminine dresses and unveiling the title of the album to be Full Bloom. The following day, another photo album was uploaded titled 'Queens' where the members can be seen wearing tiaras and unveiling the English name of the title track as "Damaged Lady".
In October 2013, DSP released statement that Nicole would not be renewing her contract with DSP Media upon its termination in January 2014. Seungyeon, Gyuri and Hara all renewed their contracts for a further two years, and Jiyoung was taking her time to decide whether or not to study abroad, as her contract would end in April 2014.
The group went on to release BEST GIRLS and "Winter Magic" which would be the two ladies' last efforts for the group on November 27th.
2014: Line Up Changes and 7th Mini Album: Day & Night
At the beginning of the year, Nicole officially left the group on January 16th and Jiyoung had decided to not renew her contract and also left on April 5th.
The group would go on to announce a new TV show, KARA Project to find new members to join the group. Initially, the idea was to have two new members join, however, on July 1st, only one member had won the audition, Youngji and her first release with the group is their 6th Korean mini-album, "DAY & NIGHT" on August 18th and then a Japanese single, "Mamma Mia!" on August 27th.
2015: Japanese Single: Summer☆gic & 8th mini album: In Love
On March 13, 2015, KARA released a teaser for their new Triple A-side single, "Summer☆gic / Sunshine Miracle / SUNNY DAYS". The single was released on May 5, 2015.
The group released their seventh mini-album In Love on May 26, 2015. Its lead single, "Cupid", was revealed prior to its official release at KBS' Dream Concert on May 23, 2015.
They eventually released their fifth Japanese album Girl's Story on June 17th. On July 17, 2015, it was announced that Kara would embark on their fourth Japanese tour beginning in September. The tour started on September 1, 2015, at Zepp Nanba in Osaka.
2016: Disbandment
On January 15, 2016, DSP Media announced Gyuri, Seungyeon and Hara's departure from the group due to contracts expiring, resulting in the group's disbandment. The company also noted that Youngji would continue her music career as a solo artist. Member Gyuri later contested reports of the group's disbandment, stating that if the opportunity arose in the future, the members would release an album. Youngji also voiced in September 2016 that she did not consider the group to be disbanded. However, no further updates were released following this interview.
2019: Haras Death
On November 24, 2019, Hara was found dead in her home after committing suicide.
2022: 15th Anniversary promotions
On June 11, 2022, all former KARA members (minus Sunghee) reunited for a group photoshoot which was shared on each of their Instagram accounts. Three days later, it was reported that the members were in the process of discussing a reunion single in celebration of their 15th anniversary.
On September 19, 2022, it was announced that KARA would be releasing an album under RBW Entertainment to commemorate the 15th anniversary of their debut in November, with Nicole and Jiyoung rejoining the group. On October 18, it was confirmed that the new album, MOVE AGAIN, would be released on November 29. On the same day KARA held their comeback stage at the "2022 MAMA Awards" not only performing their new song "WHEN I MOVE" but a medly of their past hit songs.
A Japanese version of the album titled MOVE AGAIN – KARA 15TH ANNIVERSARY ALBUM [Japan Edition] was released on December 21, 2022.
2023: Fan meetings
After the release of the new album, KARA held a fan meeting tour in Japan, spanning from Osaka on February 23, 2023 and Fukuoka on February 26 to Yokohama on March 3. They also held a fan meeting at the Seoul Sejong University Daeyang Hall on April 8, marking their first Korean fan meet in 9 years.
Trivia
Official Fanclub: Kamilia (카밀리아)
Official Balloon Color: Pearl Peach
Korean Discography
Albums
Special Albums
Mini-Albums
Other Mini-Albums
Digital Singles
Compilations/Other
Video Releases
Japanese Discography
Albums
Special Albums
Best Albums
Other Albums
Mini-Albums
Singles
Digital Downloads
Box Sets
Video Releases
Other Video Releases
Compilations/Other
Taiwan Discography
Best Albums
Filmography
Television
Animation
[2013] KARA The Animation
Dramas
Commercials
Korea
[2007] Remona Vitamins
[2008] Nsc Tales Weaver
[2008] Reebok
[2009] Ecorre Cosmetics
[2009] I-Musician
[2009] COB Chicken
[2009] Ottogi Cup Ramen
[2009] Lesmore
[2009] Yorijori
[2009] Pizza etang
[2009] D'maris
[2009] Puma
[2009] Crown Bakery
[2009] Fashion Warner Brothers' Tweetie
[2009] Game Cafe
[2009] Freestyle Cat
[2009] Tales Runner
[2010] ASK
[2010] Lotte Pepero
[2010] Samsung Pavv
[2010] Mistine BB
[2010] Vocamaster
[2011] Puzzle Bubble Online
[2011] KIA Motors Pride
[2011] Nature Republic
[2011] Mango Six
[2011] Swarovski Crystal
[2011] Snickers
[2011] Unionbay
[2012] KAPPA
[2012] Anna Sui
[2012] Lote Soju
[2013] K-FOOD
[2013] K-swiss
Japan
[2010] BearPaw
[2011] TBC Kara Beautiful
[2011] Chocolate Milk 'SOS'
[2011] Dariya Palty 'Girls Be Ambitious'
[2011] Red Vinagret Drink Honcho
[2011] TBC Let's To the Go
[2011] LG Optimus Bright
[2011] 'BODY' Beauty
[2011] Kara Christimas
[2011] TBC MEN's
[2012] Red Vinagret Drink Honcho
[2012] Dariya Palty 'Girls Power'
[2012] Rotho C-Cube
[2012] SoyCarat 'Speed Up'
[2012] Family Mart
[2012] LIVEDAM - Furikara
[2012] SoyCarat
[2013] Shu Uemura
[2013] CuviLady
Tours
Concerts
Showcase
Publications
Photobooks
[2011.10.12] KARA's All about Beauty
[2012.02.14] Je t'aime KARA
[2012.03.28] KARASIA Program Book
[2012.12.20] KARA STEP IT UP Special Photobook
Books
[2011.02.25] KARA Memoirs
[2011.02.25] Pocket KARA
[2011.05.20] Power of Korea KARA & Girl's Generation
[2011.09.07] Girl's Generation & KARA Secret We♥Kpop Girls
Calendar
[2011.11.26] KARA 2012 Official Calendar
[2012.11.05] KARA 2013 Official Calendar
Others
[2009.12.08] KARAdise 2010 Official Calendar
[2010.11.18] KARA Fairy Tales 2011 Official Calendar
[2011.09.11] KARA Special History 2012 Official Calendar
[2011.12.23] KARA in Paris 2012 Official Calendar
Awards
[2007] Ministry of Culture and Tourism Award "Rookie of the Month" - The First Bloooooming
[2007] Cyworld Digital Award July '07 "Rookie of the Month" - "Mame Deulmyeon (If U Wanna)"
[2009] Mnet Asian Music Awards "Best Dance Award"
[2009] MelOn Music Awards "2009 Top 10"
[2009] Cyworld Digital Music Award - "Bonsang"
[2009] Asia Song Festival: "Asian Best Group"
[2010] Asia Song Festival: "Asian Best Group"
[2010] 19th Seoul Music Awards "Bonsang Award"
[2010] 52nd Japan Record Awards "Best Project"
[2011] Hallyu Award: Honorary Award
[2011] World Music Awards: "Best Selling Asian Artist", "Best Female Group Asian"
[2011] MTV Asia Music Awards: Album of the Year - "Jet Coaster Love"
[2011] Recochoku Award (March): "Jet Coaster Love"
[2011] 5th Mnet 20's Choice Awards: "Hot Korean Wave Star"
[2011] Japanese Record Association: "Foreign Female Artists"
[2011] MTV Asia: Song of the Year - "GO GO Summer!"
[2011] MTV Asia: Album of the Year - Super Girl
[2011] MTV Asia: Music of the Month - "GO GO Summer!"
[2011] Japan Award: Platinum Award
[2011] 2nd Korea International Award: "International Artist of the Year",
[2011] 2nd Korea International Award: "Best Jpop Artist"
[2011] 2nd Korea International Award: "Top 5 J-Pop Artists"
[2011] 2nd Korea International Award: "Best K-Pop Music"
[2011] 2nd Korea International Award: "Top 5 K-Pop Music"
[2011] 2nd Korea International Award: "Best Female Group"
[2011] 2nd Korea International Award: "Most Popular"
[2011] 25th Japan Gold Disc Award "New Artist of the Year (International)"
[2011] Korean Ministry of Culture and Tourism "Content Industry Award" (Special Honor)
[2011] Japanese Record Association: "Best Artist"
[2011] Mnet 20's Choice Awards "Hot Korean Wave Star"
[2011] Recochoku Award (July): "GO GO Summer!"
[2011] Recochoku Award (September): "STEP"
[2011] K-pop Lovers! Awards 2011: Album of the Year Super Girl
[2011] Japan Fashion Association 2011: "Best Dressed (International)"
[2011] 53rd Japan Record Awards: Excellence Award for "GO GO Summer!"
[2011] Recochoku Award (November): "Winter Magic (X'mas Ver.)"
[2011] Asia Song Festival: "Asian Best Group"
[2012] 26th Golden Disk Awards: "Disk Bonsang"
[2012] 26th Golden Disk Awards: "Best Hallyu Star Award"
[2012] 21th Seoul Music Awards: "Bonsang Award"
[2012] 21th Seoul Music Awards: "Hallyu Special Award"
[2012] 26th Japan Gold Disc Award: "Best Asian Artist"
[2012] 26th Japan Gold Disc Award: "Best 3 Albums" (Girl's Talk)
[2012] 26th Japan Gold Disc Award: "Song of the Year by Download" ("Jumping")
[2012] 26th Japan Gold Disc Award: "Best 5 Songs by Download" ("Jumping")
[2012] 26th Japan Gold Disc Award: "Best Music Video" (KARA BEST CLIPS)
[2012] Recochoku Award (March): "Speed Up / Girls Power"
[2012] 7th Asia Model Awards Ceremony: "Asia Star Award"
[2012] Korea Mobile Awards 2011: Kara's Journey Through Japanese App "Korea Communications Commission Award" (Grand Prize)
[2012] GCS International Grand Award
[2012] Recochoku Award (May): "STEP (Japanese ver.)"
[2012] Japan MAMA Asian Chart - "Speed Up"
[2012] Stars Of Korean Tourism
[2012] SBS MTV Best of the Best: "Best Rival"
[2012] Mnet Asian Music Awards "Best Global Group - Female"
[2012] 24th Jewelry Best Dresser Award "Jewelry Best Dresser"
[2013] 27th Japan Gold Disc Award: "Best Asian Artist"
[2013] 27th Japan Gold Disc Award: "Best 3 Albums (Asian)" (Super Girl)
[2013] 27th Japan Gold Disc Award: "Album of the Year" (Super Girl)
[2013] 27th Golden Disk Awards: "Disk Bonsang"
[2013] 27th Golden Disk Awards: "Malaysia's Most Favorite Star Award"
[2013] 17th Global Mandarin Chart Award: "The Most Popular International Group"
[2013] Korea Entertainment 10th Anniversary Awards: "Best Girl Group"
[2023.01.19] 32nd Seoul Music Awards: K-pop Special Award
TV Music Shows
[2009.03.05] Mnet M! Countdown #1
[2009.03.08] SBS Inkigayo #1
[2009.03.12] Mnet M! Countdown #1
[2009.03.19] Mnet M! Countdown #1
[2009.03.26] Mnet M! Countdown #1
[2009.08.30] SBS Inkigayo #1
[2010.03.04] Mnet M! Countdown #1
[2010.03.11] Mnet M! Countdown #1
[2010.03.12] KBS Music Bank #1
[2010.03.14] SBS Inkigayo #1
[2010.03.19] KBS Music Bank #1
[2010.03.26] KBS Music Bank #1
[2010.06.05] KBS Music Bank #1
[2010.12.10] KBS Music Bank #1
[2010.12.12] SBS Inkigayo #1
[2011.09.15] Mnet M! Countdown #1
[2011.09.16] KBS Music Bank #1
[2011.09.22] Mnet M! Countdown #1
[2011.09.23] KBS Music Bank #1
[2011.09.25] SBS Inkigayo #1
[2012.08.28] MBC Show Champion #1
[2012.09.07] KBS Music Bank #1
[2012.09.13] Mnet M! Countdown #1
[2013.09.13] KBS Music Bank #1
[2013.09.18] MBC Show Champion #1
[2013.09.25] MBC Show Champion #1
[2014.08.27] MBC Show Champion #1
[2015.06.02] SBS The Show #1
[2022.12.16] KBS Music Bank #1
External Links