Due to an influx of spam accounts getting through and joining the site, user registrations have once again been disabled until further notice as we work on a different solution.
T-ARA N4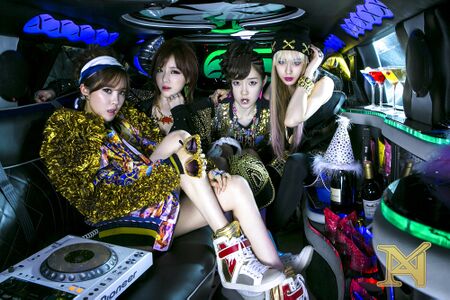 T-ARA N4 (티아라 N4) is the first sub-unit from the Korean group T-ara from MBK Entertainment (formerly Core Contents Media). On March 25th, 2013 Core Contents Media announced the first sub-unit of the popular group. The name of the unit means T-ARA Brand New 4. They were signed to Popular ENT for their American releases.
Members
Former Members
Information
Debut
In March 2013, it was announced that T-ara will be forming a sub-unit with the members Eun Jung, Hyo Min, Ji Yeon and Ahreum called T-ARA N4. The sub-unit made their debut on April 29th with the mini-album Jeon Won Diary. The title track gained both positive and negative support. Netizens speculate that the lyrics to the song are dedicated to T-ara's antis with lyrics such as "Mind your own business", "I'll do whatever I want, what do you care?", and "Why you hating". Although there were positive reviews there was also negative reviews as well. The Korean songwriter G. Gorilla posted on his twitter "To the 'Countryside Diary'??? What kind of expression is this... I wish I could really hit the XX who wrote the lyrics." he quickly apologized for the tweet. Despite the controversy, the song ranked #9 on the MelOn chart and #11 on the Gaon chart.
U.S. Debut
In May 2013 they went to California to meet with Chris Brown to expand into the American market. The group has met with many American artists and producers, and will be recording new songs with Chris Brown. On May 20th, T-ara N4 announced through a press conference that they will release a new American release version of "Jeon Won Diary". It will have five new versions and each version will feature a different American artist; Ray J, Chris Brown, T-Pain, Snoop Dogg and Wiz Khalifa. The dance will also be revamped and choreographed by famous choreographer Flii Stylz. It was planned to be released as a single in June, but has been pushed back to December and then later announced through release of their debut American album. They opened for Wiz Khalifa in a concert in Las Vegas with their song "Jeon Won Diary" on May 24th, and two days later they also opened for Chris Brown in Las Vegas.
In July 2013, it was announced that Ahreum left the group / sub-unit to pursue a solo career. New member Dani, officially joined the sub-unit in her place. However, she was later taken out of the group.
In January 2014 it was officially announced that they would debut in America with the album Miss Understood with an announcement by Damuer H. Leffridge via his twitter. The album cover would be chosen through a contest, the winner would get to meet T-ARA N4, however the album never was released.
After renaming Core Contents Media into MBK Entertainment in October 2014, the agency announced Dani not to be a part of T-ARA N4 anymore.
Discography
Mini-Album
External Links