Due to an influx of spam accounts getting through and joining the site, user registrations have once again been disabled until further notice as we work on a different solution.
T-ara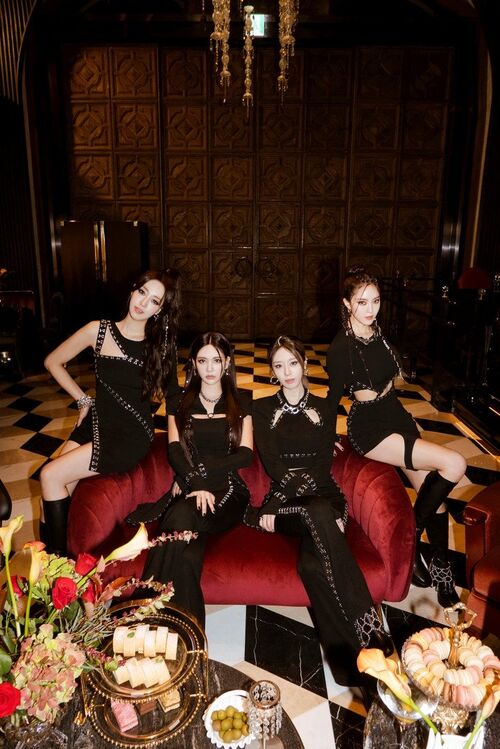 T-ara (티아라) (T-ARA in Japan) (pronounced Tiara and often stylized as T♔ARA) is a Korean pop girl group originally under MBK Entertainment (formerly Core Contents Media). The meaning of their name connotes "their aim to emerge as the queens in the music industry and wear a beautiful tiara." They are signed to EMI Music Japan for their Japanese releases.
T-ara debuted as a 5 member group with the song "Joheun Saram Ver. 1", included on the Cinderella Man Original Sound Track album, however, Jiae and Jiwon withdrew from the group citing "...differences in style". They were replaced with Boram, Soyeon, and Qri. T-ara re-debuted as a six member group in July, 2009 with the digital single "Geojitmal". One year later in July 16, 2010, it was announced that a new member joined the group, Hwayoung, making a total of 7 members. In April 2012 it was announced that two new members will be added. In July 2012, Ahreum joined the group, and the ninth, Dani, will join the group for their promotions for their newest album, but it was later announced that she will only be part of their sub-unit T-ARA N4. On July 30, 2012, it was announced that Hwayoung's contract with the company was terminated. In July 2013, it was announced by Ahreum that she left the group to pursue a solo career. Boram and Soyeon left the group on May 15th 2017.
Members
Former Members
Subunits
Information
Debut
T-ara was initially a 5 member group that trained for 3 years with the Core Contents Media label. Before their debut, T-ara gained recognition by Jiyeon. Jiyeon collaborated with SeeYa and Davichi on a digital single titled "Yeoseong Shidae / Yeongwonhan Sarang". Her involvement sparked a great interest in the public, which led to her name becoming one of the top searched phrases in South Korea.
Previously to the single's release, Core Contents Media unveiled T-ara by releasing 19 pictures of it's members on April 26, 2009; the group released the music video for their debut song "Joheun Saram Ver. 1" on April 28, 2009, which was for the Cinderella Man drama soundtrack. Jiyeon continued to promote "Yeoseong Shidae / Yeongwonhan Sarang" with SeeYa and Davichi. Promotions for the digital single premiered on "Music Core" on May 8, 2009. Subsequent music video's were shot for the double a-side, and the digital single was successful with the public. Jiyeon's popularity soared. She was chosen to model for the Sonata Compilation Album, and debuted as an actress on the "MBC" drama series Soul.
Jiwon & Jiae Withdraw
T-ara was together for a short time period when Jiwon and Jiae decided to leave the group. Citing "...differences in style" as the reason for their withdrawal, Core Contents Media quickly announced Boram will replace one of the members. T-ara's member replacements ranked #1 on news searches. Amidst the shocking news, Jiwon made a confession on her Cyworld about her decision to leave T-ara. Jiwon stated "My bravest choice was the right one." She went on to further state "This is life. There are too many differences. So it was very brave! Good job! My choice will be good. I'm truly thankful that you let go of this hatred and understand what it's like." she wrote.
Netizens were still questioning why Jiwon and Jiae left. On June 3rd, representatives from "Core Contents Media" had stated that, "T-ara's image is a friendly type of concept. However, the two members did not feel that they fit in it nor that it would appeal to fans any longer."The representatives added that "In order to complete the concept once again, we will add two new members that will fit in a better way. 2-3 weeks ago it was already mentioned. However, we cannot do anything about it even if we're against it as it was both members' personal decisions." Furthermore, they stated that "Jiwon and Jiae will remain members of the agency. However, in terms of future plans for both artist we do not know yet if there are any."
Re-Debut
Core Contents Media confirmed T-ara became a 6 member group on June 23, 2009. They also revealed that on July 7th, the new T-ara would be unveiled; including the 2 unannounced members. Core Contents Media released profile photo's of the 6 T-ara members on July 3rd. The profile images of T-ara wearing blonde curly wigs displayed "pureness, femininity, and beauty". On the 6th, a 2nd set of photo's were released of T-ara, projecting an innocent and pure image. T-ara earned the nickname "Beauty Group" from Netizens, and the photo's of T-ara excited music fans.
On July 7th, T-ara's sexy and mature concept was revealed. A 2nd batch of photo's was revealed but it was received negatively; Netizen's called T-ara "ugly", however T-ara became in demand. Various endorsement deals were offered to the group but T-ara's management turned the deals down, focusing on their debut.
"Geojitmal" was digitally released on July 27, 2009. T-ara debuted on a variety TV-show called Radio Star on July 28, 2009. The MV for "Geojitmal (Part. 1)" was revealed on the show. Their debut performance was on July 30, 2009 at M! Countdown where they performed "Norabollae?" and "Geojitmal".
Jiyeon, Hyomin, Eunjung, and Soyeon collaborated with Supernova members Geonil, Kwangsoo and Jihyuk for a digital single titled "TTL (Time To Love)". The digital single was released on September 14th, and they promoted the song throughout September. Due to it's popularity, a remix version titled "TTL Listen 2" was released on October 9. For this occasion all members from both groups participated in the release and promotions.
Absolute First Album
T-ara became the official endorsers of "Nonghyup Apples" and signed a CF deal with the company. They recorded a theme song for the CF titled "Apple Song", and reportedly earned $300,000 from the deal; the best contract a rookie group has received. "Apple Song" was performed at the "Apple Day" event on October 22, 2009. A 15 second version of the CF was released on October 25, 2009, while the 30 second version was released on October 26, 2009. The MV for "Apple Song" was released on November 5, 2009.
T-ara was appointed as the Ambassadors for Science for the upcoming Science Museum to be erected in Pusan on November 6, 2009. They also became Ambassadors for the Japanese anime Evangelion: Breaking on November 12, 2009. According to S&S, the company responsible for the domestic release of Evangelion, T-ara was chosen due to members Boram resembling the character Rei, Jiyeon resembling Asuka, and Eun Jung resembling Mari.
Core Contents Media announced on November 20, 2009 that T-ara would would make their come back with their debut mini album; they also released the photo shoot for the mini album. On November 23, 2009 the release date for their mini album was announced to be on December 4, 2009. A representative of Core Contents Media stated the album would have a different style from their debut, and hit producers Bang Si Hyuk and Shinsadong Tiger would be participating in the album. However, the mini album was extended into a full length studio album titled Absolute First Album, the first Korean album.
T-ara's debut album and the MV teasers for "Bo Peep Bo Peep" and "Cheoeum Cheoreom" were released digitally on November 27, 2009. It was announced that T-ara's title track, between "Cheoeum Cheoreom" and "Bo Peep Bo Peep", would be chosen by the public on various music portal sites. On November 29, 2009, the MV's for the songs were released. Based on 9,000 votes, "Cheoeum Cheoreom" won with 53% of the vote to "Bo Peep Bo Peep's" 43%. A representative of Core Contents Media stated "Bo Peep Bo Peep" would still be used as a part of T-ara's album promotion. However, on their come back performance at Music Bank on December 4, 2009, T-ara performed "Bo Peep Bo Peep" instead of "Cheoeum Cheoreom". Nevertheless, their album received good sales, selling over 25,000 copies in the beginning of its release.
At the 2009 Golden Disk Awards T-ara won the "Newcomer Award" along with 4minute. The group's popularity continued to spike with "Bo Peep Bo Peep" until they won their first "Mutizen" at Music Bank on January 1, 2010. They continued their #1 wins, collecting their second "Mutizen" at Inkigayo, their third again at Music Bank, and their fourth at Inkigayo.
On January 10, 2009 it was announced that T-ara would end promotions for "Bo Peep Bo Peep" and begin promoting "Cheoeum Cheoreom" on January 15, 2009 at Music Bank. After ending the promotions for "Cheoeum Cheoreom", at the end of January, it was announced their come back in February 23 with the unreleased song song "Neo Ttaemune Micheo", and the re-release of Breaking Heart as a repackage album.
It was also announced the recording and release of the song "We Are the One (16 Gang Giwon Eungwonga)" in May 2010. This song was used for the FIFA World Cup.
On July 16, 2010, one year after their debut, it was announced that a new member joined the group, Hwayoung, and a change of leader from Eun Jung to Boram. The new member, Hwayoung, has a twin sister, Hyoyoung, who was first scouted to be a member of T-ara but was placed in the mixed group Coed School. Core Contents Media announced that Hyomin would be taking over the leadership for the album and their Japanese promotions on June 14, 2011.
Entering Japans Charts and Group Changes
T-ara released their first Japanese album in June 2012, titled Jewelry Box, before their first Japanese concert tour "T-ara Japan Live Tour" which started in Nagoya on June 19. It was also confirmed that the group would release their second full-length Korean album in July.
In March, their song "Roly-Poly" was announced to have topped the Gaon Top 100 Digital Singles for 2011., and their song "Cry Cry" made it on the charts as well. Core Contents Media announced on December 7 that T-ara's third leader Hyomin will be passing on her leadership to Soyeon.
Rumors of the group possibly switching their members and the overall concept of T-ara surfaced online on March 14. Kim Kwang Soo, the CEO of Core Contents Media said that the rumors were true and that the changes will be big and major. On April 5, 2012, their agency announced that two members who were previously trainees under the label will be added to T-ara's line-up in July, transforming T-ara into a nine member group. On April 6, Core Contents Media reported through a press release that any prideful members would be removed as well, showing a possibility for not only an addition of two new members but a exchange of old members as well.
It was then revealed on 23rd May that T-ara will be adding one new member, who was presently 18 years old for their comeback in July. The second new member, Dani, will make her debut through the music video in their July comeback and officially added into T-ara's line-up before the end of 2012. The first member was introduced to the public on 31st May and the second on 7th June.
After a video leaded online of a song titled "DAY BY DAY" supposedly sung by T-ara, Core Contents Media released a statement verifying that the new song was indeed the title track for T-ara's upcoming Korean second album, also entitled DAY BY DAY.
On 14th June pictures for the eighth member Ahreum were released. She officially joined T-ara for the promotions of the mini album DAY BY DAY.
Hwa Young's Contract Termination
On July 30th, 2012, it was announced that Hwayoung's contract with Core Contents Media was terminated without conditions and that she was no longer a member of T-ara. This announcement was made after rumors about the member being bullied by the rest of the group however, Core Contents Media CEO denied the rumors and stated that Hwayoung's talent as a rapper and her potential to be a solo singer were the reason that made the staff decide to terminate her contract.
The announcement created a big uproar; a netizen claiming to be a former back-up dancer for the group stating that Jiyeon had slapped Hwayoung (later denied by CCM), the creation of a fan-cafe with more than 160,000 members demanding "the truth", a petition asking for the disbandment of the group signed by more than 70,000 netizens, brands that were endorsed by the group stating that no longer would work with T-ara and the cancellation of their performance on the "K-pop Yeosu Expo Super Concert".
On the next day, July 31, and following the controversy created by Hwayoung's contract termination, it was announced that the group would indefinitely suspend all activities until their next album promotions on August 14. Their official fan-cafe also shut down until their comeback.
In December 2012 they released a TV Special titled T-ara's Confession to talk about the controversy and the groups past.
Comeback and Sub Units
The group made their comeback as a seven member group with the repackage mini-album MIRAGE on September 4th 2012. They also released the title track in Japan for their fifth Japanese single "SEXY LOVE" on November 14th of that year.
The group released their sixth Japanese single "Bunny Style!" which is also their first original Japanese single on March 20th 2013. The single was heavily promoted releasing their own special website for the single and held showcases for the single in ten Japanese cities, starting in Sapporo on February 20th.
In late March 2013, it was announced that T-ara will be forming a sub-unit with the members Eun Jung, Hyomin, Jiyeon and Ahreum called T-ARA N4. The sub-unit made their debut on April 29th with the mini-album Jeon Won Diary. The title track gained both positive and negative support. Netizens speculate that the lyrics to the song are dedicated to T-ara's antis with lyrics such as "Mind your own business", "I'll do whatever I want, what do you care?", and "Why you hating". On May 20th, T-ara N4 announced through a press conference that they will release a new American release version of "Jeon Won Diary". It will have five new versions and each version will feature a different American artist. The single was planned to be released as a single in June, but has been pushed back to December and then later announced through release of their American debut album.
After T-ARA N4's debut, T-ara's CEO announced there will be another sub-unit to debut in Japan with Boram, Qri, and Soyeon called QBS. The sub-unit made their debut on June 26th with the single "Kaze no You ni".
They released their seventh Japanese single "TARGET" on July 10th and soon after on the 7th of August they released their second Japanese album TREASURE BOX.
More Group Changes and Fifth Mini-Album
On July 10th 2013, it was announced that Ahreum left the group / sub-unit to pursue a solo career. New member Dani, officially joined the sub-unit in her place, it was later announced that she will not debut fully in T-ara. Core Contents Media also announced that T-ara's fourth leader Soyeon will be passing on her leadership to Qri.
T-ara made their comeback in Korea on October 10th with the mini-album AGAIN.
T-ara released their eighth single "
NUMBER NINE / Kioku ~Kimi ga Kureta Michishirube~
" on November 20th. The second A-side track "
Kioku ~Kimi ga Kureta Michishirube~
" was released as a digital single on the 13th and was the theme song to the Japanese movie
Jinx!!!
which member Hyomin starred in. T-ara also released a repackage of
AGAIN
titled
AGAIN 1977
on December 4th. The lead track for the repackage "
Na Eotteokhae
", is a remake of the
song of the same name
by the group
Sand Pebbles
from 1977.
WHITE WINTER
as a Christmas special mini-album, and was only released digitally.
Overseas Success, Solo debuts, 3rd Japanese Album and Korean Comebacks
In 2013 T-ara had 3 successful Chinese concerts in Hong Kong, Beijing, and Guangzhou, which all sold out. They plan to hold 5 more Chinese showcases in 2014 due to their success. T-ara also ranked #6 out of the Top 10 Korean idols with most income from overseas in 2013. They released their ninth Japanese single "Lead the way / LA'booN" in March.
Jiyeon and Hyomin made their solo Korean debuts in May and June respectively. Jiyeon's solo track is composed by Duble Sidekick and Hyomin's is composed by Brave Brothers.
They released their third Japanese album Gossip Girls in May.
T-ara made their comeback on September 11, 2014 with the title track "Sugar Free" from the new mini-album AND&END
After renaming Core Contents Media into MBK Entertainment, the agency announced Dani not to be a part of T-ARA N4 anymore.
T-ara paired up with the popular Chinese duo Chopstick Brothers to make a Korean remake of their hit song "Little Apple". The song was eventually released on November, 24, only featuring members Hyomin, Qri, Jiyeon and Eunjung.
Solo Debut, Chinese Tour, Korean comeback and return to Japan
On May 7, 2015, Eunjung released her first solo album I'm Good (Elsie) and title track "I'm Good" featuring K.Will, with the new stage name ELSIE. The "China Version" of the music video peaked at #2 on the Chinese YinYueTai's music video charts.
On June 20, 2015, T-ara began their concert tour in China, with the two first concerts in Nanjing and Beijing.
On August 3, 2015, T-ara had their Korean comeback with title track "So Crazy" from their album So Good and surpassed 1 million view in 2 days.
On October 7, 2015, MBK Entertainment unveiled a new official Japanese website and fan cafe, "Queen's Japan!" The opening of T-ara's official fan cafe has garnered attention and anticipation for their upcoming activities in Japan.
T-ara made their comeback on November 9 with the title track "TIAMO" from their album REMEMBER.
Promoting as four and Departure from MBK
It was announced that T-ara would promote as 6 members for their comeback on May 17th, 2017, even after the end of Boram and Soyeon's contracts.
While the two girls would not be renewing their contracts with MBK Entertainment after their end on May 15, the girls would still promote as T-ara one last time. T-ara originally was to release their album at the end of May, and all six members would promote for 3 weeks, however, their comeback was pushed back to June 1st. It was announced on May 7th that the plans to have the full group comeback had fallen through, and that Boram and Soyeon would not be participating in their comeback. This meant the four remaining members would have to re-record their album, pushing the release date back even further.
They plan performing in Japan and Southeast Asia and holding a mini-concert and fanmeeting in Korea as well. After the promotions, Eunjung will be acting in dramas, Jiyeon will be releasing her solo album, Hyomin will be promoting overseas, and Qri will have her own personal promotions for the rest of 2017.
On June 14, 2017, T-ara released their ninth mini-album as well as the title song "Nae Ireumeun". They eventually won their first music program award on June 20, 2017 on SBS The Show. This marks their first win on a music show in over 5 years.
On January 4, 2018 they announced their departure from MBK Entertainment.
Trivia
Korean Discography
Albums
Mini-Albums
Remix Albums
Singles
Digital Singles
Video Releases
Compilations / Other
Japanese Discography
Albums
Best Albums
Singles
Digital Singles
Video Releases
Filmography
Television
Television Specials
Commercials/Endorsements
Note: This is an incomplete list
Tours / Concerts
Tours
Mini-Tours / Concerts
Publications
Books

Photobooks
Awards
TV Music Shows
External Links