New user registrations have been disabled until further notice. If you would like to create an account, please message
Generasia on Facebook
. Thank you!
Okamoto Keito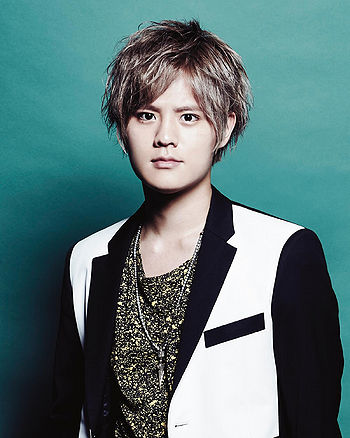 Okamoto Keito is a member of the Johnny's Entertainment group Hey! Say! JUMP.
Profile
Name: Okamoto Keito (岡本圭人)
Nickname: Keito, Katie/Katy
Birthdate: April 1, 1993
Blood Type: O
Height: 176cm
Weight: 64kg
Shoe size: 28cm
Eyesight: 1.0(Right) 0.1(Left)
Family: Father Okamoto Kenichi is a former member of the rockband Otokogumi, mother is the model Nishi Katsue (they are divorced).
Pet: Chihuahua Dog called "Misha"
School: Sophia International University (English Literature)
Instruments: Guitar
Favorite Food: Fried Chicken, Ice Cream and Strawberry Milk
Dislike Food: Seafood, leek,goya
Most afraid of: Ghosts and cockroaches
Eyesight: Right 1.0 and left 0.6
Weakness: The sides of my body.
Favorite homecooked meal: Carbonara
Respected Senior: Okamoto Keinichi, Takizawa Hideaki
Favorite Kouhai: Nakajima Kento
Charming Point: Mole under right eye
Girl Type: Nice, kind, does things freely, peaceful, honest, neutral, optomistic, hard-working, spoil, long, wavy hair (dark brown, brown, or black), cute smile, girly clothes: pumps, skirts-max down the knees, and likes hand warmers.
Dream: To be a doctor
Possible Apology: "I don't have anything to "apologize now" because I always apologize after I done a bad thing."
Favorite song: Pikanchi Double by Arashi , Code by Nishikido Ryo, Orange by SMAP
Favorite Color: Blue
Favorite Member: Yamada Ryosuke
Love confessions: zero
Favorite subject: Math
Childhood dream: To be a doctor.
Favorite TV show: Doraemon
Special ability: Unintentionally funny
Favorite place to shop: Convenience store
Favorite fashion item: bumpy black scarf.
Favorite movie: Pirates of the Caribbean. Johnny Depp acting Captain Jack Sparrow is cool.
Favorite book: Myojo (Magazine that he appears in every months)
Favorite manga: "Kochikame" I don't have all the volumes but I have about 50 at home.
Favorite ramen: Tonkotsu, without leek. I hate leek.
Agency: Johnny's Entertainment
Date entering Johnny's: 14th August 2006
Trivia
Since 5th grade of elementary school (10 years old) until he was about to start 3rd year of middle school (14 years old), Keito lived and studied in Suffolk (England). As the public announcement about his joining showbusiness he returned back to Japan.
Even though he's good at English, he's said that he hates speaking it.
He doesn't eat fish because he think they're too pretty and thus he prefers to only watch them.
When Keito told his father about his debut, he told him that he wouldn't lose to him.
His favorite TV drama My boss my hero
His favorite Hey! Say! Jump song is Your Seed
He good at billiards. He used to play it a lot during my break time when he was attending a school in England.
His body is stiff.
Filmography
Dramas
Gallery