Generasia would not be what it is today without the countless contributions by both staff and members alike! Thank you for all that you do!!
Colorful Pop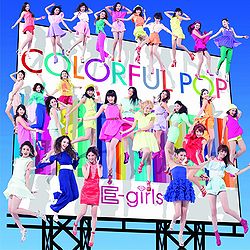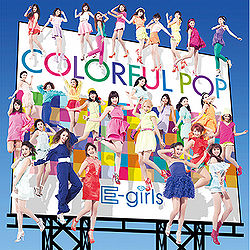 Artist

Album

COLORFUL POP

Released

2014.03.19

Catalog Number

RZCD-59342/B (CD+DVD)
RZCD-59608 (CD Only)

Price

¥3,800 (CD+DVD)
¥2,850 (CD Only)
CD Tracklist
DVD Tracklist
Information
COLORFUL POP is the second album released by E-girls. It was released in two editions: limited CD+DVD and a regular CD Only edition. Limited editions comes with a 64-page photobook, a special card type 1 and packed in an EP jacket size. Regular editions comes with a different jacket covers (up to three types) and a special card type 2. The album is certified Gold for shipment of 100,000 copies.
Selected Members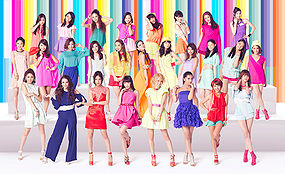 Jacket Covers

Shizuka, Aya, Ami, Erie, SAYAKA, Fujii Karen, Kaede, MIYUU, YURINO, Sugieda Mayu, Suda Anna, Kawamoto Ruri, Fujii Shuuka, Shigetome Manami, Nakajima Mio, Washio Reina, Muto Chiharu, Ichiki Kyoka, Bando Nozomi, Sato Harumi, Takebe Yuzuna, Takeda Kyoka, Hagio Misato, Inagaki Rio, Ishii Anna, Yamaguchi Nonoka, Ikuta Risa, Nakajima Momoka, Watanabe Marina
"RYDEEN ~Dance All Night~"
Vocalists

Performers
"A S A P"
Vocalists
"Mirai e"
Vocalists
"CHEWING GUM"
Vocalists
"Yakusoku no Basho"
Vocalists
Notes
Oricon Chart Positions
| Mon | Tue | Wed | Thu | Fri | Sat | Sun | Week Rank | Sales |
| --- | --- | --- | --- | --- | --- | --- | --- | --- |
| - | 1 | 1 | 1 | 1 | 1 | 1 | 1 | 89,766 |
| 1 | 12 | 8 | 4 | 9 | x | x | 9 | 25,895 |
| x | x | x | x | x | x | x | 12 | 11,416 |
| x | x | x | x | x | x | x | 13 | 5,298 |
| x | x | 15 | 15 | 9 | 10 | 14 | 14 | 4,058 |
| 6 | x | 22 | 16 | 14 | 12 | 13 | 14 | 3,448 |
| 21 | x | x | 18 | 16 | 16 | 26 | 23 | 3,035 |
| 11 | 21 | 24 | 16 | 19 | 19 | 27 | 19 | 2,200 |
| 17 | - | - | - | - | 30 | 30 | 34 | 1,325 |
| 18 | - | - | - | - | - | - | 60 | 1,228 |
| 28 | - | - | - | - | - | - | 70 | 1,040 |
| 30 | - | - | - | - | - | - | 85 | 871 |
| - | - | - | - | - | - | - | 91 | 712 |
| 48 | - | - | - | - | - | - | 122 | 662 |
| 48 | - | - | - | - | - | - | 154 | 640 |
| 48 | - | - | - | - | - | - | 144 | 590 |
| - | - | - | - | - | - | - | 122 | 676 |
| - | - | - | - | - | - | - | 102 | 775 |
| - | - | - | - | - | - | - | 116 | 757 |
| - | - | - | - | - | - | - | 88 | 746 |
| - | - | - | - | - | - | - | 107 | 662 |
| - | - | - | - | - | - | - | 74 | 931 |
| - | - | - | - | - | - | - | 107 | 656 |
| - | - | - | - | - | - | - | 141 | 605 |
| - | - | - | - | - | - | - | 145 | 497 |
| - | - | - | - | - | - | - | 126 | 574 |
| - | - | - | - | - | - | - | 140 | 497 |
| - | - | - | - | - | - | - | 176 | 573 |
| - | - | - | - | - | - | - | 158 | 479 |
| - | - | - | - | - | - | - | 198 | 375 |
| - | - | - | - | - | - | - | 199 | 355 |
| - | - | - | - | - | - | - | 279 | 291 |
| - | - | - | - | - | - | - | 249 | 315 |
| - | - | - | - | - | - | - | 236 | 324 |
| - | - | - | - | - | - | - | 219 | 330 |
| - | - | - | - | - | - | - | 222 | 309 |
| - | - | - | - | - | - | - | 200 | 472 |
| - | - | - | - | - | - | - | 186 | 453 |
| - | - | - | - | - | - | - | 184 | 462 |
| - | - | - | - | - | - | - | 153 | 657 |
| - | - | - | - | - | - | - | 143 | 791 |
| - | - | - | - | - | - | - | 85 | 805 |
| - | - | - | - | - | - | - | 69 | 837 |
| - | - | - | - | - | - | - | 72 | 856 |
| - | - | - | - | - | - | - | 138 | 499 |
| - | - | - | - | - | - | - | 207 | 425 |
| - | - | - | - | - | - | - | 235 | 298 |
| - | - | - | - | - | - | - | 252 | 271 |
| - | - | - | - | - | - | - | 257 | 261 |
| Year | Month | Rank | Sales |
| --- | --- | --- | --- |
| 2014 | March | 6 | 127,077 |
| 2014 | April | 15 | 15,839 |
| 2014 | May | 50 | 5,793 |
Total Reported Sales: 169,998
Total Sales in 2014: 163,836 (#26 album of the year)
External Links