Due to an influx of spam accounts getting through and joining the site, user registrations have once again been disabled until further notice as we work on a different solution.
Remioromen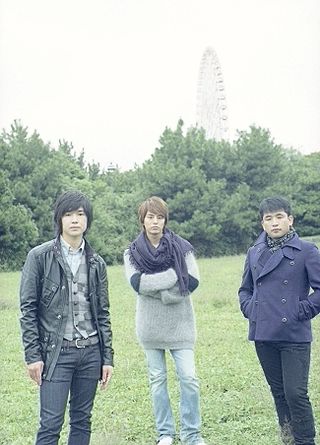 Remioromen (レミオロメン), sometimes abbreviated as Remio (レミオ), is a Japanese rock band that formed in 2000. They started as a three-man band, but now usually incorporate keyboards and strings in their song arrangements. They are known for their songs "3gatsu 9ka" and "Konayuki" which were featured in the 2005 drama 1 Litre no Namida. The band is currently signed to the avex trax sub-label OORONG RECORDS and managed by OORONG-SHA.
Members
Current Members
Support Members
Information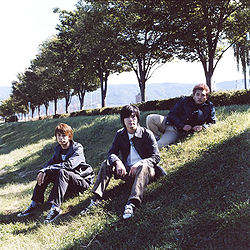 Formation - Asagao
Fujimaki Ryota, Maeda Keisuke, and Jinguji Osamu grew up in Yamanashi Prefecture and attended the same schools together from elementary to high school.[1] In December 2000, they formed the band Remioromen.
"Remioromen" is not an actual Japanese word, but the result of wordplay.[1] The three played janken (rock-paper-scissors) to determine the number of Japanese characters that each chose to form the band name. Fujimaki was the first winner and picked "re" (レ) because it was the first character in his favorite band, Radiohead (レディオヘッド). Jinguji was the second winner and picked "mi" (ミ) because it was the first character of his current girlfriend, and "o" (オ) because it was the first character of his first name. Maeda was the third winner and picked "romen" (ロメン), derived from "romendensha" (路面電車; tram), because he likes trams.
In 2001, Remioromen began to hold many live concerts around Maebashi and Shimokitazawa. As time passed, they steadily attracted more fans.[1] After living away from their hometown for a year, Remioromen returned home to focus on the band. They rented a Shinto shrine where they wrote songs and practiced everyday. They started selling demos at their shows, which exceeded their expectations and sold out.[1]
Remioromen released their first mini-album, Festa, on March 12th, 2003, and their first single, "Ameagari", on May 21st under the indie label DAIZAWA RECORDS, a sub-label of UK PROJECT. "Ameagari" received heavy rotation on radio stations and was later featured on HEAVY ROTATIONS ~J-HITS COMPLETE '01~'03 in 2004.
On August 20th, Remioromen released their second single, "Denwa", under the management of OORONG-SHA on the major label SPEEDSTAR RECORDS, and later their first album, Asagao, on November 19th. The album debuted at #17 on the Oricon weekly chart and had a long chart run of 65 weeks.[2] Six days after the album's release, they performed their first one-man live at SHIBUYA-AX. At the end of the year, Remioromen was the final performer on COUNTDOWN JAPAN 03/04, an annual event celebrating the beginning of the new year. Remioromen embarked on their first one-man tour, TOUR 2004 "Asagao", on January 16th, 2004. It was a success with nine shows in eight locations.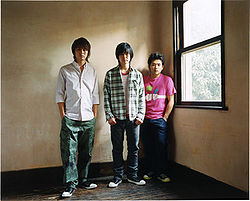 ether - Budokan Live
For the release of their third single, "3gatsu 9ka", Remioromen returned to their hometown in Yamanashi Prefecture to perform a live at their old junior high school's gymnasium. 2000 people attended out of the town's population of 12,000. With the release of their fourth single, "Acacia", on May 19th, Remioromen started a series of live shows called LIVE CIRCUIT 2004 "Acacia". It concluded on July 9th at Zepp Tokyo with a total of 20 shows.
After two more singles, "Moratorium" and "Minamikaze", Remioromen released their second album ether on March 9th, 2005. Although it missed the #1 position, it charted for 71 weeks, selling 402,205 copies. It became the #54 best-selling album of 2005 and #90 of 2006. On the same day of the album's release, the band performed at Nippon Budokan for the first time. The concert was recorded and later released on DVD as 3gatsu 9ka Budokan Live. On May 14th at Zepp Osaka, they began their second tour called TOUR 2005 "ether trip". The tour had a total of nine shows. During the summer, Remioromen performed at numerous summer shows including RISING SUN ROCK FESTIVAL, J-WAVE LIVE 2000+5, and The Tug of Rock 'n Roll.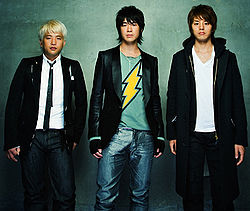 HORIZON - Flash and Gleam
On October 12, Remioromen released their seventh single, "Ao no Sekai". In the same month, their songs "3gatsu 9ka" and the upcoming "Konayuki" were used as insert songs in the Fuji TV drama 1 Litre no Namida. "Konayuki" was released the following month and it was an instant hit. It debuted at #2 on the Oricon weekly chart, charted for 54 weeks, and went on to become the #2 best-selling single of 2006. The PV also won "Best Pop Video" at the MTV VIDEO MUSIC AWARDS JAPAN 2006.[3]
In January 2006, Remioromen began their first hall tour, TOUR 2006 "UNDER THE SUN", with 24 performances in 22 cities across Japan. The first show was a special live in their hometown, called "UNDER THE SUN IN YAMANASHI". On March 1, the group released their ninth singe, "Taiyou no Shita". It was used as the theme song for the movie Kokitsune Helen. Their third album HORIZON was released on May 17th and is their most successful album to date. It reached #1 on the Oricon weekly chart and maintained its position for three straight weeks, later becoming the #16 best-selling album of 2006. In August, Remioromen held a live on the runway of Yamanashi airport called Remioromen SUMMER LIVE "STAND BY ME". There were over 30,000 people in attendance, making the band's largest live.[4] The concert was released a few months later on a limited live album, Flash and Gleam, which also contained one new studio track, and later on DVD with their best album, Remio Best.
Remioromen began their second tour of the year on November 4th and their first arena tour. The tour, entitled TOUR 2006 "ISLAND OVER THE HORIZON", was seen by over 130,000 people in sixteen shows and nine cities. It was later released on DVD as "ISLAND OVER THE HORIZON" at YOKOHAMA ARENA. At the end of the year, Oricon announced the year-end sales chart and Remioromen took the #9 position with 409,840,000 total yen in sales.[5]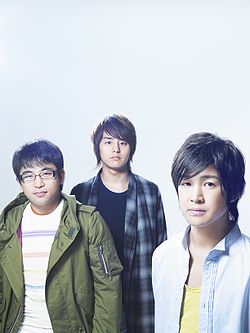 Kaze no Chroma - Remio Best
On March 14th, 2007, Remioromen released their tenth single, "Akanezora". It was used as Japan Racing Association's CM theme song. On May 9th, the band released their eleventh single and first double A-side, "Hotaru / RUN". During the summer, Remioromen participated in Japan's usual series of live events. They attended a-nation for the first time as a surprise act, despite not being a part of avex trax. Other events included SETSTOCK '07 and SUMMER SONIC 07.
On October 28th, Remioromen held a free outdoor concert called SPECIAL LIVE "Wonderful & Beautiful" at Hibiya Open-Air Concert Hall. At this show they debuted a new song, "Wonderful & Beautiful", which was later released as a single in December. Remioromen started their largest tour yet in early 2008. The 40 show hall tour spanning 31 cities across Japan would last for five months. On May 14th, it was released on DVD as TOUR 2008 "Wonderful & Beautiful".
Remioromen released their thirteenth single, "Motto Tooku e / Orchestra", on July 30th. Both A-sides had tie-ins with the 2008 Beijing Summer Olympics; "Motto Tooku e" was the theme song for Fuji TV's broadcast and "Orchestra" was Coca-Cola's cheering song. Remioromen also took part in many live events for the summer, including J-WAVE LIVE 2000+8 and a second appearance at a-nation.
On September 1st, it was announced that Remioromen would release their fourth studio album on October 29th entitled Kaze no Chroma. It was their first album to come in a CD+DVD format. A two-part tour, TOUR 2009 "Kaze no Chroma", was also revealed for the new year. The first half was a hall tour during January and February, and the second half was an arena tour during March and April.
Their fourteenth single, "Yume no Tsubomi", was released on January 7, 2009. The title song was the theme song for the movie Kansen Rettou. This single was their first to be released after moving to the avex trax sub-label OORONG RECORDS, the label of their management, OORONG-SHA.
After six years and four studio albums since their professional debut, Remioromen released their first best album, Remio Best, on March 9th, 2009. The album contained fourteen of their previous songs, plus one new song, "Sakura", which was released as a digital single. Surprisingly, the album did not contain all of their previous fourteen singles. The album reached #1 on the Oricon weekly chart and became the #8 best-selling album of 2009.[6]
Remioromen concluded TOUR 2009 "Kaze no Chroma" with two concerts at Saitama Super Arena in May. The 26-song setlist was broadcasted live on Fuji TV and later released on DVD as REMIOROMEN SPECIAL LIVE at SAITAMA SUPER ARENA.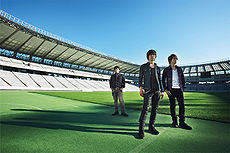 Kachoufuugetsu - 10th Anniversary
After the highly successful Remio Best, Remioromen released their fifteenth single, entitled "Starting Over". The title song is the 2009 image CM song for Takeda Pharmaceutical Company's pill "Alinamin", as well as the theme song for LISMO's online drama Kakumei Station 5+25. They also held a Zepp tour called ZEPP TOUR 2009 "Starting Over" supported by Alinamin, performing in all six Zepp venues across Japan.
Next came the band's sixteenth single, "Koi no Yokan Kara", on Novermber 25th. The song was previously performed solo by Fujimaki with an acoustic guitar at the ROCK IN JAPAN FESTIVAL 2007. The band concluded 2009 with their first appearance at the prestigious NHK Kouhaku Uta Gassen, performing their big hit "Konayuki".[7]
On midnight of January 1, 2010, Remioromen's 10th anniversary plans were revealed on their website. On February 17th, the band released their second digital single, "Kachoufuugetsu", followed by their fifth studio album of the same name. On May 13th, they embarked on the tour Remioromen 10th Anniversary TOUR 2010 "Kachoufuugetsu" which lasts until December. During a two-month break in the middle of the tour, the band will release their seventeenth single, "Tatsunda Joe", on July 28th.[8] The title track has been airing as the CM song for ASAHI SUPER DRY SLIM BOTTLE since April 27th.[9]
Setlist Tracks
Remioromen has performed many songs prior to their debut that have yet to appear on any of their CDs.[10] These include:
Taiyou (太陽)
Densha (電車)
Wasuremono (忘れ物)
Itsuka no Hana (いつかの花)
Cover (カバー)
Ningen 69 (人間69)
Hanabira (花びら)
Puzzle (パズル)
Nashi 4 (なし4)
Hysteric (ヒステリック)
Saibou Bunretsu (細胞分裂)
Discography
Studio Albums
Other Albums
Singles
Other Singles
DVDs
Rentals
Demos
Remioromen released five limited CDs prior to their label debut exclusively at their concerts. The first four were called "1st", "2nd", "3rd", and "4th" respectively, and the fifth is a seven-song best album without a name.[11]
Box Sets
Compilations / Others
References
External Links