Due to an influx of spam accounts getting through and joining the site, user registrations have once again been disabled until further notice as we work on a different solution.
Yabuki Toshiro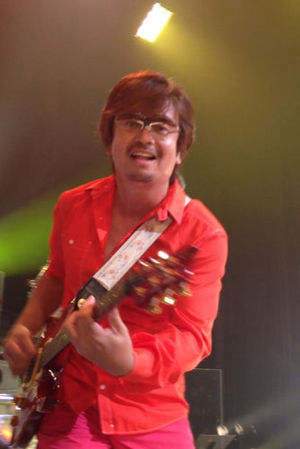 Yabuki Toshiro (矢吹俊郎) is a Japanese lyricist, music composer, record producer, keyboardist and guitarist. He is also the director of music production company P.M CREATORS.
Profile
Name: Yabuki Toshiro (矢吹俊郎 Yabuki Toshiro)
Nick Name: Yabu-san, Toshi-chan
Birthdate: December 22, 1961
Birthplace: Japan
Information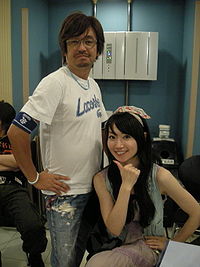 Yabuki Toshiro began his career in the late 80's as a guitarist for the popular Japanese pop female duo Wink. Then, he became the executive producer and the leading composer & arranger of the J-Pop singer Okui Masami from 1995 to 2001. They are known to be the pioneers in the introduction of dance sound in the anison musics. After a bunch of albums and singles used for many animes and games like Shoujo Kakumei Utena or Soreyuke! Uchuu Senkan Yamamoto Yohko they decided to end up their collaboration after a quarrel between them (they reconciled themselves shortly after).
In parallel of his works with Okui Masami, He began to compose and arrange songs for the J-Pop singer and seiyuu Mizuki Nana which have a very similar style of music to the songs he made ​​for Okui Masami.
Mizuki Nana was initially an Enka singer since her childhood so he taught her the way to use her voice on pop and rock musics who are strictly different to the Enka style.
The first song he composed for her was "TRANSMIGRATION" on her debut album "supersonic girl" while the lyrics were provided by Okui Masami.
In 2002, He became the main composer/arrangeur of Mizuki Nana's singles and albums until 2005 when she began to work with the group of music composers Elements Garden. Since then, he only composes for her one song per album. Though, she has no song composed by him since "Don't be long" on her single "PHANTOM MINDS" in 2010 which was used as the insert song for the movie Mahou Shoujo Lyrical Nanoha The MOVIE 1st. "MASSIVE WONDERS" in 2007 is the last single of the singer which the title track is composed by him.
Although his work for Mizuki Nana decreased he became in 2008 her executive producer and also a part time member of the backing band during Mizuki Nana's concerts as a guitarist while working on the production of these.
Aside from that, He formed a collaboration named Vink with Ohira Tsutomu a long time friend & partner and Honma Akimitsu, the executive producer of Porno Graffitti. Vink's music compositions include the anime television series All Purpose Cultural Cat Girl Nuku Nuku and Slayers. Additionally, Vink was responsible for the arrangement of several Hayashibara Megumi songs.
Compositions
External Links