Due to an influx of spam accounts getting through and joining the site, user registrations have once again been disabled until further notice as we work on a different solution.
Okui Masami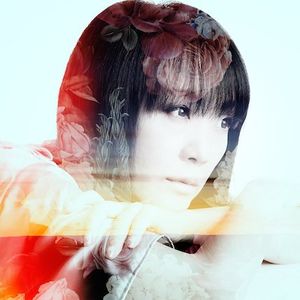 Okui Masami (奥井雅美) is Japanese pop artist who is well known for her songs used in anime. She was formerly signed under King Records, but she's now under Lantis after her own record label, evolution was terminated in 2011. It was under the Geneon umbrella. She is good friends and has often worked with Yonekura Chihiro (the two even formed the short-lived duo r.o.r/s) and Hayashibara Megumi.
Profile
Information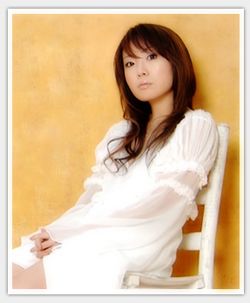 Okui Masami was born in Itami. She was little, when her parents were divorced, and her father died. After it, Masami oved with her mother to Osaka. She doesn't have sibling.
From a young age, Okui was taught how to play the piano. It wasn't until Middle School when Masami was introduced to pop and rock music. She eventually ended-up joining a band. She then terminated her studies for the escalator entrance exam to college. Instead, she applied at the Osaka University of Arts. Halfway through the first semester, she dropped out and decided to move to Tokyo to pursue a working career.
In 1989, Okui got a job as a back-up singer during Saito Yuki's tour. She started getting more singing gigs. She also continued as a back-up singer performing with such acts as Wink and Harada Tomoyo.
On 1993.08.21, Okui released her debut single "Dare Yori mo Zutto..." under King Records. After its release, she switched her focus on her solo career and began releasing on a regular basis: an album and three to four singles a year.
Masami's second album, "V-sit" turned out to be her best selling. This album is her first to incorporate more of a rock sound. It contains some of her best known songs from the Slayers, Sorcerer Hunters, and Starship Girl Yamamoto Yohko anime series'. Her most successful single is 1999's, "Tenshi no Kyuusoku". The song was used as the theme song to the Starship Girl Yamamoto Yohko anime.
Since her debut, Okui has been taking over more and more aspects of her music. First, taking over writing lyrics, composing music, and even producing. Her seventh album, "DEVOTION", was her first album that she completely produced herself. She has since gone on to publish a monthly column in the NewType anime magazine and has also co-hosted the TV-Osaka music program "M-VOICE".
In 2003, Okui started working with other artists. Early in the year, she started working with super group JAM Project. She soon became the vocalist of the group and has been releasing with them since. Later that year, Masami teamed up with Yonekura Chihiro to from the duo "r.o.r/s". Together, the girls released two singles and an album before returning to their other works.
In 2004, Okui left King Records. She then signed with Geneon who gave her her own record label which she named evolution Records. Afterward, she debuted on the label with the single, "Olive". The evolution has been discontinued in 2011, that's why she didn't released new album or single. She signed to with the label, Lantis, where she released two more studio albums.
Okui has also written lyrics and composed music for several other artists. She has worked on several tracks for Ishida Yoko, Mizuki Nana, and Shimokawa Mikuni. Recently, she has begun scouting and auditioning: looking to find new artists for her label. Ohmi Tomoe is a Japanese pop singer who Okui has signed to her label and has begun producing. She has so far released four singles, with all lyrics and some of the music composed by Okui.
In 2015 she released her latest single: Takarabako -TREASURE BOX-, which was used as the opening song of the anime series: SHIROBAKO. Due the popularity of the anime, the single became successful, it reached #15 on the Oricon weekly charts, and it became her best-charted single to date. After this, she released her latest album: Symbolic Bride, and despite the success of the single, it became her worst selling album to date. It was promoted poorly, and Makkun declared in an interview, she had more spare time in the JAM Project schedule, so she could make a new studio album.
Discography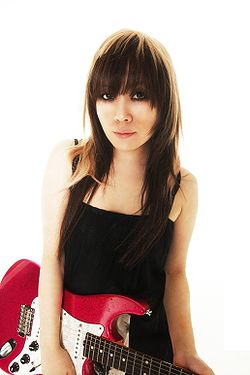 Albums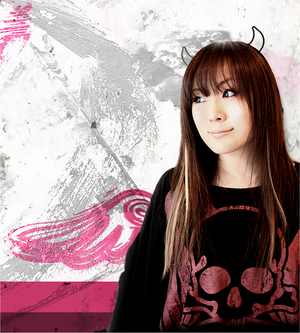 Best Albums
Mini-Albums
Cover Albums
Live Albums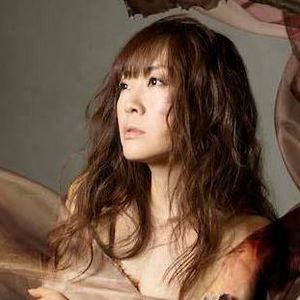 Tribute Albums
Singles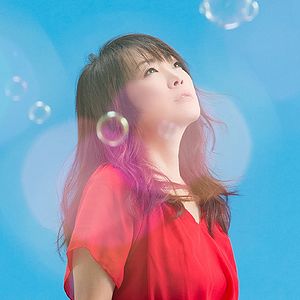 Digital Singles
Split Singles
Video Releases
Compilations / Other
External Links
Okui Masami
Topics
Singles
Albums
Best Albums
Other Albums