Due to an influx of spam accounts getting through and joining the site, user registrations have once again been disabled until further notice as we work on a different solution.
Minimoni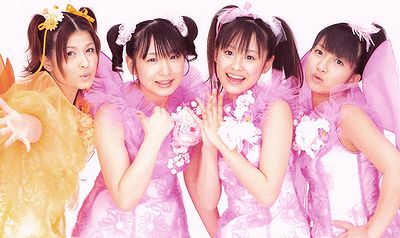 Minimoni (ミニモニ。) was a subgroup of Japanese pop girl group Morning Musume under the Hello! Project label. They were one of Morning Musume's most popular subgroups for their entire existence due to a combination of their outrageous music videos and live performances, their vocal harmonies, and their widely varied musical styles. The original group was retired in 2004, but the concept was revived in summer 2009 with the shuffle unit Shin Minimoni (新ミニモニ。; New Minimoni).
Members
First Generation (2000 – 2003)
Second Generation (2003 – 2004)
Third Generation / Shin Minimoni (2009 – 2010)
Fourth Generation / Shin Minimoni
History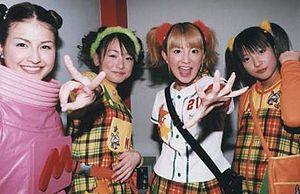 2000
The group was founded in late 2000 by Morning Musume member Yaguchi Mari, who had an idea for a subgroup whose members were 1.5 m (4 ft 11 in) in height or shorter. Yaguchi, and Morning Musume's songwriter and producer Tsunku, selected two of Morning Musume's newest members, Kago Ai and Tsuji Nozomi, for the new subgroup and the trio began performing in concerts as Minimoni. American-born Mika Todd of Coconuts Musume was later added into the group to give the group "an international flavor," and Tsunku made them official. Their debut single, "Minimoni. Jankenpyon! / Haru Natsu Aki Fuyu Daisukki!", was a #1 hit.
While Minimoni was initially directed towards younger listeners (in spite of the fact two of the members, Yaguchi and Todd, were in their late teens), they also had an older fan base consisting of older Morning Musume fans (especially of Yaguchi, Kago and Tsuji) and the parents of the younger Minimoni fans.

2001
The quartet released several singles in 2001 and 2002, and most of these tracks were compiled into their first album Minimoni Song Daihyakka 1 Kan. The album's musical styles spanned wildly from track to track, defiantly incorporating such diverse styles as blues, electronica, march music, jazz, reggae, and horn-driven '60s soul music.
The group's almost anarchic presentation would also carry into some of the group's television appearances, many of which are circulated on-line, especially amongst the band's non-Japanese cult audience; these antics have included: Kago playfully saying "big doo-doo" (in English) in response to a Japanese TV interviewer's question; band members collectively grabbing the buttocks of a female assistant backstage at a concert; and an Utaban appearance where Kago slugged Yaguchi in the crotch while Yaguchi was in the middle of a sentence (which was actually a Morning Musume appearance for the song "Souda! We're Alive").
Simultaneously with their single releases, the group became the subject of a series of short cartoons of their own, Yarunoda Pyon!, in which they supplied their own voices. They also contributed their voices to the Hamtaro cartoon series, in which hamster versions of the members were featured. The group recorded several songs especially for the Hamtaro movies under the group pseudonym 'Minihams'.
2002
In 2002, Yaguchi graduated from Minimoni to take on leading the subgroup ZYX, one of the first Hello! Project groups to incorporate the Hello! Project Kids. Another Morning Musume member, Takahashi Ai took Yaguchi's place, while Mika Todd, as the oldest member of the current lineup, took over as the group's leader.
That same year, all five members of Minimoni filmed the movie Mini Moni ja Movie: Okashi na Daibōken! (Mini Moni The Movie: The Great Cake Adventure), part of the storyline of which, in the context of the movie's fantasy setting, "explains" how Yaguchi ended up leaving Minimoni to begin leading ZYX and how Takahashi ended up in the group.
2003
They started to have a more mature, modern R&B-heavy sound to their music with the single "CRAZY ABOUT YOU", a style the group explored more heavily on their second album Minimoni Songs 2. They also starred in a dorama called Mini Moni's The Brementown Musicians starring Takahashi, Tsuji, and Kago; Mika Todd made brief appearances in two episodes.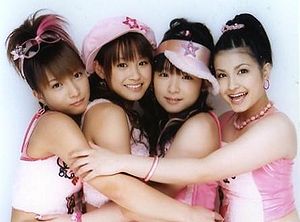 2004
The group disbanded in May 2004 after the graduation of Mika Todd and the release of one final single, "Lucky Cha Cha Cha!".
2009
On May 6, 2009 former Minimoni leader Yaguchi Mari announced on her blog that Hello! Project producer Tsunku had asked her permission to revive Minimoni. Tsunku announced on his own blog that S/mileage member Fukuda Kanon and Morning Musume member Linlin would be members of the revived Minimoni. It was later announced that Hello! Pro Eggs Takeuchi Akari and Miyamoto Karin would be the final two members, and that the new unit would be one of seven shuffle units featured on the compilation album Champloo 1 ~Happy Marriage Song Cover Shuu~. Shin Minimoni performed at the Hello! Project summer concert tour Hello! Project 2009 SUMMER Kakumei Gannen ~Hello! Champloo~ and released a new track, "Pen Pen Kyoudai," on the compilation album Petit Best 10.
2010
Shin Minimoni performed at Hello! Project winter concert tour Hello! Project 2010 WINTER Kachou Fuugetsu ~Shuffle Date~. No future activity for the shuffle units has been announced.
Discography
Albums
Singles
Soundtracks
Compilations
DVD
Filmography
Photobooks

[2001.05.28] ミニモニ。Photo Book (Minimoni. Photo Book) amazon.co.jp
Minimoni in International Media
In February 2006 Minimoni's name was invoked on NBC's The Tonight Show With Jay Leno during a skit claiming that one of Leno's house band members had started out as a member of Minimoni. A manipulated picture of the Leno band member with Minimoni in their promotional outfits for MiniMoni Songs 2 was aired as part of the sketch.
In June 2007, an excerpt from an early 2001 appearance by Minimoni on Hello! Morning of a prairie dog turning his head suddenly, became the basis for the Internet phenomenon The Dramatic Chipmunk. A parody of the Dramatic Chipmunk clip, including lookalikes of Minimoni, appears in Weezer's music video for their 2008 single "Pork and Beans."
External Links