Due to an influx of spam accounts getting through and joining the site, user registrations have once again been disabled until further notice as we work on a different solution.
ANGERME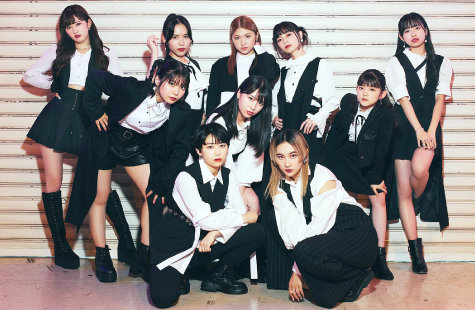 ANGERME
(アンジュルム), formerly known as
S/mileage
(スマイレージ), is a
Japanese pop
girl group managed by
Up-Front Promotion
and part of
Hello! Project
. The group's name derives from the French words
ange
("angel") and
larme
("tears"), and was rebranded in December 2014 to mark a new start after adding its third generation of members.
Members
Current Members
First Generation (2009)
Second Generation (2011)
Third Generation (2014)
Fourth Generation (2015)
Fifth Generation (2016)
Sixth Generation (2017)
Seventh Generation (2018)
Eighth Generation (2019)
Ninth Generation (2020)
Tenth Generation (2021)
Eleventh Generation (2023)
History
Debut & First Album
On April 4, 2009, Tsunku posted on his blog a plan for a new unit featuring Hello! Pro Egg members Wada Ayaka, Maeda Yuuka, Fukuda Kanon, and Ogawa Saki. A month later, on May 8, the unit was named S/mileage, which is a portmanteau of "smile" and "mileage", which in turn refers to the age of smiles. Their debut indies single, "aManojaku", was released in June. Two more indies singles followed during the year. S/mileage performed in Hello! Pro Egg concerts and as guests at Mano Erina's concerts.
Starting with the single "Hajimete no Keiken", S/mileage performed as back dancers for Mano along with Komine Momoka and Sekine Azusa, but appeared without the two for Mano's remaining singles for 2009.
On November 23, 2009, during Hello! Pro Egg's Shinjin Kouen concert, a video message from Tsunku was played to S/mileage, where it was announced that they would graduate from Hello! Pro Egg and make their debut in Hello! Project in 2010. Initially when the group was first formed, Tsunku had said that in order to make the best group possible, additional members might be added or current members might be removed. Wada, Maeda, Fukuda, and Ogawa were confirmed to be the definite line-up of S/mileage. They graduated from Hello! Pro Egg on March 27, 2010.
In February, Tsunku announced S/mileage's challenge for their major debut. By the end of March, they were to collect 10,000 photos of people's smiles and assemble them on a 2 x 4 meter poster board. Anyone could send in photos through the official website. In April, the announcement was made that the goal was achieved and S/mileage made their major debut in May.
On December 8th, 2010, their first album, Warugaki 1, was released.
Second Gen
On May 29, 2011 the official S/mileage website and Tsunku announced an audition to find new members for S/mileage, with Tsunku stating on Twitter that "From the beginning I stated the number of members wasn't fixed. I'm just now putting that into practice. Sorry to make you worry." The audition applicants had to be middle school and high school aged girls, who were also allowed to audition for Morning Musume at the same time but with the restriction of choosing only one group if they happen to pass both auditions. The first round of interviews took place at the TKP Shibuya Conference Center in Tokyo on June 4, 2011 and continued through the month. The second round was streamed live to fans over popular site NicoNico Douga on July 9, 2011. On July 27, 2011 the third round of the audition was also streamed live to fans over NicoNico Douga.
On August 14, 2011, five new sub-members were announced in the last leg of the Hello! Project 2011 Summer ~Nippon no Mirai wa WOW WOW Live~ tour: Nakanishi Kana, Kosuga Fuyuka, and Tamura Meimi, along with two former Hello! Pro Egg members, Takeuchi Akari and Katsuta Rina.
On August 23, 2011, Ogawa Saki announced suddenly that she would be graduating from the group and from Hello! Project on August 27 after the summer concert in Nagoya to return to a normal middle school life.
On September 10, 2011, Kosuga Fuyuka dropped out of the sub-member competition due to severe anemia. It was also announced that she she gets better, she'll be back in as a Hello! Pro Egg.
In September 18, 2011 it was announced that on top of their work so far the sub-members would have to participate in a "Egao Up Campaign!" (笑顔うpキャンペーン; Smile Up Campaign) in order to become full members of the group. The campaign involved them going up to people and asking them to take a picture of them holding a message up on a dry erase board, and then asking the person to upload the photo to Twitter or their blog.
On October 16, 2011 at the first release event for the group's seventh single it was announced that all four sub-members would become full members of S/mileage. Later on October 25, 2011 Maeda Yuuka's graduation from S/mileage and Hello! Project was announced, to take place on December 31, 2011. She announced she would graduate because she wanted to concentrate more on school in order to fulfill her dream of getting into a University.
New Name & Lineup Changes
On September 24, 2014 on the weekly show Hello! Station, Fukuda Kanon & Wada Ayaka announced that new members from the Hello! Pro Kenshuusei would be joining the group on October 4, 2014 in order to help preserve the group's history and position in the future. It was also announced that the group would change it's name and begin the "second chapter" of it's existence, with fans being allowed to submit possible ideas. The third generation, consisting of Murota Mizuki, Sasaki Rikako, and Aikawa Maho, was announced and introduced at the first showing of the "SMILE FANTASY!" stage play on October 4, 2014. With the addition of the third generation members, the group's name was changed to ANGERME after taking applications for the new name.
On May 20, 2015 on Hello! Station, Fukuda Kanon announced the she would graduate during the group's Autumn tour. She stated she would put University on break until her graduation, at which time she would resume and complete her studies. She later made it known that she had hopes to write lyrics and become a songwriter post-graduation.
On June 24, 2015 on Hello! Station, Wada Ayaka announced a new fourth generation ANGERME audition. Applications were accepted between July 2nd and August 16th. The sole winner of the audition, Kamikokuryo Moe, was revealed on November 11th during a release event for the 20th single at Club Citta. It was announced that second generation members Nakanishi Kana and Takeuchi Akari were both new sub-leaders of the group on November 29, 2015, during the graduation concert for Fukuda Kanon. The following month, on December 20th, second generation member Tamura Meimi announced that she would graduate in the Spring of 2016, stating her intention to work on singing and follow her dream of becoming a musical stage actress.
A surprise announcement introducing Hello! Pro Kenshuusei Kasahara Momona as a new member of ANGERME was made on the first day of the Hello! Project 2016 SUMMER ~Sunshine Parade~ concert on July 16.
On January 11, 2017 it was officially announced that 3rd generation member Aikawa Maho was going on hiatus after being diagnoised with a panic disorder.
A special edition of the Hello! Project webshow "Hello! Station" was released on June 26, 2017, announcing the debut placements of three previously chosen Hello Pro Kenshuusei members and the group transfers of three Country Girls members. It was revealed during the episode that Kenshuusei member Kawamura Ayano and Country Girls member Funaki Musubu would become new members of ANGERME.
On December 31, 2017 it was officially announced that Aikawa Maho had made the decision to graduate from ANGERME and Hello! Project, after taking her fears and the unpredictable nature of her condition into consideration, and discussing her future with her family.
ANGERME's first overseas live performance was announced on January 28, 2018. The performance would take place at the La Cigale venue in Paris, France on June 3, 2018. Several more overseas performances were announced in early April; June 29th South Korea, June 30th Hong Kong, and July 1st Taiwan.
Leader and sole first generation member Wada Ayaka announced her graduation from both ANGERME and Hello! Project on April 5, 2018 through a lengthy blog post detailing her reason for choosing to graduate and discussing her hopes and worries regarding the future of the group. She stated that her goal was to continue singing and dancing well into her thirties, and to continue to be called an idol, writing of her distate for the idea that an "idol" has to follow a pre-determined set of rules and of her desire to surpass the current conventions to show that an idol can be much more. The date for her graduation was later announced to be June 18, 2019 at the end of ANGERME's Spring concert tour.
Through a surprise announcement during episode #244 of the Hello! Project television show "The Girls Live" on Novmber 19, 2018, leader Wada Ayaka teased that a new member addition would be revealed at the "ANGERME 2018 Aki Denkousekka" concert finale at Pacifico Yokohama on November 23rd. Two seventh generation members were officially introduced at the event; Hello Pro Kenshuusei Hokkaido member Oota Haruka and newcomer Ise Layla.
During an announcement at the "ANGERME Concert Tour 2019 Haru ~Rinnetenshou~" performance on May 25, 2019 the new leadership roles that would come into play following the graduation of current leader Wada Ayaka were revealed to the public. The next leader would be current sub-leader and second generation member Takeuchi Akari, while the dual sub-leader roles would be filled by current sub-leader and second generation member Nakanishi Kana and newly appointed sixth generation member Kawamura Ayano.
On July 2, 2019 the group began teasing an announcement to be made on July 3rd through episode #296 of the webshow "Hello! Station". Upon release of the episode it was revealed that Hashisako Rin from Hello Pro Kenshuusei would become the eighth generation member of ANGERME, with her first performances as part of the group to take place during the "Hello! Project 2019 SUMMER" concert tour beginning July 13th.
Sixth generation member Funaki Musubu announced her graduation from Country Girls, ANGERME, and Hello! Project on October 18, 2019. She would graduation from Country Girls on December 26th alongside the group's remaining members as the group entered a cease on activities, and from ANGERME and Hello! Project in March 2020. Following her graduation she planned to take a hiatus from entertainment activities, while ultimately stating her desire to pursue dance and other methods of expression, though she did not say she would stop singing, as she'd always had an interest in expressing herself and wanted to continue doing so.
On January 1, 2020, at the "Hello! Project 2020 Winter HELLO! PROJECT IS [     ] " concert, a new audition to find ANGERME members was announced. The audition was titled "ANGERME ONLY ONE Audition ~Watashi wo Tsukuru no wa Watashi~" and had an application deadline of February 25th. Later that month third generation member Murota Mizuki announced her graduation from ANGERME and Hello! Project on January 22, 2020, to take place on March 22nd during the ANGERME Premium show of the "Hello! Project Hina Fes 2020~Hisaichi Fukko Shien Tohoku wo Genki ni!~" concerts. In her statement she apologized for the short notice, and explained that she'd been considering graduation for over a year prior and only came to her decision after discussions with various people. She talked about how she enjoyed expressing herself, and her desire to start fresh in learning about expressiveness and to challenge herself to a wide variety of activities, including music and acting. In the same announcement it was noted that Funaki's impending graduation would be postponed until the end of the "ANGERME Live Tour 2020 Fuyu Haru ROCK ON! LOCK ON!" concerts. Funaki's graduation was again postponed, due to circumstances surrounding the coronavirus outbreak.
On February 28, 2020 it was announced that seventh gerneration member Oota Haruka was placed on indefinite hiatus from all activities at her own request, after admitting to breaching Hello! Project rules. The announcement noted that the office takes the matter seriously and would offer guidance from the basics while giving her time to reflect, with her return to activities to be announced at a later date. Oota stated she would take time to learn from her mistake and come back with improved self-awareness and a higher level of professionalism. Several months later on October 14, 2010 it was announced that Oota had chosen to end her time with ANGERME, but still wanted to eventually return to Hello! Project; she would start from scratch and work her way back. After the announcement her profile was moved from ANGERME's group page to the UP-FRONT PROMOTION artist list.
Several months following the postponements of Funaki Musubu's graduation, a special concert titled "ANGERME Concert 2020 ~Kishoutenketsu~ Funaki Musubu Sotsugyou Special" was scheduled to take place on December 9, 2020 at Nippon Budokan in Tokyo. The "ANGERME ONLY ONE Audition ~Watashi wo Tsukuru no wa Watashi~" results were revealed on November 2, 2020 through a special YouTube broadcast on the official group channel, titled "ANGERME Shin Member Happyou Special!" (アンジュルム 新メンバー発表スペシャル!). Three new members were announced to join as the ninth generation; Kawana Rin, Hello Pro Kenshuusei member Tamenaga Shion, and Matsumoto Wakana.
On June 21, 2021 it was announced that Kasahara Momona would graduate by the end of the year to her pursue dreams abroad. Her graduation took place on November 15, 2021 at the ANGERME Concert 2021 "Tougenkyou ~Kasahara Momona Sotsugyou Special at Nippon Budokan. The following month on December 14th, during the NGERME FC Event 2021 ~Angermerry Xmas~, it was announced that new members would be revealed at the end of year event. On December 30th, Hello Pro Kenshuusei member Hirayama Yuki was revealed to be the only new tenth generation member of ANGERME during the Hello! Project Year-End Party 2021 ~GOOD BYE & HELLO!~ ANGERME Premium.
An announcement was made on December 21, 2022 that leader Takeuchi Akari would be graduating from the group to study calligraphy and later was announced that she'd graduate on June 21, 2023 at the ANGERME CONCERT 2023 BIG LOVE Takeuchi Akari FINAL LIVE "ANGERME Yori Ai wo Komete".
On May 23, 2023 it was announced that two new members would be joining ANGERME; former Hello Pro Kenshuusei members Goto Hana & Shimoitani Yukiho.
Discography
Note: All releases are under the name ANGERME unless otherwise stated.
Albums
Best Albums
Soundtracks
Singles
Other Singles
Vinyls
Digital Releases
Compilations / Other
[2010.11.24] Oha Girl Maple with S/mileage - My School March (マイ・スクール・マーチ)
[2010.12.15] Hello! Project - Petit Best 11 (#6 Yumemiru Fifteen, #13 ○○ Ganbaranakutemo Eenende!! (TopNude Remix Version 02))
[2011.08.06] Bekimasu - Makeruna Wasshoi! (負けるな わっしょい!) (Indies)
[2011.11.16] Hello! Project Mobekimasu - Busu ni Naranai Tetsugaku (ブスにならない哲学)
[2011.12.21] Hello! Project - Petit Best 12 (#14 Short Cut, #15 Tachiagirl)
[2012.12.05] Hello! Project - Petit Best 13 (#9 Dot Bikini, #10 Suki yo, Junjou Hankouki.)
[2013.12.11] Hello! Project - Petit Best 14 (#7 Tabidachi no Haru ga Kita, #8 Yattaruchan)
[2013.12.31] Hello! Project - Hello! Project no Zenkyoku Kara Atsumechaimashita! Vol. 2 (#6 Asu wa Date na no ni, Ima Sugu Koe ga Kikitai)
[2014.07.09] Hello! Project - Hello! Project no Zenkyoku Kara Atsumechaimashita! Vol. 3 (#17 Yumemiru Fifteen)
[2014.08.13] Hello! Project - Hello! Project no Zenkyoku Kara Atsumechaimashita! Vol. 6 (#17 Shin Nippon no Susume!)
[2014.12.10] Hello! Project - Petit Best 15 (#7 Eighteen Emotion, #8 Chikyuu wa Kyou mo Ai wo Hagukumu, #16 Eli, Eli, Lema Sabachthani? (Kanzen-ban), #17 Cur~tain Ko~runrun)
[2015.12.16] Hello! Project - Petit Best 16 (#7 Taikibansei, #8 Gashinshoutan)
[2016.12.14] Hello! Project - Petit Best 17 (#3 Tsugitsugi Zokuzoku, #12 Tsugitsugi Zokuzoku (SWG REMIX), #15 MODE)
[2017.12.13] Hello! Project - Petit Best 18 (#4 Ai Sae Areba Nanni mo Iranai, #14 Yumemiru Television)
[2018.12.12] Hello! Project - Petit Best 19 (#5 Nakenaize...Kyoukan Sagi, #6 Tade Kuu Mushi mo Like it!)
[2020.01.08] Hello! Project - Petit Best 20 2020 (Disc 1 #13 aManojaku, #15 Watashi no Kokoro, Disc 2 #5 46-okunen LOVE, #9 Natsu Shogun, #12 Uchouten LOVE, #17 Wasurete Ageru, Disc 3 #4 Akai Earphone, #5 Onaji Jikyuu de Hataraku Tomodachi no Bijin Mama)
Video Releases
Concerts / Live
Music Video Collection
Single V / Event V
Stage Play
Documentary
DVD Magazine
Works
Filmography
Films
TV Dramas
TV Programs
Anime
Commercials
Music Videos
Theater
Internet
Publications
Photobooks
[2010.12.20] S/mileage 1st LIVE Photobook ~Devil Smile Angel Smile~ (スマイレージ 1st LIVE写真集 ~デビルスマイル エンジェルスマイル~)
[2011.09.24] S/mileage① (スマイレージ①)
[2013.04.25] S/mileage② ~AyaKanon 18sai no Yakusoku~
[2019.05.24] Angermook (アンジュルムック)
Books
[2010.05.xx] LIVE TOUR PHOTO DOCUMENT "Hello! Project 2010 WINTER Kachofugetsu - Mobekimasu! & Shuffle Date"
[2011.04.xx] 2011 Hello! Project Shogatsu Live Book "Hello! Project 2011 WINTER - Kangei Shinsen Matsuri -"
Magazines
[2010.03.xx] Yan Yan Vol.11 (Feature)
[2010.05.xx] Yan Yan Vol.13 (Feature)
[2010.06.xx] Yan Yan Vol.14 (Feature)
[2010.07.xx] B.L.T. (Feature)
[2010.10.xx] Yan Yan Vol.16 (Feature)
[2010.12.xx] Artist File BIG ONE GIRLS No.4 (Feature)
[2011.02.xx] Monthly VAMPS Vol.14 (Feature)
[2011.04.xx] Hello! Channel Vol.4 (Feature)
[2011.05.xx] Yan Yan Vol.20 (Feature)
[2011.06.xx] GIRL POP 2011 Summer (Feature)
[2011.07.xx] Hello! Channel Vol.5 (Feature)
[2011.08.xx] memew Vol.52 (Feature)
[2011.09.xx] BOMB! October 2011 Issue (Feature)
[2011.09.xx] Hello! Channel Vol.6 (Feature)
Calendars
[2010.09.18] Calendar 2011
[2011.10.08] Calendar 2012
Radio
[2010–] FIVE STARS (Maeda Yuuka, Fukuda Kanon) (Wednesdays)
Accolades
[2010.11.19] The 52nd Japan Record Awards 2010 "New Artist"
[2010.12.30] The 52nd Japan Record Awards 2010 "Best New Artist"
External Links