THE ALFEE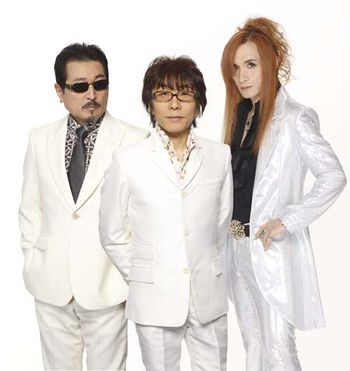 THE ALFEE is a three-piece Japanese band that is currently signed to EMI Music Japan. The trio is composed of Sakurai Masaru on bass guitar, Sakazaki Kohnosuke on acoustic guitar, and Takamizawa Toshihiko on electric guitar, with all three sharing the main vocals. They debuted in 1974 as a folk band, but soon progressed to rock. In 1983, nine years after their debut, the band finally had a hit with their sixteenth single, "Marie-Anne". Ever since, all of their singles have charted in the Oricon weekly top ten.[1] THE ALFEE is known for their numerous concerts; they have toured Japan every year since 1981 and have also held a large-scale (mostly outdoor) concert every summer from 1982 to 2006, with a final one in 2009.[2] As of June 27, 2010, they have performed 2,274 concerts.[3]
Members
Current Members
Former Members
Support Members
Information
Early Days
In 1970, Sakurai Masaru formed the band Confidence (コンフィデンス) with two high school classmates.[4] Covering Western acts such as Simon & Garfunkel, they participated in many folk contests where they often met Sakazaki Kohnosuke. After they graduated high school in 1973, Confidence parted ways and Sakurai entered Meiji Gakuin University. Soon, he re-encountered Sakazaki, Takamizawa Toshihiko from high school, and Miyake Yasuo to revive the band. At the time, Sakazaki was the leader.
Debut
Confidence signed with Victor Music Industries in 1974 and changed their name to ALFIE (アルフィー) to avoid any confusion with Original Confidence. That August, they made their professional debut as a folk band with the single "Natsu Shigure". It did not fare well on the charts, and they released one more single and an album before Miyake withdrew from the band. ALFIE continued as a three-member band and prepared to release their third single on December 10, 1975, titled "Fuchuu Torimono Hikae", a parody of the 300 million yen robbery. Unfortunately, Victor canceled the single the day before its release and terminated the band's recording contract.[4][5]
ALFIE continued to perform at different live houses and as the backing band for Kamayatsu Hiroshi, Ken Naoko, and Saori Yuki until they were picked up again by Canyon Records in 1978. The following year, they re-debuted as ALFEE (アルフィー) with the single "Love Letter".
Transition to Rock
Takamizawa has always been fond of the electric guitar. In an interview, ALFEE was asked, "Your songs are only intended to be heard indoors, right?" to which Takamizawa was offended. Inoue Akira, the producer of the band's third album, Sanjuushi, suggested incorporating a solo in the song "Rakujitsu no Kaze". Soon, ALFEE adopted a rock sound and held their first summer event outdoors in 1982, entitled ROCK'N'ROLL FIGHTING NIGHT -Kanashimi wo Buttobase!!-. Around that time, Sakazaki stepped down as the leader of the band and passed the title to Takamizawa.
Later that year, the band released their fourteenth single, "Wakare no Rhythm". It was their first single to appear on the Oricon charts, peaking at #69. At the beginning of 1983, ALFEE announced a Nippon Budokan concert even though they had not had a hit song.[6] Applications for tickets were included in their fifteenth single, "Akatsuki no Paradise Road".
Success
ALFEE released their sixteenth single, "Marie-Anne", in June 1983. At first, it debuted outside the Oricon top ten, but soon became a hit and climbed to #7 after their performance at Nippon Budokan in August. Later that December, the band made their first appearance at the NHK Kouhaku Uta Gassen.
After the success of 1983, ALFEE released their next single, "Hoshizora no Distance", in January 1984. It reached #2 on the Oricon weekly chart and would later become an ALFEE classic. Soon followed "Koibitotachi no Pavement", the band's first #1 single.
In July 1986, ALFEE changed their name once more to THE ALFEE with the release of their 23rd single, "SWEAT & TEARS". The following month, they performed their fifth summer live, TOKYO BAY-AREA, to an audience of approximately 100,000 people. THE ALFEE was the first Japanese act to hold a concert with an audience of that size.[7] At the show, the band premiered their new single, "ROCKDOM -Kaze ni Fukarete-". Rumors of the band's breakup surfaced because of the large nature of the concert and the lyrics, "Oretachi no jidai wo wasurenaide" (Don't forget this era of our lives), but they turned out to be false.[8]
In 1997, THE ALFEE switched labels to Toshiba EMI.
35th Anniversary
THE ALFEE celebrated their 35th anniversary in 2009. Together with their current label and their former label Pony Canyon, they re-released forty of their albums as either SHM-CDs or HQCDs in a cardboard jacket and twenty of their DVDs in a long case with lower price on March 18th. Later on August 8th and 9th, the band returned to their summer lives that went on hiatus for two years to hold their 26th and final, THE ALFEE Legendary Summer 2009 YOKOHAMA PERFECT BURN.[2] 2009 was also the first year since 1999 that THE ALFEE released more than one single.
BE∀T BOYS
In 1981, THE ALFEE created an alias band called the BEAT BOYS. They released the single "Stars☆On 23" (later called "Shock!! TAKURO23"), a medley of 23 Yoshida Takuro songs. Seven years later in 1988, they changed their name to BE∀T BOYS (with an upside-down "A" to represent a "reverse ALFEE"). The group then became a dance side project, and they released two albums, five singles, and a live video.
Contents
Discography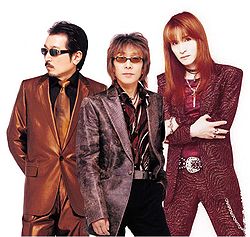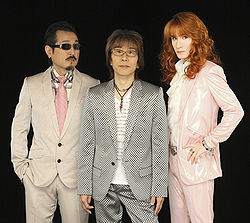 Studio Albums
Best Albums
Other Albums
Singles
Other Singles
Videos
Compilations / Other
BE∀T BOYS Discography
References
External Links