New user registrations have been disabled until further notice. If you would like to create an account, please message
Generasia on Facebook
. Thank you!
Takamizawa Toshihiko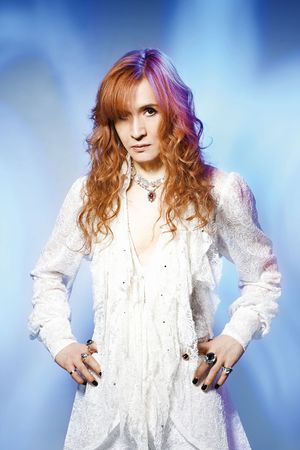 Takamizawa Toshihiko (高見沢俊彦) is a Japanese singer-songwriter, guitarist, producer, and the leader of the rock band THE ALFEE. He launched a solo career in 1991 and has also written and produced songs for many different artists. Additionally, Takamizawa hosts his own radio show and is a member of the DOMOTO BROS. BAND on Shin Domoto Kyoudai.
Profile
Name: Takamizawa Toshihiko (高見沢俊彦)
Nicknames: Takamiy (たかみー), Ouji (王子; Prince)
Birthday: April 17, 1954
Birthplace: Warabi, Saitama Prefecture, Japan
Blood Type: A
Height: 175 cm
Instruments: Guitar, piano, mandolin
Interests: Basketball, Apple products
Information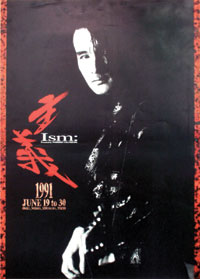 In elementary school, Takamizawa was introduced to The Beatles by his older brother. Later in his third year of middle school, his parents reluctantly bought him his first electric guitar.[1] He also developed a liking for basketball and eventually became captain of the basketball team.[2] Takamizawa attended Meiji Gakuin Senior High School like Sakurai Masaru, but unlike his future bandmate, Takamizawa liked rock music. He formed a cover band with some classmates and performed songs from Western rock bands like Led Zeppelin and Deep Purple. He didn't like folk music, but that changed when he discovered GARO.[3] After graduating high school, he enrolled in the Department of English Literature at Meiji Gakuin University and joined the band Confidence, presently known as THE ALFEE.[1] Sakazaki Kohnosuke was originally the leader, but passed the title to Takamizawa in 1982 after switching genres from folk to rock.
Solo Career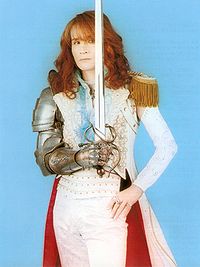 In 1991, Takamizawa released his debut solo album, Ism. For the album, he worked with Western producers, including Steve Hillage and Mike Vernon. The songs on the album have a common theme of romance. For promotion, he performed his first solo concert tour, "Ism" Solo Tour Live.
His next solo release would come fourteen years later. In 2005, Takamizawa released the mini-album Berlin Calling. The title track was used as the image song for the Masterpieces of the Museum Island, Berlin. The mini-album also includes an acoustic self-cover of THE ALFEE's song "Kabe no Mukou no Freedom", which was written in 1989 about the Berlin Wall.
Takamizawa's second full-on solo activity after Ism was in 2007. He released his first single, "Sennen Romance", followed by his second album, Kaléidoscope, two weeks later. He collaborated with many lyricists, including Tsunku and Ayanocozey Show. Takamizawa embarked on his second tour, Kaléidoscope ~Tenshi no Kyouen~, featuring support guitarists of LUKE TAKAMURA (CANTA, ex-SEIKIMA II), ANCHANG (SEX MACHINEGUNS), and KOJI (ALvino, ex-La'cryma Christi).
The following year in 2008, Takamizawa developed a more metal sound. His second single, "Tsukihime", employed four electric guitarists composed of himself and the three from last year's live concert tour. He continued with the same sound with his third single, "VAMPIRE ~Yuuwaku no Blood~ / Yatterman no Uta", in 2009. In October 2009, Takamizawa participated in the visual-kei festival V-ROCK FESTIVAL '09.
Takamizawa's third album, Fantasia, was released on August 25, 2010, which was also the date of THE ALFEE's 36th anniversary since their debut. The album features his previous two singles and more collaborations with lyricists and support musicians, which include Matsumoto Tak from B'z and fellow FANTA member Marty Friedman. Following the conclusion of his tour Takamiy Legend of Fantasia 2010, he released his fourth single, "Aozora wo Shinjiteiru ka?". The lyrics were penned by AKB48 producer Akimoto Yasushi.
Appearance
Takamizawa has been dying his hair since 1992. It was red from 1992 to late 1995, dark brown from late 1995 to 2000, then red again. He has worn blonde wigs in the 2000s as well. Takamizawa also has a wide range of costumes that he wears for performing. An exhibit called "PRINCE TAKAMIY'S DRESS ROOM" opened to the public for the month of August in 2008.[4]
Guitars
Takamizawa is known for his collection of custom ESP guitars, with shapes and designs ranging from angels to swords, and even cartoon characters. He has reportedly over 420 guitars.[5] He said the most disastrous guitar in his possession is the ESP Trump 4 Neck and it is not practical for playing.[2][6]
In June 2007, one of his ESP Angel Sword models was auctioned on eBay for US$4,500 and became popular among many English-language blogs and online guitar communities. The guitar was made to celebrate THE ALFEE's 20th anniversary in 1993. Another model sold for US$3,880 in March 2010.[7]
Discography
Studio Albums
Soundtrack Albums
Singles
Videos
Compilations / Others
Concert Tours
Works
Television
Radio
Commercials
Soundtracks
Theatre Music
[1988] TALKING BLUES (トーキング・ブルース)
[1995] HEART ROCK MUSICAL Seika Monogatari (HEART ROCK MUSICAL 聖歌物語)
Internet
Books
[1998.07.10] Basketball Diaries "HEART BEAT DUNK"
[2001.08.24] Boku no Umi e ~Shiro Iruka no Beluga~ (ぼくの海へ~シロイルカのベルーガ~; Towards My Sea ~White Beluga~)
[2002.10.10] TAKAMIZAWA GUITAR COLLECTION 300
[2004.10.02] Akiramenai Yume wa Owaranai (あきらめない夢は終わらない; Not Giving Up, The Dream Does Not End)
[2010.08.19] Bokura no Jidai Long Hair to Iu Ikikata (ボクらの時代 ロングヘアーという生き方; Our Era, Living with Long Hair) (Miura Jun x Takamizawa Toshihiko x Lily Franky)
Compositions
References
External Links