Be sure to check out our
Facebook page
for the latest changes and to interact with thousands of fans worldwide just like you!
NEWS (group)
From generasia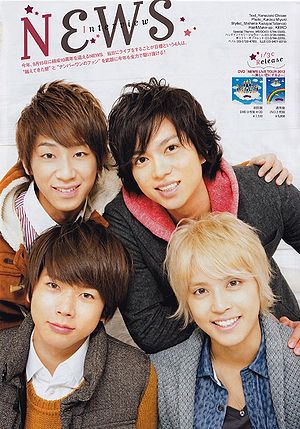 NEWS (also seen as News and NewS) is a Johnny & Associates Japanese pop group composed of four members. NEWS stands for the four compass directions: North, East, West and South. The group was formed in 2003 as a nine member group under the label Johnny's Entertainment and released their debut single "NEWS Nippon".
Members
Former Members
Labels
Information
In September 2003 this group was formed as NewS and the original nine members were handpicked from the larger group of Johnny's Jr. and several smaller groups. Their first single, NEWS Nippon, which was released in 2003, was only available in limited edition at Seven Eleven stores. At the time, the unit was only formed to promote the women's volley ball tournament, which is why their single NEWS Nippon was not their official debut single, but because of the popularity of the unit, they released another single in May 2004. This single, Kibou ~Yell~, became their official debut single and reached the #1 spot on the weekly Oricon charts. It then went on to become the 13th best selling single of 2004. The member count at the time of their official debut was at 8, with Moriuchi Takahiro leaving the unit and Johnny & Associates entirely in December 2003. He is currently working with AMUSE as part of the band ONE OK ROCK.
The unit highlights the connection between Kanto and Kansai Johnny's with two members, Nishikido Ryo and Uchi Hiroki, being Kansai Juniors. Even though the boys debuted with NewS, they did have a second debut with their Kansai unit Kanjani8 later that year. Since both boys frequently moved between the two units, NewS was often featured with only the 6 kanto members. In 2005, the unit did a collaboration with KAT-TUN and Junior units in the SUMMARY of Johnny's World. That year also marked their first member loss since December 2003. Uchi Hiroki, 19 at the time, was caught drinking in public while underage and was suspended from the agency.
In early 2006 Kusano Hironori, who was 17 at the time, was also accused of drinking but when questioned about it, he denied the accusation but still decided to withdraw out of his own accord. For a short term NewS performed with only six members and they released the single Sayaendou / Hadashi no Cinderella Boy. However in May 2006, the group was temporarily suspended from further group activities, so that they could reflect on the misdeeds done by some of its members. The group was expected to return in 2007 with all 8 members. [1] During the time of their suspension, the members each had their own activities; the duo Tegomass was created with Tegoshi and Masuda, while Yamashita performed alongside Golf and Mike in the unit GYM for the women volleyball tournament 2006.
On December 30th, 2006 it was announced that this group would be returning as a 6 member group, and would be appearing on Johnny's Countdown 2006-2007. Since their comeback, the group name changed to NEWS. In January 2007, it was announced that Uchi Hiroki and Kusano Hironori would be returning as 'trainees'. According to fans and websites, the rank 'trainee' is lower than the position of a junior. After almost a year long hiatus, NEWS released a single, Hoshi wo Mezashite, as the theme song for the Japanese release of Happy Feet in which Tegoshi Yuya was the voice of the main character, Mumble. Later that year, it was announced that Uchi and Kusano would be appearing alongside M.A.D. and Chinen Yuuri in Shounentai's musical PLAYZONE 2007. Handwritten letters were sent to their fans announcing their return to the stage. Members of Shounentai also said in a message on the official website for the play that they hoped both boys would be able to leave the trainee title in the end of September, when the play ends.
It was stated at the end of PLAYZONE that the current schedule for the boys were empty and that they did not know what the upcoming months had in store for them.
In January 2008, it was reported that Uchi Hiroki and Kusano Hironori had graduated from their trainee status. It is uncertain whether they will be returning to NEWS, but in the meantime they will pursue solo activities. As for Uchi, it is also uncertain whether he will return to Kanjani8. He starred in a dorama called Isshun no Kaze ni Nare, along with Nishikido Ryo.
NEWS did a concert tour named "NEWS CONCERT TOUR pacific 2007-2008". They had their first live concert in Tokyo Dome in January 2008.
In April 28th 2009, it was announced that NEWS will host the NTV charity program "24 Hour Television". The event was held at Tokyo Big Sight on August 29th-30th. [2]
Yamashita Tomohisa and Ryo Nishikido announced on October 7th 2011 that they will be leaving the group. Tomohisa cites his wish to continue on as a solo artist while Nishikido cites scheduling conflicts and feels partly at fault for the lack of activity from the group
On April 15, 2012, a countdown appeared on the Johnny's Entertainment site revealing NEWS' outlines. After the intial countdown, another countdown started and the ending time coincide with Koyama Keiichiro's radio program "K-chan NEWS". With all of the members guesting, NEWS announced they will have a new single, best of album and a tour.
Discography
Studio Albums
Best Albums
Singles
Video Releases
Concerts / Live
DVD Singles
Concerts
[2004] A Happy "NEWS" year 2004
[2004] SUMMARY of Johnnys World
[2004] NEWSnowCONCERT ~NEWS no Konsatou~ (NEWSnowCONCERT ~ニュースのコンサート~)
[2005] NIPPON EAST TO WEST SPRING CONCERT ~Nihon Oudan Taisetsu na Hito e~ (NIPPON EAST TO WEST SPRING CONCERT ~日本横断 大切なひとへ~)
[2005] Johnnys Theater "SUMMARY 2005"
[2006] A HAPPY "NEWS" YEAR 2006
[2006] NEWS SPRING TOUR 2006
[2007] NEWS Concert Tour 2007
[2007] NEWS FIRST CONCERT 2007 in Taipei
[2007] NEWS CONCERT TOUR "pacific" 2007-2008
[2008] NEWS WINTER PARTY DIAMOND
[2010] LIVE! LIVE! LIVE! NEWS DOME PARTY 2010
[2012] NEWS LIVE TOUR ~Utsukushii Koi ni Suru yo~ (NEWS LIVE TOUR 2012 ~美しい恋にするよ~)
[2013] NEWS LIVE TOUR 2013 NEWS MAKES YOU HAPPY! MAKES THE WORLD HAPPIER!
[2015] NEWS LIVE TOUR 2015 WHITE
[2016] NEWS LIVE TOUR 2016 QUARTETTO
Filmography
Commercials
[2007-2010] Crymson RUSS-K
[2008-] Lawson Genki ni Naro-son Campaign
[2008-2010] KOSÉ Happy Bath Day
[2010] Dwango
[2016] TOUCH'n
Publications
Magazines
[2010.04.xx] POTATO 2010 May Issue (Feature)
[2010.07.xx] J Mania 110 (Feature)
[2010.09.xx] duet Ocotober 2010 (Cover & Feature)
[2010.09.xx] BEST STAGE 2010 November (Feature)
[2010.11.xx] J Mania 114 (Feature)
[2011.02.xx] Duet 2011 March Issue (Feature)
[2011.02.xx] Popolo April 2011 Issue (Feature)
[2011.04.xx] duet 2011 May Issue (Cover & Feature)
[2011.04.xx] Popolo June 2011 Issue (Feature)
[2011.05.xx] Wink up 2011 June Issue (Feature)
[2011.05.xx] Popolo July 2011 Issue (Feature)
[2011.05.xx] BEST STAGE July 2011 Issue (Feature)
[2011.06.xx] Popolo August 2011 Issue (Feature)
[2011.07.xx] Myojo September 2011 Issue (Feature)
[2011.07.xx] duet August 2011 Issue (Feature)
[2011.08.xx] duet September 2011 Issue (Feature)
[2011.08.xx] Wink up September 2011 Issue (Feature)
[2011.08.xx] POTATO September 2011 Issue (Feature)
[2011.08.xx] Myojo October 2011 Issue (Feature)
[2011.08.xx] Popolo October 2011 Issue (Feature)
[2011.09.xx] POTATO October 2011 Issue (Feature)
[2011.09.xx] Popolo November 2011 Issue (Feature)
[2011.10.xx] POTATO November 2011 Issue (Feature)
[2011.10.xx] duet November 2011 Issue (Feature)
[2011.10.xx] Popolo December 2011 Issue (Feature)
External Links