Generasia would not be what it is today without the countless contributions by both staff and members alike! Thank you for all that you do!!
Kimura Kaela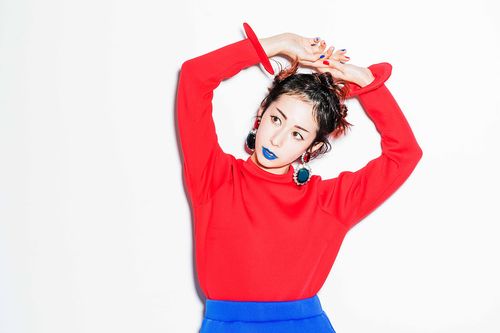 Kimura Kaela (木村カエラ) is a Japanese pop-rock musician, actress, and model who is signed to Victor Entertainment. She got her start as an exclusive model for Seventeen, she then became the host of the early morning TV show saku saku, and made her musical debut in 2004 with Columbia Music Entertainment; Best known for her hit songs "Real Life Real Heart", "Ring a Ding Dong", and "Butterfly".
Profile
Stage Name: Kimura Kaela (木村カエラ)
Full Name: Kimura Kaela Rie (木村カエラりえ)
Birthdate: October 24, 1984
Blood Type: A
Ethnicity: Japanese / British
Hobbies: Guitar, piano, making clothes, swimming
Education: Muncipal Tsukada Junior High School, Mukogaoka Central High School
Family: Husband actor Eita, son
Band Members
Information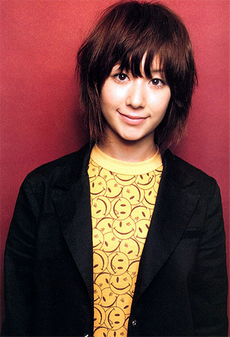 Kimura Kaela was born on October 2nd, 1984 to a Japanese mother and a British father in Tokyo, Japan. When she was six, she was scouted in Harajuku to be a hair model. She continued her modeling career later on by appearing in fashion magazines such as CUTiE. In high school, Kimura was inspired by artists like Gwen Stefani of No Doubt and Tim Armstrong of Rancid. She became a member of the punk and melocore band named animo and went under the alias of "Katie". The band had two of their songs featured on a 2005 compilation album called ...of newtypes.
Kimura had then became an exclusive model for Seventeen magazine, and soon made her television debut as the host of saku saku on March 31st, 2003. On May 10th, 2004 she released her debut single "Level 42", derived from the channel number "42" which airs saku saku. It was sold exclusively at Shinseido shops with only 390 copies available, costing 390 yen each. A crowd of over 2,000 appeared and the single sold out in the first 3 minutes of its release. On June 23rd, 2004 Kimura re-released "Level 42" through the major label Columbia Music Entertainment; the single reached #15 on the Oricon weekly charts.
She released her second single, "happiness!!!", on October 27th, 2004. The single was used in the CM for Rohto Pharmaceutical's "Sesera" range of lip care products. Kimura began being featured in commercials herself, and "happiness!!!" ranked #11 on the Oricon charts. On December 8th, 2004 she released her debut self-titled album KAELA, which peaked at the #7 position on the Oricon charts.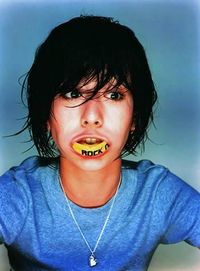 Her first single post KAELA was her breakthrough hit, "Real Life Real Heart". It was used as the Vodaphone CM song, which featured Kimura herself. This single reached #3 on the Oricon charts and sold over 115,000 copies. The B-side, "Twinkle", was featured as a different version on the NANA-inspired LOVE for NANA ~Only 1 Tribute~ compilation album released six days after her single.
In spring, Kimura stopped working as an exclusive model for Seventeen. Her first live DVD, KAELA KIMURA 1st TOUR 4YOU, was released in the summer. Kimura's next move was to the big screen as she took the lead role in the October 2005 musical comedy Custom Made 10.30 along side rock legend Okuda Tamio. Okuda also worked with her musically, composing her single "BEAT". Her January 2006 single, "You", was used as the Kit Kat CM song. Soon after the release of her fifth single she released her second album, Circle. On March 18th, 2006 it debuted at #2, behind Koda Kumi's BEST ~second session~. After a year on the show, Kimura finally graduated from saku saku on March 31st, 2006.
Not long after she released her second album she was announced as the new guest vocalist for the classic Sadistic Mika Band. The group renamed themselves Sadistic Mikaela Band for the release. They covered an older song of theirs called "Time Machine ni Onegai" (used as the KIRIN LAGER CM song). She was also on their October 25th, 2006 album Narkissos, which is their first album in several years.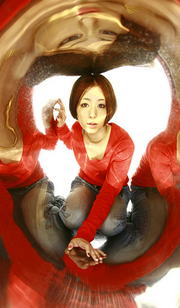 Kimura had also continued her solo career. She covered the classic Roy Orbison hit "Oh, Pretty Woman", and it was used as the theme to the dorama Attention Please, which she had a guest appearance in. She also joined up with FOE and released the song "Cloudy", which was done in the style of Nirvana and featured on the compilation album, LAST DAYS -tribute to Mr.K-. In June she released her fifth single "Magic Music", which was used as the Toshiba Gigabeat TC-CM song. "Magic Music" was her third single in a row to reach #7 on the Oricon charts.
In September she released "TREE CLIMBERS", which was used as the Tokyo Mode Gakuen CM song. The PV for the song also starred BEAT CRUSADERS, whom Kimura would collaborate with on her January 17th, 2007 single "Snowdome". "Snowdome" was used as the JR SKI SKI campaign song, while the B-side "Ground Control" was used as the new Toshiba Gigabeat CM theme. Soon after her third album Scratch was released on February 7th. It was Kimura's first album to reach #1 on the Oricon charts, and it ended up being the #28 album of 2007. Kimura's first photobook, titled "Cheeky", was released shortly after her third album on the 28th.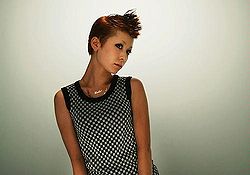 Her ninth single, "Samantha", was released on July 18th, 2007 and is written about Samantha Stephens from the 1960s American show Bewitched. Her second live DVD, LIVE Scratch ~Agattemasutteba TOUR~ @ Budoukan, was released on September 19th. On October 24th, Kimura's tenth single "Yellow" was released. The song was used as NTV's Sports Uru Gusu program theme. In celebrating her tenth single, three songs (along with instrumentals) were included in the release. One of the B-sides was a cover of Farrah's song "No Reason Why", which was used as the Yamazaki Pan "Ranchi Pakku" CM theme.
Kimura kicked off January 2008 with the song "birdie", a collaboration between herself and DEPAPEPE, for the compilation album Yamazawa Taiyou presents music tree. Kimura's eleventh single, "Jasper", was released on February 6th, 2008 and used as the theme song for the Japanese dub of the 2007 Hollywood film Mr. Magorium's Wonder Emporium. Takkyu Ishino of Denki Groove composed and produced the song while Kimura wrote the lyrics.
Starting on February 5th, a new song called "Kagami yo Kagami" was used as the new ending theme song for the Japanese broadcast of the American drama series The OC. Also the vinyl-only "Jasper (remix ver)" (mixed by Takashi Watanabe) was released in full or Chaku-Uta through Kimura's official website. Kimura's fourth original album, +1, was released on April 2nd, 2008. It reached #3 on Oricon charts. +1 would go on to be certified platinum by the RIAJ. Kimura's first PV collection DVD, BEST VIDEO 1, was released on July 23rd, 2008.
Kimura released her 12th single "Moustache / memories (original version)" on September 10th, 2008. The single peaked at #7 on the Oricon charts and charted for eight weeks. "Moustache" was used in the LUCIDO-L hair products commercial and "memories" was used as the theme song to the film Paco and the Magical Book. She released "Doko", her first ballad, on January 28th, 2009. "Doko" was used as the opening theme song for the music television show Ongaku Senshi MUSIC FIGHTER, while the B-side "Phone", was featured in "Pokka", a Japanese beverage CM. The single debuted at #5 on the Oricon charts and charted for four weeks. Her 14th single titled "BANZAI" was released on May 8th, 2008. The song was composed and arranged by avenger in sci-fi and was used as the theme song for S☆1, a sports program. The single debuted at #4 on the Oricon charts and charted for eight weeks.
Kimura released her fifth album HOCUS POCUS on June 24th, 2009. "HOCUS POCUS", the second track from the album, was used in the MBS drama Play Childcare. She continued to promote the album with "Butterfly", the fifth track on the album, which was written for the wedding of a close friend. "Buttefly" was released digitally on the same date as "HOCUS POCUS", and just two months after its release the song exceeded 100 million downloads. HOCUS POCUS debuted at the #3 position on the Oricon charts and charted for 26 weeks. On February 3rd, 2010 Kimura released her first best of album titled 5years.

On June 1st, 2010 it was reported by Nikkan Sports that both Kimura and actor Eita were to be wed, as she was three months pregnant with his child. Three months later, on September 1st, both parties announced on their respective official websites that they submitted their marriage registration that same day.
In June of 2010, the couple announced their marriage and pregnancy with their first child. They welcomed a baby boy later in October.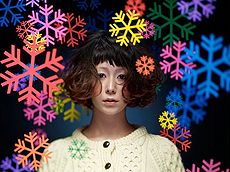 Followed by the release of her first best-of album she released in summer her 15th single "Ring a Ding Dong" which managed to grab the #1 in the Oricon chart which made this her first visit on the top spot. A half year later she released "A winter fairy is melting a snowman", her 16th single, which peaked at #4. There was a gap of 8 months between "A Winter Fairy Is Melting a Snowman" and her next single "Kidoairaku plus Ai", in this single she left the "happy tune"-road and decided to make a more rockish song. The single grabbed only #13 in the Oricon Charts. This release was followed by her 6th studio album 8EIGHT8, which was released on October 12th, 2011. "Chocolate" was used to promote the album, she performed the song on several shows and released a music video for it. The album reached #1 on Oricon and charted for 13 weeks.
In May 2012 Kimura made a comeback in the music scene with her 18th single "Mamireru", the single reached #9. The track was used as theme song for the drama Toshi Densetsu no Onna.
On August 1st she released KAELA WEB TOUR 2012 @ Nippon Budokan. In the same month she announced that she will held a nationwide hall tour, which will start in January 2013. This was her first hall tour since her LIVE TOUR 2008 +1, 4 years ago. The tour started on January 27th in Kanagawa and will end on March 31st in Okinawa. She will held a total of 19 shows in 17 locations.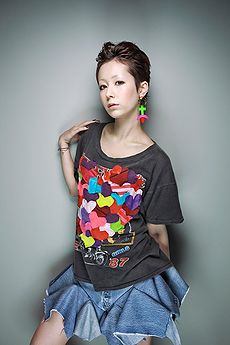 In September her song "Hello Goodbye", a cover of the popular The Beatles' song, was used as commercial song from Canon. She rearranged the song by adding marimba and banjo to create a different atmosphere from the original song. The track was included as B-Side for "Sun shower". She first performed the yet untitled song live on the ROCK IN JAPAN FESTIVAL 2012, she asked her fans if they could help her come up with a title for the song. Many fans tweeted their ideas to the staff's official account. Later the staff decided to chose the title "Sun shower" with a release date on 24th October which is Kimuras birthday. The single reached #16 on the Oricon Charts.
In November she announced the release of her 7th studio album [[Sync]] and a new photo book called "COLORS". Both were released on December 19th. To promote the album she released a music video for the song "WONDER Volt", the song and video were inspired by Tim Burton's movie Frankenweenie.
It was announced on Kaela's Official Blog that she is pregnant with her second child. She stated on her website to fans saying, ""I'm blessed with a second child. I'm frightfully happy that we are having an addition to our family again, and a precious life is growing in my belly. I will continue my efforts as a woman, and as an artist, so please watch over me warmly. Though I will take a break from live concerts, I am still creating new works. Please continue to support me." She is busy preparing the establishment of her private record label.
On October 7th, actor Eita and singer Kimura Kaela announced the birth of their 2nd child through their official websites. Kimura reported, "The other day, a cute girl was born to us. Our family has gained a member, and we feel lots of happiness. From the bottom of my heart, I want to say thank you for being born." Eita also commented, "I grew up with brothers, so I'm already confused about how to treat my daughter. As an actor, I want to continue to live each day carefully." Kimura added, "To have someone I want to protect nearby, it gives me courage, energy, and hope." Finally, she stated, "Everyone, I'm looking forward to the day I will see you again."
Trivia
Her name in Hebrew means "beloved", however her parents picked her name due to the sound and not the meaning.
Kimura knew English when she was younger, she has since forgotten the language.
Discography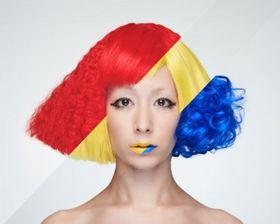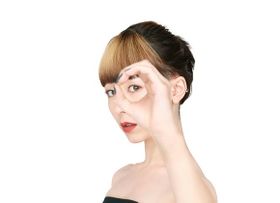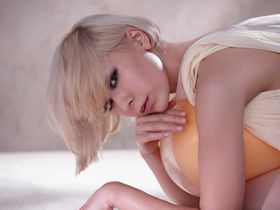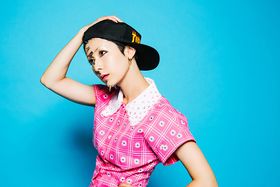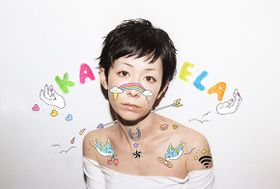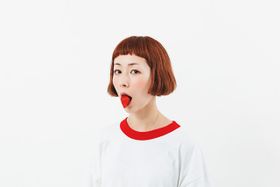 Studio Albums
Best Albums
Cover Albums
Mini-Albums
Singles
Digital Singles
Other Singles
Blu-ray
Compilations / Other
Filmography
Movies
Television
Publications
Books
Band Scores
[2005.03] Band Score Kimura Kaela "KAELA"
[2006.04] Band Score Kimura Kaela "Circle"
[2007.04] Band Score Kimura Kaela "Scratch"
[2009.02] Band Score Kimura Kaela "+1"
[2009.08] Band Score Kimura Kaela "HOCUS POCUS"
[2010.03] Band Score Kimura Kaela "5years"
[2011.12] Band Score Kimura Kaela "8EIGHT8"
External Links