Due to an influx of spam accounts getting through and joining the site, user registrations have once again been disabled until further notice as we work on a different solution.
MAX (group)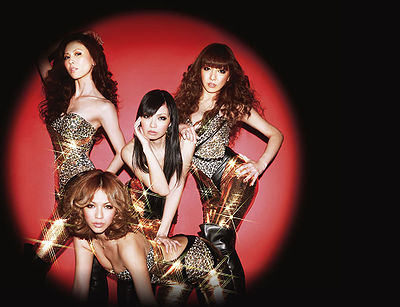 MAX is a four member female idol group hailing from Okinawa, Japan. The group, whose name is an acronym for Musical Active eXperience, debuted in May 1995 while performing with Namie Amuro as part of the SUPER MONKEYS. The group shot to stardom with the release of their third single, TORA TORA TORA, in 1996 and have enjoyed 15 top 10 singles and several million selling albums. Since their debut, the group has sold over 10,000,000 records. In 2002, their lead vocalist Mina left the group due to pregnancy and was replaced by Aki. Mina returned to the group six years later on October 28, 2008 after Aki left the group at the end of August that year.
Offering an alternative to the more traditional idols, MAX set themselves apart focusing on high impact choreography and a sexier more adult image.
Members
Former Member
Information
Hailing from prestigious Okinawa Actors School and signed under Toshiba-EMI, they were brought by their label in Tokyo to try their luck in the main limelight. They had released two relatively unsuccessful singles until Amuro Namie left and became Namie's backup dancers until March 1996. They released their movie Ladie's Max and their third single TORA TORA TORA, which debuted at #19 and gave them a chance to take off as a band and as MAX. In December of the same year, they released their debut album, MAXIMUM, which went straight to the top of the charts and reached pass 1,000,000 units sold mark.
Following MAXIMUM's success, they released a sequel to their first movie with the single Give me a shake as the movie's theme song and the first original song the band made. The song went straight to #1, giving them their first #1 hit. In fall of 1997, they went on their first tour J-POP GIG TOUR. They then released their second album MAXIMUM II of Christmas Day the same year which came as successful as its prequel. In 1999, they had released their first greatest hits collection and released their first ballad entitled Issho ni.... The single became their second best selling single.
In 2000, the band decided to take over their own music composing and producing, releasing their first R&B single, Never gonna stop it, which debuted at #8. But, it wasn't sustained and sold only 100,000 copies, marking the beginning of declining sales. In 2002, Mina, the band's lead vocalist, announced her depart from the group due to her marriage and pregnancy. This came after they had released their second ballad, Spring rain, which debuted in #28, breaking their 19 consecutive top 20 singles. Because of this, the release of their fifth album was canceled. And instead release their third greatest hits and the group took a hiatus afterwards.
Months after, the news of a new MAX member circulated. A fanclub meeting took place afterwards where the three original members performed their smash hit and confirmed the news by introducing the new member, Aki. They also announced the release of a new single and album at the meeting. However, the single's released was canceled and the album was released. Their official comeback single, eternal white, debuted in #20 but fell short as it quickly went off of the charts. The same charting positions continued even in 2003, where two released singles failed to place in the top 30. In 2004, their cover of Atomic Kitten's Be With You still failed to enter the top 30 even through with lots of promotions. After performing in United States at Texas' AnimeFEST, the group members took time for their own solo careers. In 2005, they celebrated their 10th anniversary with a hotel tour entitled MAX LOVE TRIP 2005, a four-show span that was done in May. In November, they release the single Anata wo Omou Hodo, which include a remake of their first ballad Issho ni.... After that, they had released their newest album in five years, Jewel of Jewels.
At the end of August 2008, Aki quit the group to pursue a career in singer-songwriter. Then months later on October 28, it was announced that Mina had rejoined the group after an extended absence. They release a new remix album, entitled NEW EDITION ~MAXIMUM HITS~, and a new single after three years, entitled Rough Cut Diamond.
Discography
Albums
Remix Albums
Cover Albums
Best Albums
Singles
Digital Singles
Other Singles
Video Releases
Compilations / Other
Filmography
Dramas
Movies
External Links