Due to an influx of spam accounts getting through and joining the site, user registrations have once again been disabled until further notice as we work on a different solution.
SUPER MONKEYS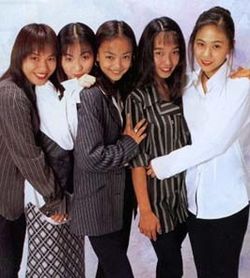 The SUPER MONKEYS (also known as SUPER MONKEYS' 4 and Amuro Namie with SUPER MONKEYS) were a Japanese pop group on the Toshiba-EMI label. The group is mostly known as the beginning of the careers of superstars Amuro Namie and MAX.
Members
Former Members
Information
SUPER MONKEYS made their debut in 1992 with the single "Koi no Cute Beat / Mister U.S.A.". Initially their lineup consisted of Makino Anna, Amuro Namie, Ameku Minako, Takushi Nanako, and Aragaki Hisako, all former students of the Okinawa Actors School. Makino left in December 1992, and the remaining girls became known as SUPER MONKEY'S 4.
Soon Amuro began to gain prominence, and beginning with the fourth single the group's name changed again to Amuro Namie with SUPER MONKEYS. After the release of "PARADISE TRAIN", Aragaki left and Miyauchi Reina and Matsuda Rina (both former students of the Okinawa Actors School as well) joined.
The group then began to cover Eurobeat songs, and with the single "TRY ME ~Watashi wo Shinjite~", the group finally had a breakout hit. The next two singles featured Amuro exclusively, with the other four girls — who in May 1995 released their debut single as MAX on avex trax — as backup singers. After "Stop the music" was released that summer, Amuro switched to the avex trax as well and released her first single on that label, "Body Feels EXIT", in October. Her second solo avex single, "Chase the Chance", was released that December and marked the last time that MAX participated as backup for Amuro's songs.
In 2006, Amuro celebrated her 15th anniversary as a solo artist. To celebrate, she arranged a reunion with the SUPER MONKEYS. The only members to attend were Makino Anna, Aragaki Hisako, and Ameku Minako. Pictures and information from the reunion were published in the booklet for Amuro's DVD namie amuro BEST tour "Live Style 2006".
Names
The SUPER MONKEYS were known for constantly changing the official name of their group. Usually the name would not last for more than one or two releases before being changed again. This was in part due to the leaving of members of the band, and the gradual bringing out of Amuro Namie as the more prominent member of the group.
[1992 - 1993] SUPER MONKEYS (スーパーモンキーズ)
[1993 - 1994] SUPER MONKEY'S 4 (スーパーモンキーズ4)
[1994 - 1994] Amuro Namie with SUPER MONKEYS (安室奈美恵withスーパーモンキーズ)
[1995 - 1996] Amuro Namie (安室奈美恵)
[1996 - Current] Amuro Namie / MAX
Discography
Albums
Singles
Compilations / Others
External Links