Generasia would not be what it is today without the countless contributions by both staff and members alike! Thank you for all that you do!!
Kashiyuka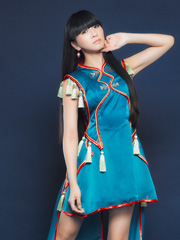 Kashiyuka is a member of electropop unit Perfume. She was also part of the gravure idol group Seikore 2002. Kashiyuka is known to be the shy member of the group. She mentions lacking confidence in her voice at one point and even considered quitting Perfume when the group was having a hard time finding any success.
Profile
Stage Name: Kashiyuka (かしゆか), KASHIYUKA
Full name: Kashino Yuka (樫野有香)
Birthdate: December 23, 1988
Blood Type: A
Height: 160cm
Favorite Things: Music, Books, Walking, Sleeping, Her Hamster.
Favorite foods and drinks: Salisbury Steak, White Rice, Maccha Milk, Strawberry Milk, Carbohydrates, Ice Cream
Favorite sports: Volley ball, Dancing, Swimming, Skating
Favorite movie: Spirited Away
Favorite artists: KREVA
Best Asset: Her Hair
Trivia

Kashiyuka hates tomatoes.
She loves all kinds of animals, from cats and dogs to more unusual species - she had a flying squirrel named Tam as a pet and gained minor internet fame for the episode of Perfume no Kininaruko-chan on which she lovingly held a snake that even the male panel members were too afraid to go near.
When she was younger, she was bullied by a group of three students who were jealous of her status as an idol at such a young age.
She loves carbohydrates and will not eat any vegetables except potatoes and cabbage. She picks vegetables out of her sushi.
She enjoys ice cream so much that she sometimes has up to 5 servings of it a day.
It is revealed in an interview with Flash Magazine that Kashiyuka has never told a boy that she likes him (although this may have changed since the interview took place).