New user registrations have been disabled until further notice. If you would like to create an account, please message
Generasia on Facebook
. Thank you!
Game (Perfume album)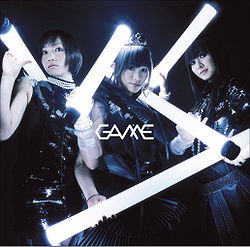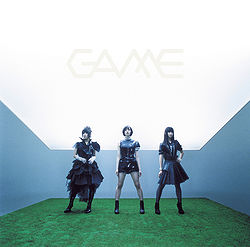 Artist

Album

GAME

Released

2008.04.16
2016.02.17 (Analog Edition)

Catalog Number

TKCA-73320 (Limited Edition)
TKCA-73325 (Regular Edition)
TKJA-10062 (Analog Edition)

Price

¥3,900 (Analog Edition)
¥3,300 (Limited Edition)
¥2,800 (Regular Edition)
CD Tracklist
DVD Tracklist
Information
GAME is Perfume's first album. It was released in two versions: a limited CD+DVD edition and a regular CD only edition. It is certified Double Platinum for the shipment of 500,000 albums.
Oricon Chart Positions
Weeks 1-25
Weeks 26-50
Week 51-69

| Week | Week Rank | Week Sales | Total Sales |
| --- | --- | --- | --- |
| 1 | 1 | 154,304 | 154,304 |
| 2 | 3 | 59,552 | 213,856 |
| 3 | 3 | 35,850 | 249,706 |
| 4 | 3 | 24,770 | 274,476 |
| 5 | 10 | 13,397 | 287,873 |
| 6 | 21 | 8,842 | 296,715 |
| 7 | 28 | 6,923 | 303,638 |
| 8 | 32 | 5,167 | 308,805 |
| 9 | 32 | 5,735 | 314,540 |
| 10 | 36 | 5,145 | 319,685 |
| 11 | 37 | 6,161 | 325,846 |
| 12 | 31 | 5,931 | 331,777 |
| 13 | 28 | 6,351 | 338,128 |
| 14 | 26 | 6,143 | 344,271 |
| 15 | 38 | 4,781 | 349,052 |
| 16 | 27 | 5,112 | 354,164 |
| 17 | 23 | 5,006 | 359,170 |
| 18 | 26 | 4,945 | 364,115 |
| 19 | 45 | 2,872 | 366,987 |
| 20 | 72 | 2,338 | 369,325 |
| 21 | 90 | 1,763 | 371,088 |
| 22 | 88 | 1,673 | 372,761 |
| 23 | 84 | 1,632 | 374,393 |
| 24 | 118 | 1,567 | 375,960 |
| 25 | 93 | 1,584 | 377,544 |

Week
Week Rank
Week Sales
Total Sales
26
96
1,409
378,953
27
80
1,463
380,416
28
110
1,312
381,728
29
140
1,083
382,811
30
108
1,276
384,087
31
103
1,177
385,264
32
74
1,656
386,920
33
84
2,353
389,273
34
83
2,166
391,439
35
97
2,124
393,563
36
75
2,365
395,928
37
43
9,771
405,699
38
39
28
4,421
410,120
40
43
3,001
413,121
41
69
2,214
415,335
42
90
1,849
417,184
43
101
1,437
418,621
44
79
1,547
420,168
45
106
1,306
421,474
46
153
1,222
422,696
47
164
1,065
423,761
48
160
1,007
424,768
49
181
910
425,678
50
141
1,269
426,947

| Week | Week Rank | Week Sales | Total Sales |
| --- | --- | --- | --- |
| 51 | 83 | 1,374 | 428,321 |
| 52 | 83 | 1,264 | 429,585 |
| 53 | 111 | 966 | 430,551 |
| 54 | 133 | 1,146 | 431,697 |
| 55 | 88 | 1,448 | 433,145 |
| 56 | 71 | 1,512 | 434,657 |
| 57 | 84 | 1,252 | 435,909 |
| 58 | 111 | 1,102 | 437,011 |
| 59 | 129 | 1,051 | 438,062 |
| 60 | 132 | 872 | 438,934 |
| 61 | 146 | 764 | 439,698 |
| 62 | 150 | 728 | 440,426 |
| 63 | 215 | 742 | 441,168 |
| 64 | 162 | 831 | 441,999 |
| 65 | 79 | 2,009 | 444,008 |
| 66 | 67 | 1,850 | 445,858 |
| 67 | 119 | 1,321 | 447,179 |
| 68 | 144 | 940 | 448,119 |
| 69 | 197 | 758 | 448,877 |
Total Reported Sales: 476,927
Sales in 2008: 391,439
Sales in 2009: 61,415
Sales in 2010: 10,486
External Links