User registrations have now been re-enabled. If you previously had an account and logged in via OpenID, please create a new account. Thank you!
BTS 2021 Season's Greetings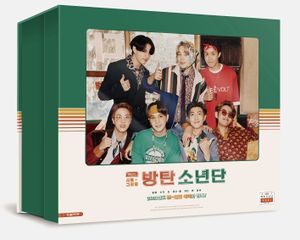 Artist

Box

BTS 2021 SEASON'S GREETINGS

Released

2020.12.15
2020.12.30 (Japan)

Price

₩61,750 (Box+Wall Calendar)
₩20,000 (Wall Calendar)

DVD Tracklist
Making DVD
Information
BTS 2021 SEASON'S GREETINGS is a DVD Box containing a Making DVD, a poster, a calendar, a diary, a photobook and several photos. Some versions included a wall calendar, though it could be purchased separately. In Japan, it peaked at #1 on the weekly DVD charts. It was the 12th most sold DVD of 2021.
Box Contents
Oricon DVD Chart Positions
Mon
Tue
Wed
Thu
Fri
Sat
Sun
Week Rank
no daily charts
1
x
x
6
14
1
-
-
2
-
1
4
7
8
-
-
3
1
19
19
20
16
-
-
18
11
-
17
8
2
-
-
17
2
-
-
16
15
-
-
-
6
-
-
-
18
-
-
-
5
-
-
13
-
-
-
-
11
-
-
-
-
-
-
-
11
-
-
-
-
-
-
-
18
-
-
-
-
-
-
-
11
-
-
-
-
-
-
-
11
-
-
-
-
-
-
-
out for one week
8
-
-
-
-
-
-
-
out for five weeks
3
-
-
-
-
-
-
-
out for one week
-
-
-
-
8
-
-
-
out for three weeks
12
-
-
-
-
-
-
-
out for three weeks
17
19
17
-
-
-
-
-
13
-
-
-
-
-
-
-
-
-
-
14
-
-
-
-
-
-
-
10
-
-
-
-
18
-
-
-
-
-
-
-
20
20
-
-
-
-
-
-
out for 8 weeks
6
8
10
-
-
-
-
16
14
-
-
-
-
-
-
-
Total Reported Sales in 2021: 98,205 (#12 DVD of the Year)