User registrations have now been re-enabled. If you previously had an account and logged in via OpenID, please create a new account. Thank you!
Map of the Soul: Persona
Artist

Mini-Album

MAP OF THE SOUL: PERSONA

Released

2019.04.12

Price

₩14,800

Tracklist
Information
MAP OF THE SOUL: PERSONA is the fifth mini-album released by BTS. The song "Jageun Geotdeureul Wihan Si (Boy With Luv)" was used as the lead track.
Versions Covers
Box Contents
Accolades
Awards
Guiness World Records
Best-selling album in South Korea (surpassed)
Certifications
Belgium - Gold (15,000 sales)
France - Gold (50,000 sales/streams)
Hungary - Gold (2,000 sales/streams)
Italy - Gold (25,000 sales/streams)
Japan - Gold (100,000 sales)
Poland - Platinum (20,000 sales/streams)
South Korea - 4x Million (4,000,000 sales)
Spain - Gold (20,000 units sold)
United Kingdom - Gold (100,000 sales/streams)
United States - Gold (500,000 sales/streams)
Charts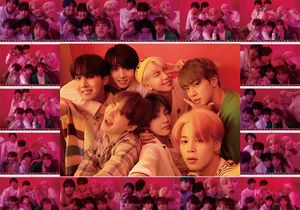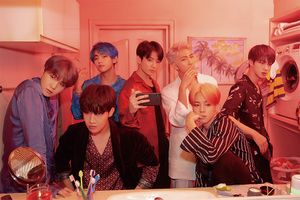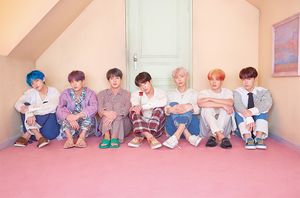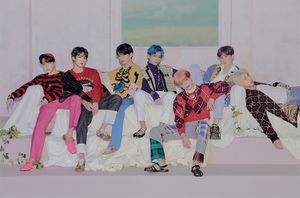 Gaon Album Chart
Weekly
Week 1
Week 2
Week 3
Week 4
Week 5
Week 6
Week 7
Week 8
Week 9
Week 10
Position
1
1
1
4
5
2
4
7
10
6
Week 11
Week 12
Week 13
Week 14
Week 15
Week 16
Week 17
Week 18
Week 19
Week 20
Position
3
5
15
8
10
8
18
11
12
10
Week 21
Week 22
Week 23
Week 24
Week 25
Week 26
Week 27
Week 28
Week 29
Week 30
Position
10
8
10
10
22
9
20
14
3
13
Week 31
Week 32
Week 33
Week 34
Week 35
Week 36
Week 37
Week 38
Week 39
Week 40
Position
28
17
21
55
9
7
6
3
3
3
Week 41
Week 42
Week 43
Week 44
Week 45
Week 46
Week 47
Week 48
Week 49
Week 50
Position
6
5
8
18
19
12
35
11
9
7
Week 51
Week 52
Week 53
Week 54
Week 55
Week 56
Week 57
Week 58
Week 59
Week 60
Position
22
19
15
24
11
17
12
11
27
24
Week 61
Week 62
Week 63
Week 64
Week 65
Week 66
Week 67
Week 68
Week 69
Week 70
Position
23
19
23
20
23
32
15
14
16
23
Week 71
Week 72
Week 73
Week 74
Week 75
Week 76
Week 77
Week 78
Week 79
Week 80
Position
12
24
13
13
21
35
11
11
11
21
Week 81
Week 82
Week 83
Week 84
Week 85
Week 86
Week 87
Week 88
Week 89
Week 90
Position
25
29
26
21
52
16
19
19
13
13
Week 91
Week 92
Week 93
Week 94
Week 95
Week 96
Week 97
Week 98
Week 99
Week 100
Position
20
15
11
17
14
13
8
17
35
-
Week 101
Week 102
Week 103
Week 104
Week 105
Week 106
Week 107
Week 108
Week 109
Week 110
Position
-
15
14
15
14
15
24
93
13
17
Week 111
Week 112
Week 113
Week 114
Week 115
Week 116
Week 117
Week 118
Week 119
Week 120
Position
19
19
41
17
31
15
18
21
10
11
Week 121
Week 122
Week 123
Week 124
Week 125
Week 126
Week 127
Week 128
Week 129
Week 130
Position
13
13
14
16
16
10
15
22
7
15
Week 131
Week 132
Week 133
Week 134
Week 135
Week 136
Week 137
Week 138
Week 139
Week 140
Position
31
17
9
34
20
19
34
12
29
15
Week 141
Week 142
Week 143
Week 144
Week 145
Week 146
Week 147
Week 148
Week 149
Week 150
Position
24
6
14
11
18
23
33
10
11
22
Week 151
Week 152
Week 153
Week 154
Week 155
Week 156
Week 157
Week 158
Week 159
Week 160
Position
12
21
20
26
18
23
16
19
18
26
Week 161
Position
24
Monthly
Year
Month
Rank
Sales
2019
April
1
3,229,032
May
3
226,636
June
5
100,678
July
19
24,317
August
13
18,156
September
10
13,992
October
9
119,892
November
30
10,158
December
7
31,735

Year
Month
Rank
Sales
2020
January
8
29,255
February
19
10,932
March
15
13,374
April
18
11,098
May
19
11,763
June
33
18,630
July
23
16,740
August
18
15,892
September
24
19,537
October
31
12,725
November
34
14,147
December
18
23,443

Year
Month
Rank
Sales
2021
January
19
24,693
February
26
20,064
March
29
19,210
April
27
42,038
May
26
25,370
June
31
23,355
July
14
26,535
August
24
32,427
September
20
38,343
October
19
46,015
November
30
27,624
December
14
32,480
Year
Month
Rank
Sales
2022
January
27
31,687
February
19
30,995
March
30
26,111
April
24
26,436
Yearly
| Year | Rank | Sales |
| --- | --- | --- |
| 2019 | 1 | 3,718,230 |
| 2020 | 45 | 197,536 |
| 2021 | 39 | 358,154 |

Total Reported Sales: 4,389,149*
Oricon Chart Positions
| Mon | Tue | Wed | Thu | Fri | Sat | Sun | Week Rank | Sales |
| --- | --- | --- | --- | --- | --- | --- | --- | --- |
| | x | x | x | x | x | x | 2 | 263,336 |
| x | x | x | x | x | x | x | 6 | 19,654 |
| x | x | x | x | x | x | x | 5 | 11,599 |
| x | x | x | x | x | x | x | 5 | 6,189 |
| x | x | x | x | x | x | x | 11 | 6,934 |
| x | x | x | x | x | x | x | 19 | 2,879 |
| x | x | x | x | x | x | x | 21 | 2,436 |
| x | x | x | x | x | x | x | 26 | 1,931 |
| x | x | x | x | x | x | x | 35 | 1,584 |
| x | x | x | x | x | x | x | 47 | 1,323 |
| x | x | x | x | x | x | x | x | x |
| x | x | x | x | x | x | x | 32 | 1,577 |
| x | x | x | x | x | x | x | 33 | 1,578 |
| x | x | x | x | x | x | x | 33 | 1,597 |
| x | x | x | x | x | x | x | 50 | 1,264 |
| x | x | x | x | x | x | x | 45 | 1,029 |
| x | x | x | x | x | x | x | x | x |
| x | x | x | x | x | x | x | 32 | 1,566 |
| x | x | x | x | x | x | x | 47 | 1,107 |
Total Reported Sales: 396,913*
Billboard Japan Charts
Top Albums Sales
| | Week 1 | Week 2 | Week 3 | Week 4 | Week 5 |
| --- | --- | --- | --- | --- | --- |
| Position | 2 | 44 | 77 | 64 | 26 |
Download Albums Sales
Week 1
Week 2
Week 3
Week 4
Week 5
Week 6
Week 7
Week 8
Week 9
Week 10
Position
1
5
12
17
24
38
59
55
56
85
Week 11
Week 12
Week 13
Week 14
Week 15
Position
83
90
54
46
65
| | Week 35 | Week 36 | Week 37 | Week 38 | Week 39 | Week 40 |
| --- | --- | --- | --- | --- | --- | --- |
| Position | 92 | - | - | - | - | 83 |
| Week | Rank | Sales |
| --- | --- | --- |
| 17 / 2019 | 1 | 2,514,000 |
| 18 / 2019 | 1 | 518,000 |
| 19 / 2019 | 2 | 216,000 |
| 20 / 2019 | 4 | 113,000 |
| 21 / 2019 | 3 | 84,000 |
| 22 / 2019 | 8 | 72,000 |
| 23 / 2019 | 8 | 60,000 |

| Year | Rank | Sales |
| --- | --- | --- |
| 2019 | 2 | 4,241,000 |
External Links