User registrations have now been re-enabled. If you previously had an account and logged in via OpenID, please create a new account. Thank you!
BTS 3rd Muster Army.Zip+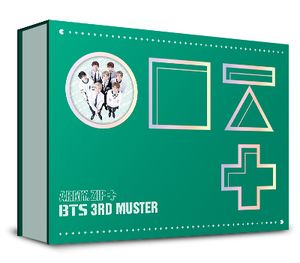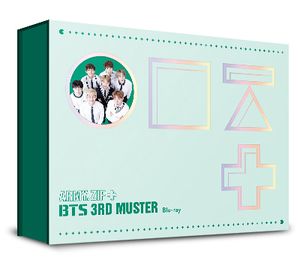 Artist

DVD / Blu-ray

BTS 3RD MUSTER ARMY.ZIP+

Released

2018.10.31 (DVD)
2018.11.21 (Blu-ray)

Price

₩43,000 (DVD)
₩55,000 (Blu-ray)

DISC 1 Tracklist

part 1
Ibulkik (이불킥; Blanket Kick)
Talk 1
Sangnamja (Boy In Luv) (상남자; Most Masculine Man)
21 Segi Sonyeo (21 세기 소녀; 21st Century Girl)
House of A.R.M.Y <VCR>
Arayo (알아요; I Know)
Bangtan Yusonyeondan (방탄 유소년단) (Bultaoreune (FIRE) / Sangnamja (Boy In Luv) / Jjeoreo remix)
DISC 2 Tracklist

part 2
Talk 2
BANGTAN RUN
Talk 3
Jjeoreo (쩔어; Best)
Bultaoreune (FIRE) (불타오르네; Burning Up)
Talk 4
Pi Ttam Nunmul (피 땀 눈물; Blood Sweat Tears)
SKIT: A.R.M.Y, IN MY BAG (VCR)
Dul! Set! (둘! 셋!; Two! Three!)
Talk 5
Heungtan Sonyeondan (흥탄소년단; BTS Diss)
Jingyeogui Bangtan (진격의 방탄; Attack on Bangtan)
DISC 3 Tracklist

special features
CONCERT MAKING FULL STORY
Information
BTS 3RD MUSTER ARMY.ZIP+ is the third fan event held in South Korea by BTS. It took place on November 12th and 13th, 2016. The DVD edition included a Photobook.
Package & Box Contents
DVD Edition
Blu-ray Edition
Event Schedule
The fanmeeting was held Seoul for two consecutives days. The estimated attendance was of 38,000 people.
Date
City
Country
Venue
2016.11.12
Seoul
South Korea
Gocheok Sky Dome
2016.11.13