Due to an influx of spam accounts getting through and joining the site, user registrations have once again been disabled until further notice as we work on a different solution.
Film Out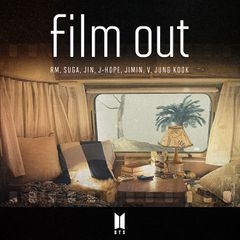 Artist

Digital Single

Film out

Released

2021.04.02

Tracklist
Film out
Information
"Film out" is a digital single released by BTS. The song was composed by Jungkook in collaboration with Shimizu Iyori from back number. It was used as a theme song for the movie SIGNAL.
Live Performances
Song Information
Songwriting

Vocals

Other Information
Music Video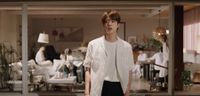 A teaser for "Film out" was released on YouTube on March 26th. The full version music video was released on the same day as the single, on April 2nd. It was directed by Choi Yong Seok from Lumpens.
At the beginning of the music video, the members get into a house in the sky. They all start to reminisce about their past together. By the end of the video, the house is destroyed by an explosion.
Credits:

Official Music Video
Director: Yong Seok Choi (Lumpens)
1st AD: Jihye Yoon (Lumpens)
2nd AD: Ran Ro (Lumpens)
PA: Chanyang Kim, Soeyoung Park
Director of Photography: Eumko
Focus Puller: Sangwoo Yun
2nd AC: Youngwoo Lee, Eunil Lee
3rd AC: Yuntae Ko
Gaffer: Choi Doo Soo (DS LIGHT)
Lighting Crew: Heo Jung Hwan, Jung Yu Jin, Lee Seong Min, Lee Sang Jun, Lee Gun, La hae
Art Director: Bona Kim, Jinsil Park (MU:E)
Assistant Art team: Yeri Kang, Minjung Kim (MU:E)
Art-team Manager: ilho Heo (MU:E)
Key Grip: Kiheon Choi
Bestboy: Sungeun Kim
Grip: Hobin Kang, Hyunsuk Jo
Techno Crane: SeviceVision Korea - Taehyun Choi, Yonggeun Hwang, Jisoo Woo, Hakseo Kim, Jaewon Jung
Jimmy Jib Operator: Youngjung Kim
Jimmy Jib Assistant: Hyunin Kim, Sunghoon Kim, Yunhyun Kim
VFX: PLASTIC BEACH
VFX Supervisor: OHZEON
VFX Assistant Supervisor: JOJEEM
VFX Project Manager: Song Chanyoung, Jeong Jieun
VFX Producer: Jang Kyutae, Ahn Sohyun
3D Artist: Lee Kwangwon, Kim Doyeon, Lee Jeonghwa, Jeon Jiwon
2D Artist: Jang Gihoon, Lee Hyunjun, Shin Hyeunsung
FX Artist: We JungIn
Visual Creative: Nu Kim, Lee Sun Kyoung, Kang Ju Eun, Kim Ga Eun, Kim Hyo Won, Cha Yeon Hwa
Artist Management: Kim Shin Gyu, Jang Jin Gu, Kim Su Bin, An Da Sol, Park Jun Tae, Yun Taewoong, Lee Seung Byung, Lee Jung Min, Lee Hyeon Ki

Official Teaser
Director: Yong Seok Choi (Lumpens)
1st AD: Jihye Yoon (Lumpens)
2nd AD: Ran Ro (Lumpens)
PA: Chanyang Kim, Soeyoung Park
Director of Photography: Eumko
Focus Puller: Sangwoo Yun
2nd AC: Youngwoo Lee, Eunil Lee
3rd AC: Yuntae Ko
Gaffer: Choi Doo Soo (DS LIGHT)
Lighting Crew: Heo Jung Hwan, Jung Yu Jin, Lee Seong Min, Lee Sang Jun, Lee Gun, La hae
Art Director: Bona Kim, Jinsil Park (MU:E)
Assistant Art team: Yeri Kang, Minjung Kim (MU:E)
Art-team Manager: ilho Heo (MU:E)
Key Grip: Kiheon Choi
Bestboy: Sungeun Kim
Grip: Hobin Kang, Hyunsuk Jo
Techno Crane: SeviceVision Korea - Taehyun Choi, Yonggeun Hwang, Jisoo Woo, Hakseo Kim, Jaewon Jung
Jimmy Jib Operator: Youngjung Kim
Jimmy Jib Assistant: Hyunin Kim, Sunghoon Kim, Yunhyun Kim
VFX: PLASTIC BEACH
VFX Supervisor: OHZEON
VFX Assistant Supervisor: JOJEEM
VFX Project Manager: Song Chanyoung, Jeong Jieun
VFX Producer: Jang Kyutae, Ahn Sohyun
3D Artist: Lee Kwangwon, Kim Doyeon, Lee Jeonghwa, Jeon Jiwon
2D Artist: Jang Gihoon, Lee Hyunjun, Shin Hyeunsung
FX Artist: We JungIn
Visual Creative: Nu Kim, Lee Sun Kyoung, Kang Ju Eun, Kim Ga Eun, Kim Hyo Won, Cha Yeon Hwa
Artist Management: Kim Shin Gyu, Jang Jin Gu, Kim Su Bin, An Da Sol, Park Jun Tae, Yun Taewoong, Lee Seung Byung, Lee Jung Min, Lee Hyeon Ki, Choi Hyo Jin
Certifications
Charts
Oricon Charts
Streaming Chart

Week
Rank
Streams
1
2
7,981,110
2
1
11,671,865
3
8
5,880,805
4
10
4,778,270
5
15
4,067,275
6
17
3,429,366
7
25
2,920,777
8
28
2,854,959
9
27
2,940,675
out for two weeks
12
17
4,160,905
13
14
4,413,282
14
17
3,806,296
15
21
3,483,644
16
22
3,113,409
17
27
2,837,193
18
29
2,525,500
19
30
2,326,400

Digital Single Chart

Mon
Tue
Wed
Thu
Fri
Sat
Sun
Week Rank
Downloads
1
1
1
1
32,947
2
1
6
4
7
8
x
3
11,789
x
x
x
x
x
x
x
18
4,528
x
x
x
x
x
x
x
25
2,732
out for 7 weeks
x
x
x
x
x
x
x
20
5,002
Total Reported Downloads: 56,998*
Total Reported Streams: 105,760,532*

Total Reported Streams in 2021: 105,760,532 (#35 Streaming Song of the Year)
Recochoku Single Chart
Mon
Tue
Wed
Thu
Fri
Sat
Sun
Week Rank
1
1
1
1
2
1
5
3
7
7
11
5
13
11
15
15
10
15
17
13
15
18
25
22
x
23
30
25
25
35
45
44
34
46
34
42
41
47
57
61
71
86
76
75
66
68
83
78
84
80
98
86
75
91
98
84
79
46
62
72
82
98
104
106
107
114
77
93
89
101
126
129
177
188
155
135
98
78
117
140
131
183
109
35
16
x
13
26
20
11
19
17
25
15
34
16
31
23
28
30
41
35
52
37
49
61
63
58
68
61
72
95
62
63
63
68
55
77
96
101
-
115
87
137
112
159
142
84
101
82
104
96
126
95
147
141
126
94
180
127
121
141
-
154
-
125
130
164
139
132
-
-
104
179
131
179
199
182
196
-
187
177
173
191
196
-
-
-
158
171
114
200
-
-
136
93
104
184
128
125
-
164
-
-
-
-
-
-
-
-
-
181
158
-
185
199
123
198
185
166
-
143
179
172
171
143
-
172
-
194
169
191
-
127
-
192
180
144
179
-
149
-
-
198
168
-
-
x
194
x
190
161
-
-
-
-
-
-
-
168
-
199
-
-
-
-
-
190
-
-
-
198
-
-
-
-
-
-
-
out for three weeks
173
-
-
-
-
193
-
-
166
-
-
-
-
-
-
-
out for two weeks
-
-
-
154
-
-
-
-
out for two weeks
166
-
-
-
-
-
-
-
out for one week
-
-
-
195
-
-
-
-
-
191
-
-
-
-
-
-
out for three weeks
159
-
-
-
-
-
-
-
out for two weeks
-
-
151
-
-
-
-
-
-
147
-
-
-
-
-
-

Year
Month
Rank
2021
April
3
May
72
June
30
July
85
August
181
September
193
Billboard Japan Charts
Download Songs
Week 1
Week 2
Week 3
Week 4
Week 5
Week 6
Week 7
Week 8
Week 9
Week 10
Position
1
3
17
27
48
62
89
62
79
-
Week 11
Week 12
Week 13
Week 14
Position
-
28
34
66
Streaming Songs
Week 1
Week 2
Week 3
Week 4
Week 5
Week 6
Week 7
Week 8
Week 9
Week 10
Position
7
1
9
11
13
20
28
29
24
31
Week 11
Week 12
Week 13
Week 14
Week 15
Week 16
Week 17
Week 18
Week 19
Week 20
Position
33
15
13
16
19
19
21
25
26
36
Week 21
Week 22
Week 23
Week 24
Week 25
Week 26
Week 27
Week 28
Week 29
Week 30
Position
41
40
38
41
46
46
62
64
67
72
Week 31
Week 32
Week 33
Position
73
81
82
United World Charts
| Week | Rank | Points |
| --- | --- | --- |
| 15 / 2021 | 7 | 215,000 |
Total Reported Points: 215,000*
External Links