Be sure to check out our
Facebook page
for the latest changes and to interact with thousands of fans worldwide just like you!
Hello! Project
From generasia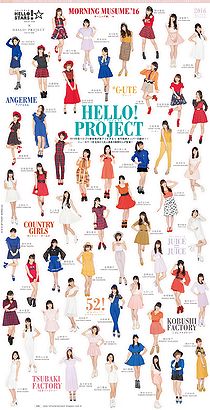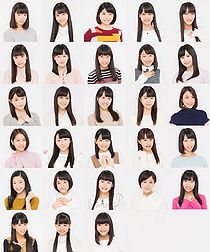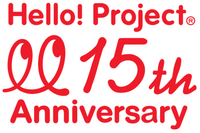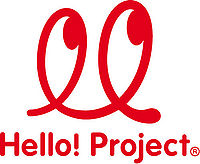 Hello! Project (ハロー! プロジェクト), often shortened to H!P, is the name for a collection of female groups and artists all produced by Tsunku, a member of Sharam Q. Morning Musume is the main group of Hello! Project, with a number of Morning Musume ex-members forming the majority of the solo artists in H!P. Besides the core groups and solo artists that form H!P's line-up, various special units are formed by mixing these groups and solo artists. Shuffle units, usually formed by shuffling all the H!P members into three temporary units, were formed once a year but since 2006 the idea has been dropped.
The group is managed by the Up-Front Agency. Almost all Hello! Project artists' recordings are published by Up-Front Works on either the zetima, PICCOLO TOWN or hachama record labels. But Iida Kaori's Mediterranean styled works are released under the Chichukai label and Maeda Yuki's under the Rice Music label. Country Musume's older work was released on the Potato Label, Coconuts Musume's older works were originally released on the Sony record label, Sheki-Dol's first singles were released on SPREE RECORDS and Heike Michiyo's older works on Warner Music Japan, but they eventually all moved to zetima.
On October 18, 2008, it was announced that all of Elder Club would be graduating on March 31, 2009. Hello! Project now consists of the current members of Morning Musume '17, ANGERME, Juice=Juice, Country Girls, Kobushi Factory, Tsubaki Factory, and Hello! Pro Kenshuusei (and its Hokkaido branch), along with soloists Mitsui Aika & Sayashi Riho. The current leader of Hello! Project is ANGERME's Wada Ayaka and the current sub-leader is Morning Musume's Fukumura Mizuki.
Current Line-up
Hello! Project
SATOYAMA Movement Units
SATOUMI Movement Units
Former Artists and Groups
Discography
Cover Albums
Remix Albums
Compilations
Tribute Albums
VHS/DVD
Auditions
For Morning Musume Auditions see here.
1st Morning Musume & Heike Michiyo Protegee Audition
2nd Morning Musume & Heike Michiyo Protegee Audition
3rd Morning Musume & Heike Michiyo Protegee Audition
date: 1999.09.09 (application details were included with Morning Musume's 7th single LOVE Machine)
second interview in November 1999
number of applicants: unknown
selected: none
4th Morning Musume & Heike Michiyo Protegee Audition
date: 2000.05.17 (application details were included with Morning Musume's 9th single Happy Summer Wedding)
second interview in June 2000
number of applicants: 1500
selected: Matsuura Aya, also selected: Sheki-Dol (who debuted earlier than Aya)
Pacific Dream Pop Singer Contest
Hello! Project Kids Audition
Hello! Pro Egg Audition
Hello! Project Kansai Audition 2005
Hello! Project Korea Auditions
Radio Shows
Many of the groups/girls in Hello! Project host radio shows or have in the past. They include guest speakers, upcoming release previews, the girls' selected choices of music and often funny radio skits or segments.
Current Shows
Title
Host
Dates
2005-10-03 to present day
2007-05-04 to present day
various guest appearances
1998-09-10 to present day
2005-04-?? to present day
2006-07-04 to present day

Niigaki Risa & Kamei Eri (Mondays)
°C-ute (Tuesdays)
Tanaka Reina (Wednesdays)

2007-10-02 to present day
2007-10-01 to present day
2009-04-?? to present day
2006-10-05 to present day
various guest appearances
2003-04-?? to present day
2007-07-?? to present day
2009-05-04 to present day
various semi-regular guest appearances
2003 to present day
various hosts
2000 to present day
2005-10-03 to present day
various semi-regular guest appearances
2003 to present day
various guest appearances
1997-11-02 to present day
Past Shows
| Title | Host | Dates |
| --- | --- | --- |
| | | 2005-03-30 to 2006-12-27 |
| | | 2003-04-06 to 2005-03-27 |
| | | 2005-04-03 to 2006-09-30 |
| | | 2004-06-06 to 2005-06-26 |
| | | 2004-03-30 to 2009-03-31 |
| | | 2004-04-01 to 2006-09-21 |
| | Iida Kaori with Aida Shoko | 2005-04-02 to 2007-09-01 |
| | | 2006-01-04 to 2006-07-26 |
| | | 2003-??-?? to 2005-03-26 |
| | | 2006-10-07 to 2008-09-27 |
| | | 2008-10-29 to 2009-04-02 |
| | | 2002-10-13 to 2007-09-24 |
| | | 2001 to 2003 |
| | | 2002-10-10 to 2003-03-27 |
| | Murata Megumi with rotating guests | 2005-04-01 to 2008-03-28 |
| | | 2008-02-16 to 2009-06-27 |
| | | 2007-04-07 to 2008-09-27 |
| | with rotating hosts | 2004-02-06 to 2008-09-22 |
| | | 2002-10-12 to 2004-03-27 |
| | | 2002-01-03 to 2004-03-25 |
| | | 2004-04-02 to 2006-03-31 |
| | | 2001-??-?? to 2004-05-30 |
| | | 2001-04-?? to 2003-03-?? |
| | | 2000-03-30 to 2001-04-12 |
| | | 2008-05-06 to 2008-06-30 |
| | | 2005-10-02 to 2008-03-30 |
| | | 2001-03-27 to 2005-03-27 |
| | | 2002-04-04 to 2004-03-23 |
| | Murata Megumi with rotating guests | 2008-04-05 to 2008-06-28 |
| | | 2002-??-?? to 2004-03-25 |
| | | 2000-10-02 to 2003-09-23 |
| | | 1999-10-04 to 2001-12-25 |
| | | 2000 to 2001 |
| | | 2001 to 2002 |
Radio Dramas
Hello! Project Radio Drama CD Volume One (2003-10-29)

1. Nani mo nai Machi - Takahashi Ai, Konno Asami, Ogawa Makoto
2. Tameki to Kame - Yaguchi Mari, Yasuda Kei
3. Ame Yadori - Fujimoto Miki, Iida Kaori, Yoshizawa Hitomi

Hello! Project Radio Drama CD Volume Two (2003-10-29)

1. Radio Friends - Goto Maki, Yaguchi Mari, Saitou Hitomi
2. Hoshizuna no Jima, Watashi no Jima Nakazawa Yuko, Matsuura Aya

Hello! Project Radio Drama CD Volume Three (2004-03-31)

1. Onsen Iki no Bus Yurarete - Abe Natsumi, Inaba Atsuko, Tsuji Nozomi, Kago Ai
2. Aa Sakura Bashi - Konno Asami, Ishikawa Rika
3. Crepe no Iru Machi - Fujimoto Miki, Takahashi Ai, Niigaki Risa

Hello! Project Radio Drama CD Volume Four (2004-06-09)

1. Gocchin x2 - Goto Maki, Inaba Atsuko
2. EMA - Yoshizawa Hitomi, Shibata Ayumi, Murata Megumi
3. THE☆BENGTOYAH - Yaguchi Mari, Ogawa Makoto, Fujimoto Miki, Konno Asami
4. Pantheon no Toko - Ishikawa Rika, Kamei Eri, Kago Ai

Hello! Project Radio Drama CD Series Two Volume One (2004-07-14)

1. Sayonara Ashita - Ishikawa Rika, Yoshizawa Hitomi, Hamamura Jun
2. The • Miss Tsuutenkaku - Iida Kaori, Ohtani Masae, Saitou Hitomi
3. Ojiichan no Mukashibanashi - Konno Asami, Tanaka Reina, Hamamura Jun, Horiuchi Takao

Hello! Project Radio Drama CD Series Two Volume Two (2004-07-14)

1. Shimizu no Futai Kara - Tsuji Nozomi, Takahashi Ai, Inaba Atsuko
2. Dochinko Mangaishi - Abe Natsumi, Fujimoto Miki, Satoda Mai, Inaba Atsuko
3. Naniwa Angels - Nakazawa Yuko, Kago Ai, Matsuura Aya, Hamamura Jun, Horiuchi Takao

TV Shows
See Also
External Links