New user registrations have been disabled until further notice. If you would like to create an account, please message
Generasia on Facebook
. Thank you!
Meitantei Conan Senritsu no Full Score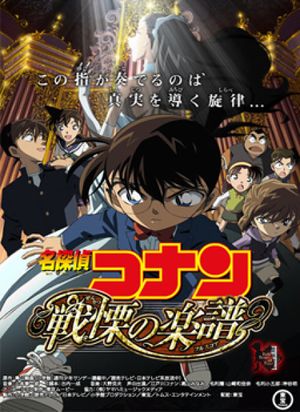 Meitantei Conan Senritsu no Full Score (名探偵コナン 戦慄の楽譜; Detective Conan Full Score of Fear) is the twelfth movie released for the Meitantei Conan anime. It was released in Japan on April 19th, 2008. The movie was the 12th with most income in 2008 compared to other Japanese films, with an income of 2.42 billion yen.[1] It was nominated for the 32nd Japan Academy Prize for "Animation of the Year".
Synopsis
A tremendous explosion has occurred in the music training room while two professional musicians are practicing inside. The only lucky survivor in the room is a violin player who at the very same time of the blast was writing an e-mail.
After a few days, Detective Conan attends an extraordinary classical concert event with some of his usual and familiar friends. The captivated audience attending the concert thoroughly enjoys listening to a rare Stradivarius violin. During the rehearsal for the concert, Conan had picks up a strange piece from a piano and the next minute, he discovers a mysterious older man running past a car.
In this unique world of classical music, Conan and his classmates are taught the structure of a pipe organ by a professional soprano. This soprano singer who has a perfect pitch is the key to this story and to the ultimate solving of this crime. She also just happens to be the recipient of the email from the lone survivor of the explosion. Conan and his friends take music lessons from her. She is an excellent teacher and has the uncanny ability to easily recognize each and every key of an untuned piano. Unsuspectingly, she nearly drinks some poisoned water in a pot. Now, it is quite apparent that she is a next target of this deranged serial killer. The tenacious and cruel murderer tries to hit and kill her with his truck while she is on the way back to her home.
Everyone related to this concert has a motivation to kill them and are deemed as suspects. Now, it is up to the brilliant mind of Detective Conan to solve this very difficult and complicated case......
Main Cast
Main Staff
Director

Yamamoto Yasuichiro

Screenplay

Kouchi Kazunari

Storyboard

Yamamoto Yasuichiro

Storyboard assistants

Okuwaki Masaharu, Nichimori Akira, Kamegaki Hajime

Producer

Yamamoto Yasuichiro, Tsuji Yasunaga

Animation chief

Sudo Masatomo

Animation director

Yamanaka Junko

Animation director assistants

Notake Hiroyuki, Horiuchi Hiroyuki, Shimizu Yoshiharu, Muta Seiji, Kawamura Akio, Itojima Masahiko
Music
Theme song
Insert songs
Soundtrack
Home-media Release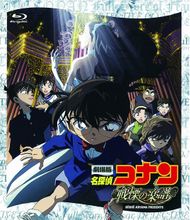 The movie was first released on DVD on November 19th, 2008. The Blu-ray version wasn't released until April 2nd, 2011.
The soundtrack album was released on April 16th, 2008.
Home-media Releases
Format
Release date
Catalog Number
Price
Oricon Charts
Notes
DVD
2008.11.19
ONBD-2547
¥6,264
#18 / 8 weeks
Regular edition
ONBD-2545/6
¥7,560
#6 / 9 weeks
Special edition
Blu-ray
2011.04.22
ONXD-2000
¥5,184
-
2019.04.05
ONXD-3012
¥3,240
#45 / 5 weeks
Priced-down reissue
The DVD includes the movie in both Dolby Digital 5.1 Audio and Widescreen. The regular edition includes trailers, news flash and commercials. The special edition has an extra DVD with an OVA, a show and an episode case (episodes 81-82). The Blu-ray format has the same content as the regular edition DVD, but also has an additional mini-booklet explaining the film and the BD-live function.
References
See also
External Links