Due to an influx of spam accounts getting through and joining the site, user registrations have once again been disabled until further notice as we work on a different solution.
Golf-Mike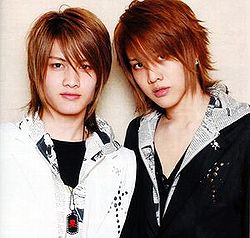 Golf-Mike (กอล์ฟ-ไมค์) (known as GOLF & MIKE in Japan) is a Thai/Japanese pop unit composed of the brothers Pichaya (Golf) and Pirath (Mike). In Japan they are produced by the talent agency Johnny's Entertainment and in Thailand they are part of the group G-Junior on the GMM Grammy Label.
Members
Information
Pirath and Pichaya come from a musical family as their older brothers, who go by Sand and Bank, were also popular musicians in Thailand in the late 90s. When Golf and Mike were 14 and 11, they tried out for the group G-Junior. After a year of training they passed the audition and began working on their first album, GOLF-MIKE, released three years later.
Golf & Mike debuted during Thongchai McIntyre's For Fan concert in 2002. After their debut, they traveled to Japan and participated in concerts with popular J-Pop groups NEWS and Ya-Ya-yah. They covered Tackey & Tsubasa's Epilogue for their debut album as well as Yume Monogatari during concerts as they both idolize Tackey (Takizawa Hideaki). Their participation in the Japanese music scene did not end there, however in 2006 they were put into a group under Johnny's Entertainment with Yamashita Tomohisa called Kitty GYM. They were also due to perfom with ARASHI and G-JR in a J-Pop/Thai-Pop concert on October 7 at the Impact Arena, Bangkok, to celebrate Thailand's ties with Japan but the J-Pop group were sent back to Japan a few days prior to the concert date due to Thailand's current unstable political state. Korean stars they have interacted with include Byul.
Though Golf and Mike are brothers, the third and fourth children of five respectively, their personalities are very different; they are 'like black and white', as Mike once said in an interview. Because they study in an international school and have spent time in Australia studying, they are fluent in English and can also speak some Japanese in addition to Thai. They enjoy normal teenage things, such as hanging around the Siam Center, a popular shopping center for teenagers in Thailand. Both are also interested in graphic design and art, as well as video games and manga and are very good at drawing. Their Golf-Mike logo was designed by Golf and the Golf-Mike monkeys were also drawn by him. They own a blog, however, due to their collective inability to type in Thai, they only write in English.
Thailand Discography
Albums
Instrumental Albums
Best Albums
VCDs / DVDs / Other
Japanese Discography
Albums
Singles
Filmography
Commercials
[2006] 12PLUS CUTIE
[2006] YAMAHA FINO
[2007] iKeyclub.com
[2007] True Corporation
[2007] Save The World
[2007] MY STYLE MY FINO
[2008] PURIKU
[2008] i-mobile 625
[2008] i-mobile TV 626
[2008] YAMAHA NEW FINO 2008 (with Super Junior)
[2009] PURIKU COOL
[2009] Citra
[2009] My FINO... My Experience (with Super Junior)
[2010] Amazing FINO
[2010] PURIKU Sicily Lemon
[2010] PURIKU goji berry (with Aum patchaapa)
Awards
[2006] Seed "Most Popular Artist of the Year" Award
[2006] Channel [V] Thailand Music Video Awards: Favorite Breakthrough Artist Award
[2006] Virgin Hitz "Popular Vote New Band" – G-JR
[2007] Star Entertainment Award "Best Group Artist"
[2007] Asia Song Festival 2007 "Best Asian Artist Award" / Appreciation plaque from the Minister of Culture & Tourism in Korea
[2007] Seventeen Magazine "Popular Group Artist"
[2007] Virgin Hitz "Most Popular Group Artist of the Year" award
[2007] Virgin Hitz "Most Popular Song of the Year" award for the song "Tee Prueksa"
[2008] Korean Ambassador Award
[2008] Audition Music Award "Best Band"
[2008] Sudsapda Young & Smart Vote 2008 "Young & Smart Band"
[2009] Top Awards 2008 "Best Group Artist"
[2009] Seed "Most Popular Artist of the Year" Award
[2009] TV Inside Hot Awards
[2009] Seventeen Magazine Choice Award "Seventeen Music Group Artist"
[2009] Virgin Greetz Awards: Greetz Hair
[2010] Top Awards 2009 "Best Group Artist"
(NOMINATED)
[2006] Seed "Most Popular Group Artist of the Year"
[2006] Channel V "Best Song" – Ruang Lek Kaung Tur
External Links