Due to an influx of spam accounts getting through and joining the site, user registrations have once again been disabled until further notice as we work on a different solution.
Colors (Utada Hikaru)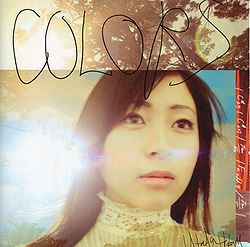 Artist

Single

COLORS

Released

2003.01.29

Catalog Number

TOCT-4455

Price

¥1,100

Tracklist
COLORS
COLORS -Original Karaoke-
---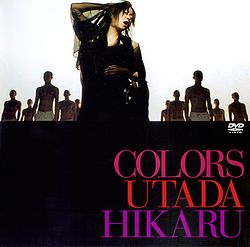 Artist

DVD Single

COLORS

Released

2003.03.12

Catalog Number

TOBF-5200

Price

¥2,800

Tracklist
Making of COLORS
COLORS (PV)
Kanzou-sensei Report (DVD EDITION) (肝臓先生 Report) (Bonus Track)
Information
"COLORS" is Utada Hikaru's 12th single, and her third DVD single. A remix of "COLORS" was used as the "Toyota WiSH" CM song. The b-side, "Simple and Clean", is the English version of the Kingdom Hearts theme, "Hikari". Included as a CD-Extra on the single was a multimedia section containing 13 exclusive screensavers and 13 exclusive wallpapers. A special feature on the DVD Single was the "Kanzou-sensei Report", which was a mini-documentary showing the production that went into the DVD, as well as behind-the-scenes shots of Utada working. Though Kiriya Kazuaki was behind the art direction for the single, he did not take an active part as usual, with the single photography going to Izima Kaoru and the PV directing going to Donald Cameron. On the cover and the inside covers, there are drawings done by Utada herself (some designs include musical notation, the word 'yes' and a drawing of The Vatican). The single reached #1 on Oricon charts and charted for 45 weeks, her longest charting single ever. It became the #3 single of 2003 in Japan. "COLORS" also had an extremely long performance season, which included 11 performances spanning over two months (except for the last performance, which was a special). The single reached #27 on World Charts for single airplay, and reached #6 for sales.
Song Information
Lyrics

Music

Other Information
Music Video
The PV for "COLORS" was directed by Australian director Donald Cameron.
Lyrics
The mentioning of fluorescent lights is a cultural reference, as many Japanese people have strong distaste for them and are not able to stand them. Utada has also stated her dislike for fluorescent lights.
Disambiguation
There are six versions of "COLORS" to be found in Utada's discography. These different versions are:
COLORS

Found on the "COLORS" single as track #1, ULTRA BLUE as track #7, and Utada Hikaru SINGLE COLLECTION VOL.1 as track #15.

COLORS -Original Karaoke-

Found on the "COLORS" single as track #4. This is the standard version of the without any of Utada's vocals.

COLORS (Godson Mix)

Featured in the "Toyota WiSH" CM. It is an upbeat remix of "COLORS", and was not released in any form.

COLORS (Live Streaming)

Found on UH Live Streaming 20 Dai wa Ikeike! as track #1 after the questions and interviews. This version is a live acoustic of "COLORS" that implements strings and piano.

COLORS (Budokan Live)

Found on Utada Hikaru in Budokan 2004 - Hikaru no 5 as track #14. The arrangement was tweaked for the live band, and an electric guitar was used in place of the main synth.

COLORS (Utada United Live)

Found on UTADA UNITED 2006 DVD as track #14. For the performance, the song was re-arranged into an acoustic ballad with a slower tempo.
TV Performances
Oricon Chart Positions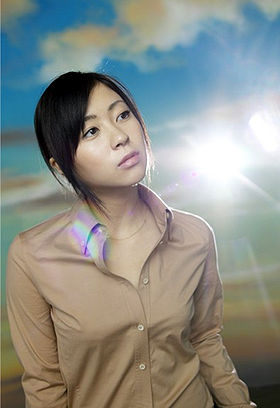 | Date | Week Rank | Week Sales | Total Sales |
| --- | --- | --- | --- |
| 2003.02.10 | 1 | 437,903 | 437,903 |
| 2003.02.17 | 1 | 139,829 | 577,732 |
| 2003.02.24 | 3 | 98,677 | 676,409 |
| 2003.03.03 | 7 | 55,051 | 731,460 |
| 2003.03.10 | 7 | 33,950 | 765,410 |
| 2003.03.17 | 7 | 30,893 | 796,303 |
| 2003.03.24 | 11 | 22,718 | 819,021 |
| 2003.03.31 | 14 | 14,321 | 833,342 |
| 2003.04.07 | 22 | 10,572 | 843,914 |
| 2003.04.14 | 30 | 7,133 | 851,047 |
| 2003.04.21 | 22 | 5,203 | 856,250 |
| 2003.04.28 | 32 | 4,042 | 860,292 |
| 2003.05.05 | 56 | 2,824 | 863,116 |
| 2003.05.12 | 60 | 2,789 | 865,905 |
| 2003.05.19 | 63 | 2,137 | 868,042 |
| 2003.05.26 | 72 | 1,621 | 869,663 |
| 2003.06.02 | 117 | 1,634 | 871,297 |
| 2003.06.09 | 130 | 1,095 | 872,392 |
| 2003.06.16 | 135 | 820 | 873,212 |
| 2003.06.23 | 154 | 696 | 873,908 |
| 2003.06.30 | 141 | 752 | 874,660 |
| 2003.07.07 | 152 | 886 | 875,546 |
| 2003.07.14 | 136 | 793 | 876,339 |
| 2003.07.21 | 154 | 663 | 877,002 |
| 2003.07.28 | 164 | 692 | 877,694 |
| 2003.08.25 | 185 | 580 | 878,274 |
| 2003.10.13 | 173 | 543 | 878,817 |
| 2003.10.20 | 148 | 605 | 879,422 |
| 2003.10.27 | 158 | 507 | 879,929 |
| 2003.11.03 | 168 | 529 | 880,458 |
| 2003.11.10 | 192 | 455 | 880,913 |
| 2003.11.24 | 186 | 435 | 881,348 |
| 2003.12.22 | 157 | 593 | 881,941 |
| 2003.12.29 | 118 | 1,075 | 883,016 |
| 2004.01.05+12 | 96 | 2,511 | 885,527 |
| 2004.01.19 | 74 | 1,596 | 887,123 |
| 2004.01.26 | 62 | 1,631 | 888,754 |
| 2004.02.02 | 109 | 1,117 | 889,871 |
| 2004.02.09 | 145 | 770 | 890,641 |
| 2004.02.16 | 152 | 701 | 891,342 |
| 2004.02.23 | 158 | 660 | 892,002 |
| 2004.03.01 | 183 | 496 | 892,498 |
| 2004.03.08 | 175 | 718 | 893,216 |
| 2004.03.15 | 194 | 574 | 893,790 |
Total Reported Sales: 893,790
External Links