Generasia would not be what it is today without the countless contributions by both staff and members alike! Thank you for all that you do!!
Exodus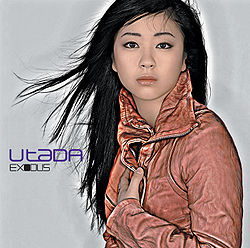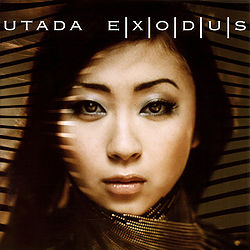 Artist

Album

EXODUS (エキソドス)

Released

2004.09.08 (Japan)
2004.10.05 (USA)
2005.10.24 (UK / European Union)
2006.09.20 (Japan Re-release)

Catalog Number

UICL-1046

Price

¥3,000

Tracklist
Information
EXODUS is Utada Hikaru's first international album under the name Utada (though her first English album was Cubic U's Precious). Utada's style on EXODUS greatly shocked many of her fans, as it was nothing like her previous works. "EXODUS" has a unique sound, with all of the songs written by Utada herself and even a lot of the mixing being done by herself. The tracks are a mix of Pop, Techno, R&B, J-Pop, Dance and Acoustic which merge into one unique genre. EXODUS broke Oricon records for Japan for having the highest sales for a foreign album in its first week debuting at #1. EXODUS sold 1,074,000 units in Japan, and charted for 20 weeks, becoming the #6 album of 2004. EXODUS also debuted at #1 in the World Charts (the second time this has ever happened for an Asian artist; the first also being herself) and stayed on the world charts for four weeks. EXODUS only reached #160 on the US Billboard Hot 200 Albums Chart, selling 55,000 copies. When asked what it was like to release in a new market away from Japan, Utada replied, "I really needed it. Because, well, not the releasing part. By the time I began making that English album, I was like thinking, 'Ooh I'm so tired of making music. I don't know what's left of me. I think I've done all I can. I'm not sure that I have any more ideas that could come out of me, possibly. I felt like a towl that's been shiborareteru (wrung out) so much by myself.' But when I thought of a different market; a different people, people who were going to hear me for the first time then all these things came out that I didn't think I had left in me. In the end, that became a source of a lot of new confidence in myself. I thought, 'Oh my god! I made this album! Hey it's pretty good, hehmm. I can do it! I have more ideas!'".
Jon Theodore from The Mars Volta featured as the drummer for the track Kremlin Dusk, and Timbaland helped write and mix the tracks Exodus '04 and Let Me Give You My Love, and mixed Wonder 'Bout. This album was released under Island Def Jam (a division of Universal Music Group, as opposed to her usual record company Toshiba EMI for her Japanese music. However, the album was released and marketed in Europe by Mercury Records, a separate division of Universal Music Group. Tracks from EXODUS are exclusively featured on media such as Japan's FLUX service and Europe's MTV Digital Discovery with animated music videos. These services are offered to people for a small price and are able to be viewed from a computer or a cell-phone. The Japanese version of Exodus comes housed with a special bonus booklet. Inside this booklet are exclusive photos, Japanese translations by Shintani Hiroko (except for Animato, which was translated by Utada herself) and an exclusive interview in Japanese.
EXODUS also included a message in English at the end of the booklet. That message is:
"I want to thank the following people for uderstanding and supporting my
work, Lyor Cohen, Antonio "LA" Reid, Steve Bartels and everyone at the Island
Def Jam Music Group, past and present, Mom, Dad, Goh-san, Kaz, my
HOMIES at the Hit Factory New York and Miami, my security team, and my
legal team: Elliot Groffman, Jennifer Justice, Ronald N. Inouye. To fans of my
Japanese work - I hope you like this too. Seikou inotte kurete arigatou! A "Hi,
how are you? Lookie! It's done!" to the artists on the album: Jeff Golub, Jon
Theodore, Bryan G. Russel, Timbaland, Steve Sidelnyk, and Pete Davis.
...And thank YOU for picking up this album."
Oricon Chart Positions
| Week | Position | Weekly Sales | Total Sales |
| --- | --- | --- | --- |
| Week 1 | 1 | 523,761 | 523,761 |
| Week 2 | 2 | 184,512 | 708,273 |
| Week 3 | 2 | 112,043 | 820,316 |
| Week 4 | 4 | 58,748 | 879,064 |
| Week 5 | 2 | 61,235 | 940,299 |
| Week 6 | 4 | 38,681 | 978,980 |
| Week 7 | 7 | 21,309 | 1,000,289 |
| Week 8 | 10 | 17,919 | 1,018,208 |
| Week 9 | 17 | 11,331 | 1,029,539 |
| Week 10 | 25 | 7,334 | 1,036,873 |
| Week 11 | 42 | 5,005 | 1,041,878 |
| Week 12 | 46 | 5,558 | 1,047,436 |
United World Charts Positions
| | Week 1 | Week 2 | Week 3 | Week 4 | Week 5 |
| --- | --- | --- | --- | --- | --- |
| Position | 1 | 6 | 14 | 38 | 30 |
Total Known Sales: 1,074,393