Due to an influx of spam accounts getting through and joining the site, user registrations have once again been disabled until further notice as we work on a different solution.
Koda Kumi Live Tour 2017 -W Face-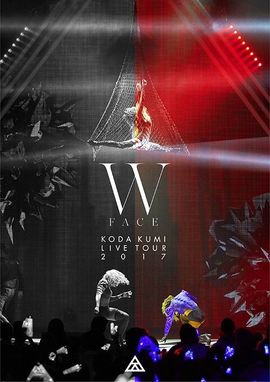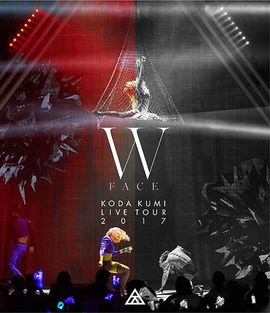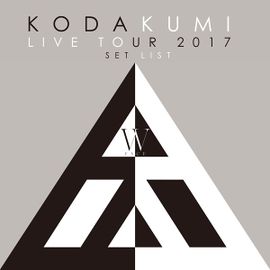 Artist

DVD / Blu-ray

KODA KUMI LIVE TOUR 2017 ~W FACE~

Released

2017.12.06

Catalog Number

RZBD-86423 (2DVD only)
RZXD-86425 (Blu-ray only)
RZBD-86420 (2DVD+2CD)
RZXD-86422 (Blu-ray+2CD)

Price

¥5,400 (DVD)
¥6,200 (Blu-ray)
¥7,400 (DVD+2CD)
¥8,200 (Blu-ray+2CD)
¥2,037 (iTunes Japan Digital Album
<OPENING>
Both Sides - DOCUMENTARY FILM -
Information
KODA KUMI LIVE TOUR 2017 ~W FACE~ is the 17th live video released by Koda Kumi and 26th video release. The footage was taken from her August 6th performance at Tokyo International Forum Hall A. It was released in standard Blu-ray and 2-disc DVD formats, as well as limited-edition Blu-ray and 2-disc DVD sets that each came with a 2-disc audio recording of the show. The playroom and Koda Gumi limited edition releases also included a digital download card.
Tour Schedule
Date
Time
Place
2017.04.08
17:00
Koriyama Citizens' Culture Center
2017.04.12
18:30
NHK Hall
2017.04.13
18:30
2017.04.15
18:00
Nagoya Congress Center Century Hall
2017.04.16
16:00
2017.04.22
18:00
Sunport Hall Takamatsu / Main Hall
2017.04.23
18:00
Naruto City Cultural Center
2017.04.29
18:00
Nitori Culture Hall
2017.04.30
15:00
2017.05.03
18:00
Oita iichiko Gran Theater
2017.05.05
18:00
Fukuoka Sun Palace
2017.05.06
16:00
2017.05.10
18:30
Kanagawa Kenmin Hall
2017.05.13
18:00
Orix Theater
2017.05.14
16:00
2017.05.19
18:30
Hiroshima Bunka Gakuen HBG Hall
2017.05.21
18:00
Kurashiki City Auditorium
2017.05.27
18:00
Sendai Sunplaza Hall
2017.05.28
18:00
Link Station Hall Aomori
2017.06.03
18:00
Shizuoka City Community Hall
2017.06.04
16:00
2017.06.10
18:00
Orix Theater
2017.06.11
16:00
2017.06.17
18:00
ROHM Theater Kyoto Main Hall
2017.06.18
16:00
2017.06.23
18:30
Beisia Culture Hall
2017.06.24
18:00
Korani Cultural Hall
2017.06.30
18:30
Nara Centennial Hall
2017.07.01
18:00
Wakayama Prefectural Cultural Center
2017.07.08
18:00
Kochi Prefectural Culture Hall
2017.07.13
18:30
Tochigi Prefectural Cultural Center
2017.07.14
18:30
Ichihara City Civic Center
2017.07.16
18:00
Lake Biwa Hall
2017.07.17
18:00
Fukui Phoenix Plaza
2017.07.20
18:30
Omiya Sonic City
2017.07.22
18:00
Tottori Prefectural Kurayoshi Future Center
2017.07.29
18:00
Honda no Mori Hall
2017.07.30
18:00
Toyama Aubade Hall
2017.08.05
18:00
Tokyo International Forum Hall
2017.08.06
16:00
2017.08.11
18:00
Niigata Prefectural Civic Center
2017.08.13
18:00
Akita Prefectural Hall
2017.08.26
18:00
Morioka Citizens' Culture Hall
2017.08.27
18:00
Yamagin Hall
2017.08.31
18:30
Ibaraki Prefectural Cultural Center
2017.09.02
18:00
Shunan City Cultural Center
2017.09.03
18:00
Shimane Prefectural Civic Center
2017.09.09
18:00
Mie Center for the Arts
2017.09.10
18:00
Nagaragawa Convention Center
2017.09.16
18:00
Saga City Culture Hall
2017.09.18
18:00
Miyazaki Citizens' Culture Hall
2017.09.22
18:30
Kobe International House
2017.09.23
16:00
2017.10.01
18:00
Hokuto Culture Hall
2017.10.05
18:30
Act City Hamamatsu
2017.10.07
18:00
Matsuyama Civic Center
2017.10.09
18:00
Nagasaki Brick Hall
2017.10.10
18:30
Kumamoto Prefectural Theater Hall
2017.10.21
16:00
Kagoshima Citizens' Culture Hall
2018.01.28
17:30
Okinawa City Civic Center
External Links