User registrations have now been re-enabled. If you previously had an account and logged in via OpenID, please create a new account. Thank you!
Feel My Mind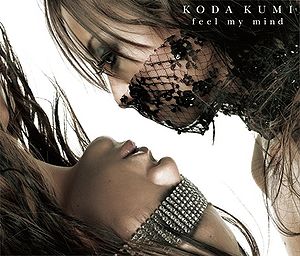 Artist

Album

feel my mind

Release

2004.02.18 (Japan)
2006.01.18 (South Korea)

Catalog Number

RZCD-45115
SMJTCD028 (South Korea)

Price

¥3,059

Tracklist
Information
"feel my mind" is the third album released by Koda Kumi. The album reached #7 on the Oricon charts and charted for 35 weeks, selling 147,746 copies.
Credits
Click "Expand" for more details:
Recording Director: Yoshihisa Tokuda (rhythm zone)
Recorded at: avex studio / avex studio azabu / Bunkamura Studio / little BACH Studio (Harajuku) / AOBADAI studio / Magnet studio
Production Assistant: Junko Ono (avex inc.)
Mastered by: Rena Koyanagi (avex studio)
Art Direction & Design: Goshono & Nakayama (DH)
Photographer: Osami Yabuta
Stylist: Tadashi Mochizuki
Hair & Make up: Mika Mitani
A&R Coordination: Tomokazu Hirakawa (rhythm zone)
A&R Coordination Chief: Takuji Koga (rhythm zone)
A&R Assistant: Fukiko Saito, Kumiko Hoshino (rhythm zone)
Artist Management: Hideki Kanai, Takao Iizuka, Sho Sawaguchi (axev inc.)
Management Adviser: Ryoichi Sumitani (axev inc.)
Management Desk: Yasuka Ono (axev inc.)
Artist Promotion: Shingo Toguchi (rhythm zone) & avex inc. Manager, 1st A&R / Promotion Dept., Masataka Muro, Masaru Ito (avex inc.) & avex inc. Promotion Room, 2nd A&R / Promotion Dept., Akira Akutsu, Koki Sato (axev inc.) & avex inc. MEDIA&PLANNING DIVISION
Sales Promotion: Masatoshi Uchida, Norio Udaka (avex distribution) & avex distribution Sales Promotion Dept.
Tie-up Coordination: Masaomi Takagi & Tie-up Room, Media Tie-ups Dept., Tatsuo Kodama, Yasuko Suzuki (axev inc.)
Creative Coordinator: Terue Saito (rhythm zone)
Web Direction: Yoko Eguchi (avex network)
Mobile Direction: Shigeo Fujimoto (axev inc.)
Promotional advisor: Masa Miyazawa (rhythm zone), Sadao Ozeki (avex distribution)
A&R Supervisor: Yoshihiro Seki (rhythm zone)
Advisory Producer: Hidemi Arasaki (avex inc.), Motohiro Abe, Yasuo Shibata, Kenichiro Hori, (axev inc.), Hiroaki Ito (tearbridge production for axev inc.)
Executive Supervisor: Hajime Taniguchi, Katsuro Oshita (avex inc.)
General Producer: Ryuhei Chiba (axev inc.), Shinji Hayashi (avex inc.)
Executive Producer: Masato Matsuura (avex group)
Specially Coordination: Tom Yoda (avex group)

Special Thanks: RAM&TEN, YUMECHAN&PAPACHAN, MI-MO, YAS., AKIKO, UG, TANCHAN, SHIO, TOKIKO, RYOCHAN, KAZUMA, MARO, SHIGECHAN, MASAO, TSUYOSHI, ABECHAN, HITOMI, YOKKU, KEIKO, TOMO, PIROPIRO, SHELLY, CARLY, AKEMI&SAM, TSUNE, HIROYA, PIPPI'S FAMILY, SEIGOU, MAMISAN, YACCHAN, JYOBOKO, REIKO, KUMICHAN&MOCCHAN, TANTAN, NIPEKKO, HIROTASAN, YUMICHAN, BANBI, BAMIE, ARICHAN, OGUCHAN&AKIKOSAN&HARD ROCK HOTEL STAFF, MAKISAN, JESSE OBA, ON THE LINE inc., EMI SUGIYAMA, MR. TSUKUI, MR. MORIYAMA, NAGAOSAN, NAKANOSAN, MIO ANDO, HITOSHI ITAGAKI, TOKUYUKI WADA, MASATO IIJIMA, KEIKO YAUCHI and all axev staff, rhythm zone staff
External Links