Due to an influx of spam accounts getting through and joining the site, user registrations have once again been disabled until further notice as we work on a different solution.
Best ~First Things~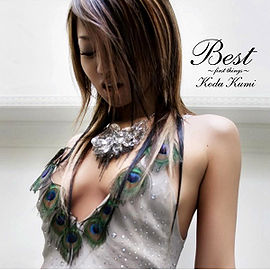 Artist

Album

BEST ~first things~

Released

2005.09.21 (Japan)
2005.10.19 (Hong Kong & Taiwan)
2005.11.19 (South Korea)

Catalog Number

AVJCD10247/A (Taiwan)
RZCD-45252/3 (2CD+DVD)
RZCD-45254/5 (2CD)

Price

¥3,990 (2CD+DVD)
¥3,150 (2CD)
CD1 Tracklist
CD2 Tracklist
DVD Tracklist
Cutie Honey (PV) (キューティーハニー)
Special Mix Video from BEST ~first things~ (First Press Bonus Track)
Information
BEST ~first things~ is the first compilation album released by Koda Kumi. The album contains all of Koda's A-sides from her debut single, TAKE BACK up to Promise / Star. The album also contains a new track, "NO TRICKS". The album was released in two editions 2CD+DVD and 2CD Only. The album reached the #1 position on the Oricon charts (a first for Kumi) and managed to stay on the charts for a total of 83 weeks. Because the album sold 1,207,793 copies in 2005 it became the #6 album of the year. The album went on to sell an additional 642,842 copies in 2006 making it the #17 album of the year. As of 2007.12.03 this album has sold a total of 1,905,310 copies accoring to Oricon and 1,976,000 according to avex trax.
Oricon Chart Positions
Mon
Tue
Wed
Thu
Fri
Sat
Sun
Week Rank
Sales
-
-
-
-
-
-
-
1
558,916
-
-
-
-
-
-
-
1
195,290
-
-
-
-
-
-
-
2
135,969
-
-
-
-
-
-
-
3
82,354
-
-
-
-
-
-
-
3
65,283
-
-
-
-
-
-
-
5
55,158
-
-
-
-
-
-
-
6
51,054
-
-
-
-
-
-
-
6
37,282
-
-
-
-
-
-
-
10
26,487
-
-
-
-
-
-
-
13
26,871
-
-
-
-
-
-
-
8
25,023
-
-
-
-
-
-
-
7
29,448
-
-
-
-
-
-
-
7
28,758
-
-
-
-
-
-
-
8
36,177
-
-
-
-
-
-
-
7
109,427
-
-
-
-
-
-
-
-
-
-
-
-
-
-
5
36,591
-
-
-
-
-
-
-
5
28,573
-
-
-
-
-
-
-
7
26,440
-
-
-
-
-
-
-
5
26,078
-
-
-
-
-
-
-
8
21,159
-
-
-
-
-
-
-
12
17,149
-
-
-
-
-
-
-
18
13,440
-
-
-
-
-
-
-
20
13,312
-
-
-
-
-
-
-
16
18,562
-
-
-
-
-
-
-
16
15,320
-
-
-
-
-
-
-
19
12,881
-
-
-
-
-
-
-
22
10,418
-
-
-
-
-
-
-
22
8,568
-
-
-
-
-
-
-
19
8,317
-
-
-
-
-
-
-
31
6,533
-
-
-
-
-
-
-
40
5,979
-
-
-
-
-
-
-
26
7,241
-
-
-
-
-
-
-
41
4,458
-
-
-
-
-
-
-
34
4,336
-
-
-
-
-
-
-
26
6,869
-
-
-
-
-
-
-
23
6,825
-
-
-
-
-
-
-
26
5,591
-
-
-
-
-
-
-
28
5,184
-
-
-
-
-
-
-
35
4,432
-
-
-
-
-
-
-
35
5,005
-
-
-
-
-
-
-
36
4,333
-
-
-
-
-
-
-
45
4,003
-
-
-
-
-
-
-
52
4,012
-
-
-
-
-
-
-
59
4,363
-
-
-
-
-
-
-
39
5,021
-
-
-
-
-
-
-
46
4,213
-
-
-
-
-
-
-
44
4,517
-
-
-
-
-
-
-
47
3,320
-
-
-
-
-
-
-
52
3,276
-
-
-
-
-
-
-
60
2,802
-
-
-
-
-
-
-
61
2,296
-
-
-
-
-
-
-
62
2,524
-
-
-
-
-
-
-
58
2,696
-
-
-
-
-
-
-
67
2,093
-
-
-
-
-
-
-
54
2,443
-
-
-
-
-
-
-
51
2,416
-
-
-
-
-
-
-
76
2,224
-
-
-
-
-
-
-
64
2,081
-
-
-
-
-
-
-
78
1,670
-
-
-
-
-
-
-
86
1,564
-
-
-
-
-
-
-
108
2,057
-
-
-
-
-
-
-
102
1,942
-
-
-
-
-
-
-
111
2,011
-
-
-
-
-
-
-
90
2,186
-
-
-
-
-
-
-
98
2,547
-
-
-
-
-
-
-
69
5,827
-
-
-
-
-
-
-
-
-
-
-
-
-
-
85
1,925
-
-
-
-
-
-
-
111
1,585
-
-
-
-
-
-
-
156
1,337
-
-
-
-
-
-
-
167
1,098
-
-
-
-
-
-
-
183
1,037
-
-
-
-
-
-
-
189
919
-
-
-
-
-
-
-
236
937
-
-
-
-
-
-
-
201
1,115
-
-
-
-
-
-
-
268
811
-
-
-
-
-
-
-
178
1,071
-
-
-
-
-
-
-
263
830
-
-
-
-
-
-
-
203
1,035
-
-
-
-
-
-
-
226
805
-
-
-
-
-
-
-
265
636
-
-
-
-
-
-
-
246
662
-
-
-
-
-
-
-
out for one week
-
-
-
-
-
-
-
291
731
-
-
-
-
-
-
-
288
575
-
-
-
-
-
-
-
out for two weeks
-
-
-
-
-
-
-
273
623
-
-
-
-
-
-
-
288
588
-
-
-
-
-
-
-
246
639
-
-
-
-
-
-
-
256
720
-
-
-
-
-
-
-
270
835
-
-
-
-
-
-
-
261
758
-
-
-
-
-
-
-
240
754
-
-
-
-
-
-
-
236
791
-
-
-
-
-
-
-
223
965
-
-
-
-
-
-
-
141
1,146
-
-
-
-
-
-
-
113
1,448
-
-
-
-
-
-
-
100
1,774
-
-
-
-
-
-
-
130
1,427
-
-
-
-
-
-
-
129
1,346
-
-
-
-
-
-
-
141
1,242
-
-
-
-
-
-
-
152
1,077
-
-
-
-
-
-
-
148
1,195
-
-
-
-
-
-
-
175
1,179
-
-
-
-
-
-
-
168
1,040
-
-
-
-
-
-
-
151
1,164
-
-
-
-
-
-
-
151
1,011
-
-
-
-
-
-
-
231
856
-
-
-
-
-
-
-
168
973
-
-
-
-
-
-
-
160
945
-
-
-
-
-
-
-
181
842
-
-
-
-
-
-
-
243
825
-
-
-
-
-
-
-
216
843
-
-
-
-
-
-
-
213
963
-
-
-
-
-
-
-
197
1,090
-
-
-
-
-
-
-
242
1,054
-
-
-
-
-
-
-
163
2,623
-
-
-
-
-
-
-
-
-
-
-
-
-
-
168
938
-
-
-
-
-
-
-
174
905
-
-
-
-
-
-
-
218
846
-
-
-
-
-
-
-
153
1,047
-
-
-
-
-
-
-
234
675
-
-
-
-
-
-
-
228
684
-
-
-
-
-
-
-
294
526

Total Reported Sales: 1,916,661
World Chart
| | Week 1 | Week 2 | Week 3 | Week 4 | Week 5 |
| --- | --- | --- | --- | --- | --- |
| Position | 2 | 5 | 11 | 23 | 36 |
External Links