It is thanks to each and every one of you that has made Generasia the largest resource for Asian media info. To our wonderful contributors, thank you!
Passion (Utada Hikaru)
From generasia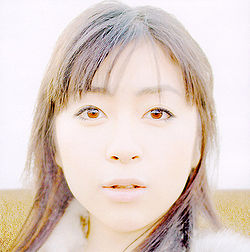 Artist

Single

Passion

Released

2005.12.14

Catalog Number

TOCT-5004 (CD+DVD)
TOCT-5003 (CD Only)

Price

¥1,320 (CD+DVD)
¥660 (CD Only)

CD Tracklist
Passion ~single version~
Passion ~after the battle~
DVD Tracklist
Passion ~single version~ (PV)
Information
"Passion" is Utada Hikaru's 15th single. Passion was used as the theme song for the game Kingdom Hearts II, and is the follow-up to Simple And Clean/Hikari, which Utada also sang for Kingdom Hearts in 2002. The exact version of Passion that is used for the opening theme song is not on the single, though Passion ~after the battle~ is used as the ending theme song. There is an English version of this song, much like Simple And Clean was to Hikari, and is titled Sanctuary. Passion also appears on the Kingdom Hearts II Original Soundtrack three times; with two new versions (Passion ~opening version~ and Passion (Orchestral Ver.)) as well as Passion ~after the battle~. Despite this single reaching #11 on the World Charts for single sales, this single did not even chart on the airplay chart. This single charted for 16 weeks. As this single sold 112,345 copies in 2006, it was the #91 single of the year.
Song Information
Lyrics

Music

Other Information

Arrangement: Utada Hikaru
All Vocals: Utada Hikaru
Keyboards and Programming: Utada Hikaru and Matt Rohde
Additional Programming: Alexis Smith
Guitar: Ben Mauro
Acoustic Piano: Matt Rohde
Drums: Forrest Robinson
Mixing: Goetz B. for 365 Artists at Bunkamura Studio, Tokyo
Recording: Pat Woodward and Matsui Atsushi at Westlake Audio, L.A., and Bunkamura Studio, Tokyo
Pro-Tools Operation: Glenn Erwin
Mastering: Tom Coyne at Sterling Sound, NYC
Art Direction and Photography: Kiriya Kazuaki
Music Video
Passion was directed by Kiriya Kazuaki, and filmed at Gung-Ho Films studios in Beijing, China. Throughout this music video, there are many scenes which include CGI-imagery (which was produced by N-Design), and the opening even included an anime-style animation sequence. The anime sequence was produced by Morimoto Koji and his company STUDIO 4°C. These are the same people who created the Fluximation-style animations for cellphone services using songs from Utada's EXODUS album. In fact, the same character shown at the start of the music video for Passion is shown in the Fluximation for Utada's song Opening. There is also an English song, entitled Sanctuary which has the same music. Sanctuary was written and recorded before Passion.
Utada Quotes
"Passion is probably one of my favorite songs that I've written; I especially like my lyrics. It's not really like anything I've done in the past." --Utada Hikaru
"Passion is like, straight after from where Hikari left off. it has a feeling that connects together the end of the last game and the sequel. Like, how it showed the characters and how they met and so forth. It was pretty easy to think up an image. It's like... as if Hikari was the dawn, and Passion has a concluding or 'dusk' feeling to it. I wanted this song to communicate so many various ideas. While you can see some very ordinary imagery in the song, when you listen the imagery can become very dramatic." --Utada Hikaru
"The lyrics of Passion show how phases of the past, present and future of the character in my song relate to each other, and the arrangement builds a peculiar, almost floating feeling. People who have listened to Passion have wanted to daydream; to really see the places and times that I wanted to portray to them. While they listened to Passion, they were like, 'What? How old is this person in the song? What day and month is this set in? What? Where is this taking place!?'" --Utada Hikaru
"Originally I wanted to put various vocal styles in the middle of the song. I really respect artists like Freddie Mercury and Kate Bush, who themselves have lots of different voices they can use for singing. Because of that, they can change character all by themselves. I really like that idea, and I was aiming at practicing this idea in Passion. However, I can't really do it very well. In Passion, you can hear in parts that my voice differs from my usual voice. It was really fun to change my voice by doing things like using different effects on my voice, speaking a different way or changing my singing style." --Utada Hikaru
Disambiguation
There are six known versions of Passion to be included in Utada's discography. These include:
Passion ~single version~

Passion ~after the battle~

Passion ~after the battle~ (HOLIDAY LIVE SPECIAL)

Passion - KINGDOM Orchestra Instrumental Version

Passion ~opening version~

Passion (Utada United Live)
Lyrics
In Passion, there are several layers of English lyrics. At one point, "My fears, my lies" is audible. There are also many parts of the song with reversed lyrics. A magazine interview confirmed that the lyrics were, "I need more affection than you know"; though there was much dispute over this. A blog entry posted by Utada herself on June 10th, 2006 infers to some lyrics she wrote to Passion but were never used such as "Shizuka na tabibito no utau uta ni wa, Mada kotoba ga nai" which tranlates to "The song sung by a quiet traveler has no words yet" and "Hisoyaka na jounetsu ga itsumo, Zidai wo ugokasu" which translates to "A secret passion is the one that makes time move".
TV Performances
Oricon Chart Positions
Note: Sales were combined for weeks three and four due to Oricon holidays.
| Mon | Tue | Wed | Thu | Fri | Sat | Sun | Week Rank | Sales | Total Sales | Date |
| --- | --- | --- | --- | --- | --- | --- | --- | --- | --- | --- |
| - | 3 | 4 | 4 | 6 | 5 | 6 | 4 | 49,242 | 49,242 | 2005.12.26 |
| 6 | 9 | 10 | 9 | 7 | 9 | 8 | 10 | 18,868 | 68,110 | 2006.01.02 |
| 7 | 10 | 10 | 9 | 9 | 7 | 12 | - | ------ | 68,110 | ---------- |
| 12 | 14 | 13 | 12 | 11 | 14 | 14 | 12 | 22,877 | 90,987 | 2006.01.09+16 |
| 12 | 16 | 15 | 17 | 16 | 17 | 17 | 16 | 6,061 | 97,048 | 2006.01.23 |
| 15 | - | - | - | - | - | - | 31 | 4,117 | 101,165 | 2006.01.30 |
| - | - | - | - | - | - | - | 55 | 2,985 | 104,150 | 2006.02.06 |
| - | - | - | - | - | - | - | 77 | 1,852 | 106,002 | 2006.02.13 |
| - | - | - | - | - | - | - | 101 | 1,198 | 107,200 | 2006.02.20 |
| - | - | - | - | - | - | - | 91 | 1,235 | 108,435 | 2006.02.27 |
| - | - | - | - | - | - | - | 111 | 1,202 | 109,637 | 2006.03.06 |
| - | - | - | - | - | - | - | 128 | 845 | 110,482 | 2006.03.13 |
| - | - | - | - | - | - | - | 162 | 579 | 111,061 | 2006.03.20 |
| - | - | - | - | - | - | - | 148 | 529 | 111,590 | 2006.03.27 |
| - | - | - | - | - | - | - | 183 | 417 | 112,007 | 2006.04.03 |
| - | - | - | - | - | - | - | 194 | 338 | 112,345 | 2006.04.10 |
Total Reported Sales: 112,345
External Links