Due to an influx of spam accounts getting through and joining the site, user registrations have once again been disabled until further notice as we work on a different solution.
(Miss)understood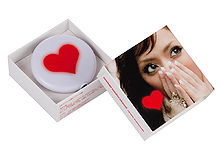 Artist

Album

(miss)understood

Released

2006.01.01 (Japan)
2006.01.21 (South Korea)
2012.03.21 (PLAYBUTTON)

Catalog Number

AVCD-17837/B (CD+DVD)
AVCD-17838 (CD Only)
AQZD-50672 (PLAYBUTTON)

Price

¥3,990 (CD+DVD)
¥3,150 (CD Only)
¥2,800 (PLAYBUTTON)

CD Tracklist
DVD Tracklist
Information
(miss)understood is Hamasaki Ayumi's seventh album. There are two versions of this album; a CD only and a CD+DVD version, each with a different cover. The first press bonus for both CD only and CD+DVD is a 70-page full-color photobook - "on my way" for the CD+DVD edition and "off my day" for CD only. This album reached #1 on the Oricon charts; as for Taiwan, it reached #1 and charted for 5 weeks. As this album sold 877,433 copies in 2006, it became the #8 album of the year in Japan; as for Taiwan it became the #7 album of the year. (miss)understood was certified a million selling album by RIAJ for shipping 1,030,000 copies.
Six tracks from this album are in fact covers of demo songs that came from Sweetbox's album Addicted, which was released in Japan three months later on March 1st, 2006. Hamasaki wrote her own lyrics for those songs versions on (miss)understood. These tracks are:
A limited PLAYBUTTON edition of the album was later released on March 21st, 2012.
Credits
Click "Expand" for more details: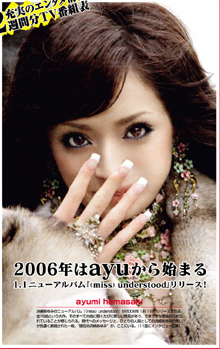 Directed & Recorded by Koji Morimoto
Mastered by Chris Athens at Sterling Sound/NY
A&R: Kentaro Furusawa (avex entertainment inc.)
A&R Direction: Hidetomo Yoneda (avex entertainment inc.)
A&R Creative Assist: Hidemi Ino (avex entertainment inc.)
Head of A&R: Hiroaki Ito (avex entertainment inc.)
Recordist: Koji Morimoto, Motohiro Tsuji, Satoshi Kumasaka, Hiroshi Sato (prime sound studio form), Shojiro Watanabe (POWER BOX), Yuichi Nagayama, Geoff Rice (Sony Music Studio/NY)
2nd Engineer: Taiji Okuda, Yoshinori Kumamoto (prime sound studio form), Masahiro Kawata (avex studio azabu)
Recorded & Mixed at prime sound studio form, Sony Music Studios/NY, avex studio azabu, Bunkamura Studio, Hitokuchizaka Studio, Crescente Studio, Westside, Aobadai Studio, Sound City, Victor Studio
Composers Management: Hidemi Ino, Tadayoshi Matsuzaka, Shigeru Kajita, Tomonori Takeda (tearbridge production), Yasushi Mizukoshi, Masayoshi Nonaka (avex entertainment inc.), Morihiko Aoyagi (SCOOP MUSIC), Atsuo Koyama (True Song Music), Heiko Group (Grupe & Schmidt Entertainment GmbH / www.sweetbox.com)
Product Coordination/NY: Jesse Oba (Sounday Records)
Product Coordination on tr.1,3,7,10,15,16: Shig Fujita, NObby uNO, Akiko Ihara (avex entertainment inc.)
Players Coordination: Yoji Sugiyama (Witchcraft), Yumi Kobayashi (B:ZAR)
Studio Setup Assist: Tomok Kunihara (prime sound studio form)
Artist Management: Kouji Hashimoto, Tadashi Urakami (avex entertainment inc.)
Artist Management Chief: Yuka Kikuchi, Kentaro Furusawa (avex entertainment inc.)
Artist Brand Management: Motohiro Abe (avex entertainment inc.)
Visual Producer: Kiyoshi 'Utsumizm' Utsumi (avex group)
Making Off-shot Producer: Kazuki 'Mr' Okabe (avex entertainment inc.)
Media Promotion: Koki Sato & All Media Division Promotion Room Staff (avex entertainment inc.)
Media Promotion Supervisor: Akira Akutsu (avex entertainment inc.)
Sales Promotion: Hideo Yamamoto & All AMC Staff (avex marketing communications inc.)
Tie-up Coordination: Hidemi Arasaki, Daisuke Ogi, Seitaro Takagi, Kenta Kobayashi, Kenichiro Kimura, Shohei Taniishi, Naohiro Yazaki, Tatsuo Kodama, Shingo Kitagawa (avex entertainment inc.)
Contents Coordination: Kouichiro Tanaka, Tatsuya Kojima (avex network inc.)
Web Designer: Akiko Kobayashi, Yukiko Ito (avex network inc.)
A&R Support: Hanako Kimura (avex entertainment inc.)
Advisory Producers: Motohiro Abe (avex entertainment inc.), Yoshihisa Nagata (avex live creative inc.)
General Producer: Shinji Hayashi, Ryuhei Chiba (avex group)
<VIDEO CLIP>
STEP you, rainy day Directed by Tetsuo Inoue
is this LOVE?, Ladies Night Directed by Masashi Muto
fairyland, HEAVEN Directed by Wataru Takeishi
alterna Directed by Koki Tange
Bold & Delicious, Pride Directed by Luis Hernandez
Art Direction & Design: Shinichi Hara
Art Design: Takuma Noriage (momoya)
Creative Coordination: Naoki Ueda (avex marketing communications inc.)
CG Treatment: Makoto Harikae, Hiroko Tanaka (amana)
Quality Control: Shuichi Takahashi, Seiko Tanaka (avex marketing communications inc.)
Cover Photographer: Mitsuo 'Hime' Yamamoto (Super Continental)
Booklet Photographer: Mika 'Mikajohn' Noguchi (PEACH JOHN)
Assistant Photographer: Teppei Nezu
Hair & Make up: Keizo Kuroda (Three Peace)
Assistant Hair & Make up: Kazuhisa Kurumizawa
Stylist: Kei Ito (ab fab)
Costume Creator: Akira Noda (Workaholik)
Nail Artist: Kanako 'Bancho' Miura (Three Peace)
Location Coordinator: Luis Hernandez (DAY O Productions, inc.)
Costume Support: ROYAL CHIE, FENDI JAPAN, ASH★DIAMONDS, STRAS BURGO, SPLASH, CABARET, LAILA VINTAGE COLLECTION, C.C.COUNTRY, K-VIN SHOP
Support: Kazuyoshi Takahashi, Takashi Noguchi, Satomi Masubuchi (ZACC), Koji Matsumoto, Ward Secton, Stanley Izumi Kim, Jun Yoshida, Mika Momose, So Tsuchie (ISM), Kasutaka 'Numatchi' Numakura (Office Lift), Takami 'Poroko' Desaki
Special Thanks: Junichi 'nonchan' Kamitoku, mikajohn, Tetsuya 'hige' Hirakawa, Natsuki, Furu, Yossy, Ryuji, Naokun, Yusuke, Kotaro, Tsuriko, Tomomi, Kyoko, Ai, Ryo, Keiko, Jin, Kumako, Keiichi, my family & my honey, all of you who participated this album... and you❤
Oricon Chart Positions
Mon
Tue
Wed
Thu
Fri
Sat
Sun
Week Rank
Sales
-
1
1
1
1
1
1
1
653,830
1
1
1
1
1
1
1
1
2
2
2
1
2
2
2
82,731
1
4
4
4
4
4
4
4
38,861
4
9
10
6
7
8
7
8
25,885
7
12
12
10
10
10
11
11
15,855
8
18
18
13
15
13
11
16
10,710
10
-
-
19
20
20
-
24
7,974
-
-
-
-
-
-
-
45
5,733
-
-
-
-
-
-
-
53
4,442
-
-
-
-
-
-
-
56
4,194
-
-
-
-
-
-
-
65
3,425
-
-
-
-
-
-
-
85
2,964
-
-
-
-
-
-
-
99
2,329
-
-
-
-
-
-
-
107
1,895
-
-
-
-
-
-
-
122
1,506
-
-
-
-
-
-
-
136
1,290
-
-
-
-
-
-
-
158
1,431
-
-
-
-
-
-
-
160
1,448
-
-
-
-
-
-
-
200
954
-
-
-
-
-
-
-
204
847
-
-
-
-
-
-
-
236
902
-
-
-
-
-
-
-
274
689
-
-
-
-
-
-
-
257
766
-
-
-
-
-
-
-
182
916
-
-
-
-
-
-
-
190
1,025
-
-
-
-
-
-
-
193
1,042
-
-
-
-
-
-
-
212
851
-
-
-
-
-
-
-
283
679
-
-
-
-
-
-
-
279
736
-
-
-
-
-
-
-
293
785
-
-
-
-
-
-
-
out for two weeks
-
-
-
-
-
-
-
275
738
Total Reported Sales: 877,433
United World Charts Positions
| | Week 1 | Week 2 | Week 3 |
| --- | --- | --- | --- |
| Position | 1 | 14 | 37 |
G-Music Japanese Chart Positions
| | Week 1 | Week 2 | Week 3 | Week 4 | Week 5 | Week 6 | Week 7 | Week 8 | Week 9 | Week 10 | Week 11 | Week 12 | Week 13 | Week 14 | Week 15 | Week 16 | Week 17 | Week 18 | Week 19 | Week 20 |
| --- | --- | --- | --- | --- | --- | --- | --- | --- | --- | --- | --- | --- | --- | --- | --- | --- | --- | --- | --- | --- |
| Position | 10 | 1 | 1 | 1 | 1 | 1 | 1 | 2 | 3 | 3 | 3 | 4 | 9 | 12 | - | 18 | - | - | - | 18 |
| Percentage | 1.14% | 40.74% | 18.74% | 16.84% | 16.01% | 9.72% | 6.1% | 3.55% | 4.01% | 2.84% | 2.8% | 0.97% | 1.24% | 0.91% | - | 0.6% | - | - | - | 0.88% |
External Links