Due to an influx of spam accounts getting through and joining the site, user registrations have once again been disabled until further notice as we work on a different solution.
A Best 2 -Black-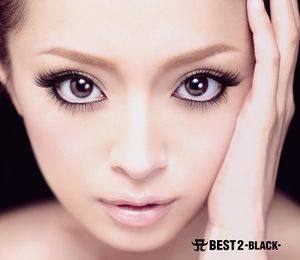 Artist

Album

A BEST 2 -BLACK-

Released

2007.02.28 (Japan)
2007.03.07 (Hong Kong)
2007.03.09 (Taiwan)
2007.03.14 (Singapore)
2007.03.12 (Overseas version)
2007.03.15 (Korea)
2007.04.?? (Malaysia)

Catalog Number

AVCD-23263 (CD+2DVD)
AVCD-23264 (CD only)

Price

¥4,700 (CD+2DVD)
¥3,059 (CD only)

CD Tracklist
DVD1 "A BEST Clips -BLACK-" Tracklist
DVD2 tracklist
Documentary Film of COUNTDOWN LIVE 2006-2007 A (90 min.)
Information
A BEST 2 is the third "best of" compilation by Hamasaki Ayumi. It was released in two versions; BLACK and WHITE. The BLACK version contains painful and dark songs selected from everything since her 20th single "evolution" (2001) up to her 38th single "Bold & Delicious / Pride" (2005) plus one new song that was used in a Panasonic commercial promoting Lumix cameras. The first press of the album included a special black case. All tracks except "part of Me" were re-mastered by Bernie Grundman Mastering in L.A. in order to give a better sound quality to the album. Because the album sold a total of 696,728 copies in 2007, the album became the #7 album of the year. To date, A BEST 2 sold a combined total of 1,423,317 copies.
Credits
Click "Expand" for more details: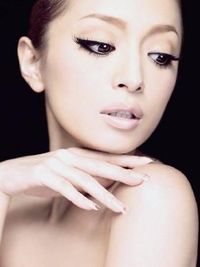 Mastered by Brian "Big Bass" Gardner at Bernie Grundman Mastering, Hollywood, CA
A&R: Kentaro Furusawa (avex trax)
A&R Direction: Hidetomo Yoneda (avex trax)
Artist Management: Kouji Hashimoto, Tadashi Urakami (avex entertainment inc.)
Artist Brand Management: Hideki Endo (avex entertainment inc.)
Visual Producer: Kiyoshi 'Utsumizm' Utsumi (avex group)
Making Off-shot Producer: Kazuki 'Mr' Okabe (avex entertainment inc.)
Media Promotion: Takeshi Mori & All Media Division Promotion Room Staff (avex entertainment inc.)
Media Promotion Supervisor: Akira Akutsu (avex entertainment inc.)
Sales Promotion: Jun Yogi, Taishi Nomura & All AMC Staff (avex marketing communications inc.)
DVD Authoring: Yohei Sato (avex network inc.)
Contents Coordination: Shunsuke Abe (avex network inc.)
Web Designer: Yukiko Ito (avex network inc.)
A&R Desk: Miki Endo (avex entertainment inc.)
A&R Supervisor: Hiroshi Ishimori, Takashi Okuda (avex trax)
A&R Executive Supervisor: Jun Harada (avex trax)
Advisory Producers: Motohiro Abe (avex entertainment inc.), Yoshihisa Nagata (avex live creative inc.)
General Producers: Shinji Hayashi, Takashi Araki, Ryuhei Chiba (avex group)
Art Direction & Design: Shinichi Hara
Art Design: Takuma Noriage (momoya)
Creative Coordination: Naoki Ueda (avex marketing communications inc.)
CG Treatment: Makoto Harikae, Hiroko Tanaka, Hiroki Yura (amana)
Quality Control: Shuichi Takahashi, Toshiyuki Suzuki (avex marketing communications inc.)
Photographer: Kazuyoshi Shimomura (AVGVST)
Assistant Photographer: Satoko Mitomi
Stylist: Kei 'Okei' Ito (ab fab)
Assistant Stylist: Yuko Honda (ab fab)
Costume Creator: Akira Noda (Workaholik)
Nail Artist: Kanako 'Bancho' Miura (Three Peace)
Assistant Nail Artist: Shingo 'Minazo' Sano
Hair: Mika Momose (ISM)
Assistant Hair: So 'Otochan' Tsuchie (ISM)
Make Up: Jin 'Gori' Kiyota (Rond.)
Assistant Make Up: Shoichi 'Sho' Nakamura
Stand in: Takami 'Poroko' Desaki
Support: Keizo Kuroda, Kazuhisa Kurumizawa (Three Peace), Kazuyoshi Takahashi, Satomi Masubuchi, Kayoko Kishishita, Hiroyuki Kuramoto (ZACC), Takehide Fumimori, Miki Kakinuma, Koji Matsumoto, Stanley Izumi Kim, Luis Hernandez, Ward Secton, Kasutaka 'Numatchi' Numakura (Office Lift), Jun Yoshida (ISM)
Special Thanks: Junichi 'nonchan' Kamitoku, Mikajohn, Tetsuya 'Hige' Hirakawa, Natsuki, Furu, Yossy, Ryuji, Naokun, Yusuke, Kotaro, Turico, Tomomi, Kyoko, Ai, Ryo, Keiko, Jin, Kumako, Keiichi, my family & my honey, all of you who participated this album... and you❤
Charts
A BEST 2 -BLACK- debuted at #1 in Oricon Charts (Japan) but the other days A BEST 2 -WHITE- was preferred. This is the first time in 36 and a half years that a female artist occupied #1 and #2 in album charts. A BEST 2 -BLACK- outsold the weekly #3 for a large of 437,037 copies and ended being #2 weekly while A BEST 2 -WHITE- was #1 weekly. The A BEST 2 albums have shipped more than 2,000,000 copies in Japan alone.
Oricon Chart Positions
Mon
Tue
Wed
Thu
Fri
Sat
Sun
Week Rank
Sales
-
1
2
2
2
2
2
2
470,057
2
3
3
3
3
3
3
3
97,534
3
9
9
7
7
7
7
7
44,239
7
15
13
8
8
9
9
10
21,349
9
19
18
14
14
14
11
16
13,265
13
20
20
18
19
19
19
18
8,339
17
-
-
-
20
-
20
23
5,739
-
-
-
-
-
-
-
30
4,337
-
-
-
-
-
-
-
49
3,866
-
-
-
-
-
-
-
43
3,722
-
-
-
-
-
-
-
60
2,217
-
-
-
-
-
-
-
57
2,086
-
-
-
-
-
-
-
113
1,713
-
-
-
-
-
-
-
102
1,514
-
-
-
-
-
-
-
127
1,329
-
-
-
-
-
-
-
124
1,268
-
-
-
-
-
-
-
134
1,191
-
-
-
-
-
-
-
144
1,478
-
-
-
-
-
-
-
162
1,114
-
-
-
-
-
-
-
141
1,196
-
-
-
-
-
-
-
135
1,318
-
-
-
-
-
-
-
171
1,167
-
-
-
-
-
-
-
177
948
-
-
-
-
-
-
-
196
926
-
-
-
-
-
-
-
168
1,044
-
-
-
-
-
-
-
186
1,010
-
-
-
-
-
-
-
240
795
-
-
-
-
-
-
-
245
740
-
-
-
-
-
-
-
235
712
-
-
-
-
-
-
-
266
695
-
-
-
-
-
-
-
out for thirteen weeks
-
-
-
-
-
-
-
235
913
-
-
-
-
-
-
-
277
950
-
-
-
-
-
-
-
167
2,593
-
-
-
-
-
-
-
-
-
-
-
-
-
-
159
990
-
-
-
-
-
-
-
219
721
Sales in 2007: 698,591 (#7 album of the year)
Sales in 2008: 4,304
Charts Positions
Country
Chart
Weeks

1

2

3

4

All
Global Chart
2
13
-
-
Hong
Kong
Japanese Chart
2
5
x
x
Global Chart
34
-
-
-
Asian Chart
8
16
Taiwan
Global Chart
3
4
5
7
Japanese Chart
2
1
2
2
G-Music Japanese Chart Positions
| | Week 1 | Week 2 | Week 3 | Week 4 | Week 5 | Week 6 | Week 7 | Week 8 | Week 9 | Week 10 | Week 11 | Week 12 | Week 13 | Week 14 | Week 15 | Week 16 | Week 17 |
| --- | --- | --- | --- | --- | --- | --- | --- | --- | --- | --- | --- | --- | --- | --- | --- | --- | --- |
| Position | 2 | 1 | 2 | 2 | 2 | 2 | 4 | 7 | 9 | 11 | 12 | 12 | 15 | 15 | 15 | - | 14 |
| Percentage | 23.81% | 13% | 11.95% | 8.94% | 7% | 5.36% | 2.28% | 2.38% | 1.22% | 1.07% | 1.06% | 1.03% | 0.62% | 0.87% | 0.51% | - | 0.56% |
External Links