Due to an influx of spam accounts getting through and joining the site, user registrations have once again been disabled until further notice as we work on a different solution.
Ayumi Hamasaki ~Power of Music~ 2011 A Limited Edition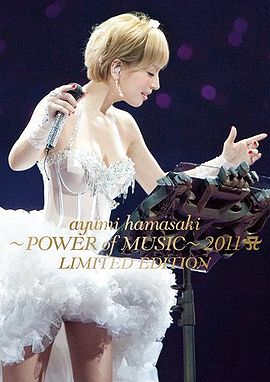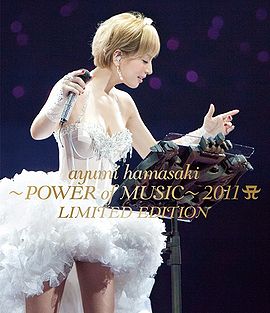 Artist

DVD / Blu-ray

ayumi hamasaki ~POWER of MUSIC~ 2011 A LIMITED EDITION

Released

2012.03.21

Catalog Number

AVBD-91935/6 (DVD)
AVXD-91650 (Blu-ray)

Price

¥6,380 (DVD)
¥7,480 (Blu-ray)

Disc 1 Tracklist
Disc 2 Tracklist
Information
ayumi hamasaki ~POWER of MUSIC~ 2011 A LIMITED EDITION is Hamasaki Ayumi's 33rd live DVD. It was released on the same day as Party Queen, and is also sold as part of the "Party Queen SPECIAL LIMITED BOX SET". The second disc contains songs sung only at some performances, but were popular for their arrangement.
Tour Information & Schedule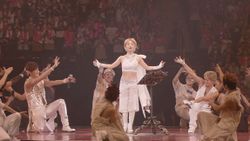 The tour featured 26 shows and covered 10 different cities. The original tour was performed from April 10th to July 25th and it mobilized more than 280,000 people. Due to the 2011 Tōhoku earthquake and tsunami, some of her shows were canceled or rescheduled. Those rescheduled events were publicised under the tag "FINAL Chapter". Her final concerts in Saitama included performances from her newly released mini-album FIVE, and thus was tagged as "LIMITED EDITION".
Urata Naoya and JUNO made a special appearance on her final concert in Saitama.
Date
Original Date
City
Venue
ayumi hamasaki ~POWER of MUSIC~ 2011 A
2011.05.07
Hiroshima
Hiroshima Green Arena
2011.05.08
2011.05.14
Yokohama
Yokohama Arena
2011.05.15
2011.05.21
Fukuoka
Marine Messe Fukuoka
2011.05.22
2011.05.28
Osaka
Osaka-jō Hall
2011.05.29
2011.06.04
Yokohama
Yokohama Arena
2011.06.05
2011.06.18
-
Fukuoka
Marine Messe Fukuoka
2011.06.19
-
2011.06.25
Fukui
Sundome Fukui
2011.06.26
Canceled
2011.07.02
Miyagi
Sekisui Heim Super Arena
Canceled
2011.07.03
2011.07.13
Nagoya
Nippon Gaishi Hall
2011.07.14
2011.07.23
Tokyo
National Yoyogi Stadium First Gymnasium
2011.07.24
ayumi hamasaki ~POWER of MUSIC~ 2011 A FINAL Chapter
2011.09.30
2011.04.23
Osaka
Osaka-jō Hall
2011.10.01
2011.04.24
2011.10.05
2011.04.29
Shizuoka
Ecopa Arena
2011.10.06
2011.04.30
2011.10.12
2011.04.16
Nagoya
Nippon Gaishi Hall
2011.10.13
2011.04.17
ayumi hamasaki ~POWER of MUSIC~ 2011 A LIMITED EDITION
2011.10.18
2011.04.09
Saitama
Saitama Super Arena
2011.10.19
2011.04.10
On-stage Performers
Band Members

Keyboards: Tomonari Yoshihiro, Miyazaki Yusuke
Bass: Enrique
Guitar: Nomura Yoshio
Drums: Hamazaki Daichi
Chorus: Miwako "Peco" Hamada, Yoko "Princess" Yamazaki, Timothy Wellard

Hornes

Sax/Flute: Koyama Robert
Trumpet: Hirata Naoki, Chadani Masahiko
Trombone: SASUKE

Strings

1st Violin: Tagaya Tatsuki, Ishibashi Naoki, Morisue Yumemi, Sawada Akiko
2nd Violin: Yamamoto Yoko, Konomi Miki, Karasawa Yoko
Viola: Tanaka Shiori, Kikuchi Mikiyo
Cello: Mukai Wataru, Furukawa Yoshie

Dancers

Acrobatics Performer
Credits
Click "Expand" for more details:
Executive Producer

max matsuura (avex group)

Tour Chief Producer

Katsumi Kuroiwa (avex live creative inc.)

A&R + Director

Hidetomo "KOME" Yoneda (avex trax)

Artist Management Chief

Kouji "Ouji" Hashimoto (avex management inc.)

Artist Management

Takahiro "SUGI" Sugiue (avex management inc.)
Masamichi Imafuku (A COLLECTION)
Seiko Suzuki (A COLLECTION)

Artist Brand Management

Hideki "Jackie" Endo (avex management inc.)

Visual Producer

Kiyoshi "Mizumo" Utsumi (avex group)

Media Production

All Promotion Division Media Room & Publicity Room Staff (avex entertainment inc.)

Sales Promotion Chief

Norio Udaka (avex entertainment inc.)

Sales Promotion

Daisuke Takase (avex entertainment inc.)
Takashi Saigo (avex entertainment inc.)

Web Designer

Daisuke Kikuchi (avex marketing inc.)

Mobile Contents Direction

Masaki Sugimoto (avex marketing inc.)
Junko Uchida (avex marketing inc.)
Aki Nakata (avex marketing inc.)
Kayoko Iida (avex marketing inc.)

Mobile Contents Promotion

Naoya Munemura (avex marketing inc.)

TeamAyu Producer

Shinsuke Kubo (avex marketing inc.)

TeamAyu Staff

Yosuke Hojo (avex marketing inc.)

TeamAyu Web Designer

Yukiko Ito (avex marketing inc.)

Merchandising Designer

Naomi Mayuzuki (avex management inc.)

Advisory Merchandising Producer

Koichiro Tanaka (avex marketing inc.)

Products Control

Kana Akiyama (avex marketing inc.)

Products Sales Staff

Junichi Nozaki (avex marketing inc.)
Shigeki Sumomozawa (TAPIRS)
Hiroyuki Muraoka (TAPIRS)
Masayuki Omori (Tokyo Soushoku Co., Ltd.)

A&R Assistant

Jiro Nakagiri (avex trax)

A&R Chief

Kentaro Furusawa (avex trax)

A&R Supervisor

Masatoshi Uchida (avex entertainment inc.)

A&R Executive Supervisor

Yoshihiro Seki (avex entertainment inc.)

Advisory Producer

Yoshihisa Nagata (avex live creative inc.)

General Producers

Shinji Hayashi (avex group)
Shigekazu Takeuchi (avex group)
Ryuhei Chiba (avex group)

[PRODUCTION CREW]
Musical Director

Shingo Kobayashi (Quark)

Choreographer

Maroka "Maro" Uchiyama
Yusaki "ZIN" Jin
Miwako "PECO" Hamada (MORIS)

Tour Producer

Takashi Ogawa (avex live creative inc.)

Tour Director

Atsuo Inoue (avex live creative inc.)

Tour Ticket Director

Koji Takuma (avex live creative inc.)

Tour Ticket Coordinator

Ayako Takahashi (avex live creative inc.)

Tour Contents Producer

Toshiro Hayashi (avex live creative inc.)

Tour Contents Direction

Takeshi Fujita (avex live creative inc.)
Osamu Kameda (avex live creative inc.)

Production Management

Akihiro "chusin" Onozato (Master Work)
Akifumi "ackee" Kojima (avex live creative inc.)
Hiroki Takahashi (Master Work)
Rie "Riechan" Hatabe (Master Work)

Production Dog

INU (wanwan.com)

Band Management

Yumi Kobayashi (B:ZAR)

Dancer Management

Yuya "hatta-man" Hatta (Master Work)

Stage Manager

Osamu "Kantoku" Nomizo (BE FREE)
Yosuke "Zan" Inoue (FULL FLAT Co.,Ltd.)
Hidenori "Kyohei" Tanaka (Tanaka&Co.)
Akio "Bonjin" Watanabe (Comme ci Comme ca)
Yasushi Koga
Naoto "Nobunaga" Udagawa (Prhythm)
Motoyuki "Konbini" Terashima

Stage Set Producer

Tadahiro Sugaya (Saitama Shiimzu,Inc.)

Stage Set Designer

Tatsuya Kojima (Shimizu Octo,Inc.)

Chief Carpenter

Kiyohiko "Chan" Kawai (Shimizu Octo,Inc.)

Carpenter

Tsuyoshi "Nyanyamaru" Kanamaru (Shimizu Octo,Inc.)
Kunihiro Sato (Shimizu Octo,Inc.)
Tomomi "Bagie" Hagiwara (Shimizu Octo,Inc.)

Pop-Up Technician

Hiromi "Kukio" Kukimoto (Shimizu Octo,Inc.)
Takafumi "S-hige" Katori (Shimizu Octo,Inc.)

Rigger

Tooru Ebihara (Shimizu Octo,Inc.)
Yoshimichi Nakatsu (Shimizu Octo,Inc.)
Satoshi Kubota (Shimizu Octo,Inc.)

Operator

Hiroshi "Choh" Arai (Shimizu Octo,Inc.)
Shinichi "POHTEC" Tagatani (TELMIC)
Yuuki Ohtake (TELMIC)

Illumination

Nana "Hachi" Morotou (TELMIC)
Hitomi Tokue (TELMIC)
Yukiko Itou (TELMIC)

Lighting Designer & Programmer

Yasushi "Noridar" Norihara (HAYASHI OFFICE CO.,LTD.)

Lighting Director

Minoru Nakamura (LIGHTING BIG 1 CO.,LTD.)

Lighting Operator

Minoru Nakamura (HAYASHI OFFICE CO.,LTD.)

Follow Spot Operator

Kenji Takahashi (LIGHTING BIG 1 CO.,LTD.)
Takayuki Tokuhisa (LIGHTING BIG 1 CO.,LTD.)
Ryoko Yamada (LIGHTING BIG 1 CO.,LTD.)
Kakeru Arakawa (LIGHTING BIG 1 CO.,LTD.)
Makoto Shibuya (TOHOKU KYORITZ CO.,LTD.)

Ligting Crew

Nobofumi Inoue (BLAST)

Lighting Technician

Masaki Furuya (MULA Corporation)

Sound Coordinator

Ryoichi Hashimoto (HIBINO CO.,LTD.)

F.O.H. Engineer

Koichi Mitsuya (HIBINO CO.,LTD.)
Shinichi Baba (HIBINO CO.,LTD.)

Monitor Engineer

Kenji "Tensai" Murata (HIBINO CO.,LTD.)
Tadashi Yokoyama (HIBINO CO.,LTD.)

System Engineer

Noriyasu Nishiumi (HIBINO CO.,LTD.)
Tatsurou Fukuzawa (HIBINO CO.,LTD.)
Takeshi Sakano (Free)

Stage Crew

Ayako Yoshida (HIBINO CO.,LTD.)
Asuka Kanako (HIBINO CO.,LTD.)

Visual Projection VTR Producer

Kiyoshi "Mizumo" Utsumi (avex entertainment inc.)

Projection VTR Production Manager

Masaya Yonemura (avex entertainment inc.)

Projection VTR Director

Masashi Muto

Visual Producer & Director

Masaru "Tacky & Ricky" Takigami (M's person)

Visual Director

Yusuke Kondoh (M's person)

Super Assistant Director

Jacky Ichimaru

Switcher

Yoshio Muroy (Dolly-Mu-)

Camera

Munetoshi Watanabe
Ryohei Matake
Keisuke Tohi
Momoko Ikeda (Dolly-Mu-)
Yuki Ide

Video Engineer

Ienori Otomo (Dolly-Mu-)

Camera Assistant

Takafumi Hamano (Dolly-Mu-)

Stealth

Ryutaro Tsutsumi (HIBINO CO.,LTD.)
Shoji Haradaa (HIBINO CO.,LTD.)
Ryo Hayashi (HIBINO CO.,LTD.)
Kiyotaka Omura
Tomonori Keira
Hiroshi Yoshino (HIBINO CO.,LTD.)

Special Effect Planner

Takeshi Hagino (HOT SHOT CO.,LTD.)

Special Effect

Yoshikazu "Mutu" Muto (HOT SHOT CO.,LTD.)
Yukihiro Yagi (HOT SHOT CO.,LTD.)

Manipulator

Yoshinori "Momi-yan" Sasayama (Actyente)

Manipulator Assistant

Shigehiro Mochizuki (Actyente)

Back Line Technician

Shinobu Fukashiro (STRAIGHT)
Masaki Okkuda (STRAIGHT)
Takafumi Aki (STRAIGHT)
Masateru Minami (STRAIGHT)

Show Power

Kazuhiro Nomiya (MITSUHO ELECTRIC CO.,LTD.)
Hiroshi Yoneda (MITSUHO ELECTRIC CO.,LTD.)

Transporter

Takayuki Ogata (OZ)
Katsuyoshi Kanzaki (OZ)
Tatsuji Sasida (OZ)
Katsumi Saito (OZ)
Kiyotaka Sakuta (OZ)
A Tour Management

Akifumi "Koichi" Kojima (avex live creative inc.)

A Stylist

Kei "Okei" Ito (Two Culture Inc)

A Costume Designer

Masataka Kato

A Hair

Yoshiyuke "Sukesan" Sukegawa (Allure)

A Make Up

Jin "Gori" Kiyota (ROND.)

A Assistant Hair & Make Up

Tomonori "Kanie" Nagai (ROND.)

A Trainer

So "kurisuteru" Nagashima (tune:up)

A Assistant Trainer

Hideto "AOKING" Aoki (tune:up)

A Wardrobe

Miki Okada
Hitomi Yamamoto

A Security

Tatsuya "Armageddon" Saito (HANSHIN PROTEC)
Makoto "Hiroshi" Hirose (HANSHIN PROTEC)

Band Stylist

Hiroyuki "Ushiko" Ishii

Cast Stylist

Wakana Saito

Band & Cast Costume Designer

Masataka Kato
Hirosumi Saito
Jun Maeyama

Band & Cast Hair & Make Up

Tomoko Naka (ZEN)
Aki Endo (ZEN)
Reiko Okada

Band & Cast Wardrobe

Natsue Kasai (office Natsu)
Chieko Muramoto (office Natsu)
Asami Nishida (office Natsu)
Shiho Hatori (office Natsu)
Ikumi Nakayama (office Natsu)

Costume Support

TEAM MESSAGE
Art Direction & Design

Takuma Noriage (brg)

Photographer

Leslie Kee (super-sonic)

Assistant Photographer

Ryan Chan
Oricon Chart Positions
| Mon | Tue | Wed | Thu | Fri | Sat | Sun | Week Rank | Sales |
| --- | --- | --- | --- | --- | --- | --- | --- | --- |
| - | 6 | 5 | 5 | 6 | 6 | 6 | 6 | 14,076 |
| 9 | 8 | - | - | - | 20 | - | 20 | 2,096 |
| - | 14 | - | - | - | - | - | 19 | 2,043 |
| - | - | - | - | - | - | - | 21 | 852 |
| - | - | - | - | - | - | - | 28 | 588 |

Total Reported Sales: 21,365
Blu-ray Chart Positions
Total Reported Sales: 4,925
G-Music DVD Chart Positions
| | Week 1 | Week 2 | Week 3 | Week 4 | Week 5 |
| --- | --- | --- | --- | --- | --- |
| Position | 2 | 5 | 10 | - | 16 |
| Percentage | - | 1.07% | 0.58% | - | 0.46% |
External Links