Due to an influx of spam accounts getting through and joining the site, user registrations have once again been disabled until further notice as we work on a different solution.
Love Again (Hamasaki Ayumi)
Artist

Album

LOVE again

Released

2013.02.08 (Japan)
2013.02.20 (Hong Kong & Taiwan)
2013.02.27 (South Korea)
Catalog Number

AVCD-38706/B (CD+Blu-ray+ayupan+PHOTO BOOK)
AVCD-38705/B (CD+DVD+ayupan+PHOTO BOOK)
AVCD-38708/B (CD+Blu-ray)
AVCD-38707/B (CD+DVD)
AVCD-38709 (CD Only)
AQZ1-50856 (PLAYBUTTON)

Price

¥5,460 (CD+Blu-ray+ayupan+PHOTO BOOK)
¥5,040 (CD+DVD+ayupan+PHOTO BOOK)
¥4,410 (CD+Blu-ray)
¥3,990 (CD+DVD)
¥3,150 (CD-only)
¥2,100 (PLAYBUTTON)
CD Tracklist
DVD Tracklist
Information
LOVE again is the fourteenth full-length studio album released by Hamasaki Ayumi. It is the fourth release of the special 5 consecutive months releases event to commemorate her 15th anniversary. It was released in six versions : two limited CD+DVD/Blu-ray+ayupan+PHOTO BOOK editions coming with a special ayupan figure and a 24-page photobook, two CD+DVD/Blu-ray editions, a CD Only edition and a limited PLAYBUTTON edition which was only sold through the TeamAyu shop and mu-mo.

The album includes all of the original songs included on her previous mini-albums LOVE and again, hence the title LOVE again, "You & Me" and 7 new songs. The DVD/Blu-ray also includes all the previously released PVs, as well as a video for "Melody" and exclusive making clips.
This is her 20th album to top the Oricon charts, achieving this mark after 14 years and 10 months since her debut, surpassing B'z who achieved this feat over 17 years and 10 months. LOVE again also made Ayumi the 3rd artist with over 20 number 1 albums in Japan, following B'z (20) and Yumi Matsutoya (21).
Hamasaki herself stated: "I used all my strength for this album. I wanted many people to listen to it, so I'm very happy that many people have supported it. Thank you very much," she expressed. "Being able to set this record, this is all thanks to the fans who have supported me. Since this year marks my 15th year, I want to make this a year that I will be able to create wonderful memories with everyone."
"Ivy" was choseen as theme song for the Fuji Tv drama "Kujo".
The album is certified Gold for shipment of 100,000 copies.
Credits
Click "Expand" for more details: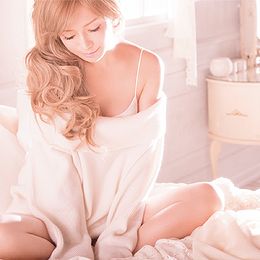 A&R + Director: Hidetomo 'KOME' Yoneda (avex trax)
A&R Coordination: Jiro Nakagiri (avex trax)
Mastered by Shigeo Miyamoto (form THE MASTER)
Recordist: Naoki Yamada, Yuichi Nagayama, Satoshi Kumasaka, Hiroshi Sato (prime sound studio form)
2nd Engineer: Yuji Tanaka, Seiji Itabashi, Yujiro Yonetsu (prime sound studio form), Junichi Shinohara, Kobei Nakatake (avex studio), Ghazi Hourani (Record Plant Recording Studios, L.A)
Recorded & Mixed at prime sound studio form, Record Plant Recording Studios, L.A,avex studio azabu, Bunkamura Studio, Victor Studio
Recording Direction Support: Yasuhiko Hoshino (avex entertainment inc.)
Composer Management: Tomonori Takeda (Ryuken), Tadayoshi Matsuzaka, Yuki Iwabuchi (avex management inc.), Hide Nakamura (Soundgraphics), Satoh Kohji (SCOOP MUSIC)
Players & Studio Coordination: Yoji Sugiyama (Witchcraft)
Studio Setup Assist: Noriko Yajima (prime sound studio form)
Studio Coordination in L.A: Mai Takamizawa (Plenty)
Artist Management Chief: Kouji 'Ouji' Hashimoto (avex management inc.)
Artist Management: Takahiro 'SUGI' Sugiue (avex management inc.), Masamichi Imafuku, Seiko Suzuki (A COLLECTION)
Artist Brand Management: Hideki 'Jackie' Endo (avex management inc.)
Visual Producer: Kiyoshi 'Mizumo' Utsumi (avex group)
Media Promotion Chief: Hideki Hori (avex entertainment inc.)
Media Promotion: Hidemasa Inamura, Kentaro Wada, Yosuke Kawai, Shigenobu Hoshino & All Promotion Division Media Room and Publicity Room Staff (avex entertainment inc.)
Sales Promotion Chief: Norio Udaka (avex entertainment inc.)
Sales Promotion: Daisuke Takase, Takashi Saigo (avex entertainment inc.) & All AMI Staff (avex marketing inc.)
Tie-up Coordination: Kenichiro Kimura, Masatomo Takagi, Shohei Taniishi, Kensuke Fujihara, Reina Tsukada, Eiichi Sekine & All Tie-up Room Staff, Minoru Fukui (avex entertainment inc.)
Casting Coordination: All Casting Room Staff (avex management inc.)
Merchandising Director: Naomi Mayuzumi (avex management inc.)
Advisory Merchandising Producer: Koichiro Tanaka (avex marketing inc.)
Team Ayu Producer: Shinsuke Kubo (avex marketing inc.)
Team Ayu Operation: Yosuke Hojo (avex marketing inc.)
Web Designer: Yukiko Ito, Shunichi Yakuwa (avex marketing inc.)
A&R Desk: Hanako Kimura (avex trax)
Management Desk: Tamae Sasaki (avex management inc.)
A&R Supervisor: Akira Yoshihara, Masatoshi Uchida (avex entertainment inc.)
A&R Executive Supervisor: Yoshihiro Seki (avex entertainment inc.)
General Producers: Shinji Hayashi, Shigekazu Takeuchi, Ryuhei Chiba (avex group)
<Video Clip>
Song 4 u Directed by Masahi Muto
Missing Directed by Masahi Muto
Wake me up Directed by Masahi Muto
You & Me Directed by Masahi Muto
snowy kiss Directed by Masahi Muto
Sweet scar Directed by Wataru Takeishi
Melody Directed by Masahi Muto
Making Clip Directed by Keisuke Onodera
Photographer: Kazutaka Nakamura
Art Direction & Design: Takuma Noriage (brg)
A Stylist: Kei 'Okei' Ito (ab fab)
A Costume Designer: Masataka Kato
A Hair: Yoshiyuki 'Sukesan' Sukegawa (Allure)
A Make Up: Jin 'Gori' Kiyota (ROND.)
A Nail: Aiko Sakota (es NAIL)
A Assistant Nail: Yui Yamazaki (es NAIL)
A Trainer: So 'kurisuteru' Nagashima (tune:up)
Eyelash Extension: Satoshi Hasegawa (Honey LASH)
Creative Coordination: Naoki Ueda (avex entertainment inc.)
Quality Control: Masashi Shinabe, Masaya Ishida, Toshiyuki Suzuki, Miyuki Sei (avex marketing inc.)
Bl-ray Authoring & Menu Design: Akihito Horikoshi (avex entertainment inc.)
A Special Thanks to All my family, All my friends ...and YOU♥
Oricon Chart Positions
| Mon | Tue | Wed | Thu | Fri | Sat | Sun | Week Rank | Sales |
| --- | --- | --- | --- | --- | --- | --- | --- | --- |
| - | - | - | 1 | 1 | 1 | 2 | 1 | 53,065 |
| 1 | 5 | 4 | 3 | 2 | 3 | 6 | 2 | 15,564 |
| 1 | 19 | 14 | 12 | 11 | 14 | 19 | 15 | 6,469 |
| 9 | 38 | 34 | 29 | 25 | 29 | 28 | 40 | 3,993 |
| 14 | - | - | 45 | 28 | 48 | - | 61 | 2,308 |
| 25 | - | - | - | - | - | - | 73 | 1,537 |
| - | - | - | - | - | - | - | 104 | 1,028 |
| - | - | - | - | - | - | - | 144 | 900 |
| - | - | - | - | - | - | - | 114 | 736 |
| - | - | - | - | - | - | - | 98 | 815 |
| - | - | - | - | - | - | - | 128 | 594 |
| - | - | - | - | - | - | - | 171 | 595 |
| - | - | - | - | - | - | - | 181 | 566 |
| - | - | - | - | - | - | - | 228 | 368 |
| - | - | - | - | - | - | - | 273 | 287 |
| Year | Month | Month Rank | Sales |
| --- | --- | --- | --- |
| 2013 | February | 3 | 79,091 |
Total Reported Sales: 88,825 (#70 Album of 2013)
Total Downloads Reported by RIAJ: 100,000 (You & Me)
Billboard Japan Chart Positions
| | Week 1 | Week 2 | Week 3 | Week 4 | Week 5 | Week 6 |
| --- | --- | --- | --- | --- | --- | --- |
| Position | 2 | 2 | 14 | 27 | 57 | 71 |
G-Music Japanese Chart Positions
| | Week 1 | Week 2 | Week 3 | Week 4 | Week 5 | Week 6 | Week 7 | Week 8 | Week 9 | Week 10 | Week 11 | Week 12 | Week 13 | Week 14 |
| --- | --- | --- | --- | --- | --- | --- | --- | --- | --- | --- | --- | --- | --- | --- |
| Position | 2 | 3 | 10 | 14 | 16 | - | 15 | - | 14 | - | - | - | - | 15 |
| Percentage | 12.46% | 4.94% | 1.32% | 0.55% | 1.21% | - | 0.68% | - | 0.93% | - | - | - | - | 1.12% |
Gaon Foreign Albums Monthly Chart Positions
| Year | Month | Rank | Sales |
| --- | --- | --- | --- |
| 2013 | February | 30 | 306 |
Total Reported Sales: 306*
World Chart Positions
External Links