Due to an influx of spam accounts getting through and joining the site, user registrations have once again been disabled until further notice as we work on a different solution.
A Song for XX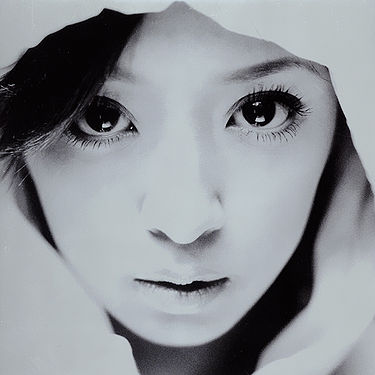 Artist

Album

A Song for ××

Released

1999.01.01

Catalog Number

AVCD-11691

Price

¥3,059
Tracklist
Information
A Song for ×× is the debut studio album recorded by Hamasaki Ayumi. Though the street release was New Year's Day, the album was sold in stores starting in mid-December. The tracks "A Song for ××" and "Hana" were used as radio singles to promote the album. The album reached #1 on the Oricon charts and stayed on the charts for a total of 107 weeks. In 1999 the album became the #16 album of the year. The album is also the #138 best selling album in Japan.
The "××" in the title is silent and is a reference to Hamasaki's estranged father, whom she never knew. The song itself is about Hamasaki's move from Fukuoka to Tokyo.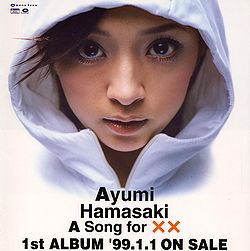 Oricon Chart Positions
Mon
Tue
Wed
Thu
Fri
Sat
Sun
Week Rank
Sales
-
-
-
-
-
-
-
1
548,210
-
-
-
-
-
-
-
-
-
-
-
-
-
-
1
169,570
-
-
-
-
-
-
-
2
126,160
-
-
-
-
-
-
-
1
103,800
-
-
-
-
-
-
-
1
86,320
-
-
-
-
-
-
-
2
44,490
-
-
-
-
-
-
-
4
36,040
-
-
-
-
-
-
-
8
28,550
-
-
-
-
-
-
-
18
19,600
-
-
-
-
-
-
-
21
18,150
-
-
-
-
-
-
-
28
14,350
-
-
-
-
-
-
-
40
8,320
-
-
-
-
-
-
-
43
8,260
-
-
-
-
-
-
-
51
6,680
-
-
-
-
-
-
-
52
4,960
-
-
-
-
-
-
-
41
5,630
-
-
-
-
-
-
-
62
5,360
-
-
-
-
-
-
-
58
4,650
-
-
-
-
-
-
-
45
4,480
-
-
-
-
-
-
-
37
5,110
-
-
-
-
-
-
-
54
3,870
-
-
-
-
-
-
-
55
5,260
-
-
-
-
-
-
-
62
4,270
-
-
-
-
-
-
-
51
5,710
-
-
-
-
-
-
-
56
4,350
-
-
-
-
-
-
-
67
4,480
-
-
-
-
-
-
-
76
4,800
-
-
-
-
-
-
-
88
3,730
-
-
-
-
-
-
-
53
5,050
-
-
-
-
-
-
-
55
5,920
-
-
-
-
-
-
-
51
6,450
-
-
-
-
-
-
-
50
6,920
-
-
-
-
-
-
-
26
11,930
-
-
-
-
-
-
-
28
11,210
-
-
-
-
-
-
-
39
8,810
-
-
-
-
-
-
-
19
13,260
-
-
-
-
-
-
-
37
9,700
-
-
-
-
-
-
-
26
8,600
-
-
-
-
-
-
-
36
7,770
-
-
-
-
-
-
-
56
4,830
-
-
-
-
-
-
-
54
4,640
-
-
-
-
-
-
-
61
3,620
-
-
-
-
-
-
-
76
3,000
-
-
-
-
-
-
-
93
2,460
-
-
-
-
-
-
-
93
2,410
-
-
-
-
-
-
-
56
4,330
-
-
-
-
-
-
-
77
2,860
-
-
-
-
-
-
-
out for five weeks
-
-
-
-
-
-
-
63
8,460
-
-
-
-
-
-
-
-
-
-
-
-
-
-
66
3,090
-
-
-
-
-
-
-
82
2,520
-
-
-
-
-
-
-
out for twenty weeks
-
-
-
-
-
-
-
76
3,150
-
-
-
-
-
-
-
out for eight weeks
-
-
-
-
-
-
-
82
2,970
-
-
-
-
-
-
-
out for one week
-
-
-
-
-
-
-
76
2,980
-
-
-
-
-
-
-
out for four weeks
-
-
-
-
-
-
-
96
2,300
-
-
-
-
-
-
-
81
2,880
-
-
-
-
-
-
-
97
2,610
-
-
-
-
-
-
-
out for eight weeks
-
-
-
-
-
-
-
100
6,830
-
-
-
-
-
-
-
-
-
-
-
-
-
-
99
2,640
-
-
-
-
-
-
-
89
2,550
Total Reported Sales: 1,451,910
External Links