User registrations have now been re-enabled. If you previously had an account and logged in via OpenID, please create a new account. Thank you!
Sixxxxxx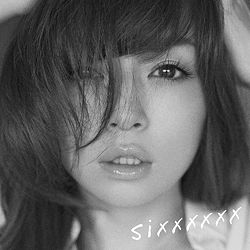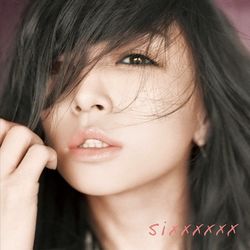 Artist

Mini-Album

sixxxxxx

Released

2015.08.05 (Japan)
2015.08.07 (Taiwan)
2015.09.29 (Vinyl)

Catalog Number

AVCD-93158 (CD+BluRay)
AVCD-93157 (CD+DVD)
AVCD-93159 (CD Only)
AVZ1-93156 (CD+V-MODE Limited Headphones)
AVJ1-93305 (Vinyl)

Price

¥3,520 (CD+BluRay)
¥3,080 (CD+DVD)
¥1,980 (CD Only)
¥36,520 (CD+V-MODE Limited Headphones)
¥3,240 (Vinyl)
CD Tracklist
Blu-ray / DVD Tracklist
Information
sixxxxxx is the fifth mini-album released by Hamasaki Ayumi (6th overall). Tracks include "Step by step", the theme song for dorama Bijo to Danshi, and "Sayonara", a collaboration with Taiwanese boy band SpeXial and produced by electronic music producer, DAISHI DANCE.
Credits
Click "Expand" for more details:
Mastered by Shigeo Miyamoto (form THE MASTER)
Recorded & Mixed at prime sound studio form, avex studio, avex studio azabu
Recordist: Naoki Yamada, Koji Morimoto, Yuichi Nagayama, Hiroshi Sato (prime sound studio form)
2nd Engineer: Kohei Hatakeyama, Atsushi Ota, Shun Sakakibara, Yushi Iwata, Yuta Kumagai (prime sound studio form)
Composer Management: Tomonori Takeda (Ryuken), Tadayoshi Matsuzaka, Yuki Iwabuchi (avex management inc.)
Engineer Management: Rieko Furukawa (I to I Communications, Co.)
Studio & Engineer Setup Assist: Noriko Yajima (prime sound studio form)
Players Coordination: Yoji Sugiyama (Witchcraft)
trk.03 Coordination: Shinji Miyazaki, Charlie Tseng (avex taiwan inc.), Tomoko Kabeya (avex group holdings inc.)
Director: Hidetomo 'KOME' Yoneda (avex trax)
A&R: Jiro Nakagiri (avex trax)
A&R Support: Kurato Sekiguchi (avex trax)
A&R Chief: Junichiro Kawata (avex trax)
Artist Management: Takahiro 'SUGI' Sugiue (avex management inc.), Seiko Suzuki (A COLLECTION)
Artist Management Supervisor: Yasuto Hoyamatsu, Kenta Sugawara, Shigeo Fujimoto (avex management inc.)
Artist Brand Management: Hideki 'Jackie' Endo (avex management inc.)
Visual Producer: Kiyoshi 'Mizumo' Utsumi (avex group)
Co-Visual Produce: NAGAIHOSHI inc.
Media Promotion: Hideki Hori, Tatsuya Ikeda, Yasushi Sakai & All Promotion and Publicity Room Staff (avex music creative Inc.)
Sales Promotion: Ayako Murakami & All AMC Staff (avex music creative Inc.)
Social Media Director: Naoya Munemura (avex music creative Inc.)
Tie-up Coordination: Kenichiro Kimura, Shohei Taniishi, Tomotsugu Ohta, Eiichi Sekine & All Tie-up Room Staff (avex music creative inc.)
Casting Coordination: All Casting Room Staff (avex management inc.)
Merchandising Director: Naomi Mayuzumi (avex management inc.)
Advisory Merchandising Producer: Koichiro Tanaka (avex live creative inc.)
TeamAyu Producer: Shinsuke Kubo (avex live creative inc.)
TeamAyu Staff: Yosuke Hojo, Sota Kawasaki (avex live creative inc.)
TeamAyu Web Designer: Yukiko Ito (avex live creative inc.)
Web Designer: Shunichi Yakuwa (avex live creative inc.)
Web Coordination: Yukiko Ogawa, Terue Saito (avex marketing inc.)
A&R Desk: Hanako Kimura (avex trax)
Management Desk: Tamae Sasaki, Izumi Tsuchida (avex management inc.)
General Supervisor: Shintaro Higuchi (avex music creative inc.), Hiroaki Ito (avex management inc.)
Executive Supervisor: Shinji Hayashi, Shigekazu Takeuchi, Ryuhei Chiba (avex group)

<Video Clip & Making Clip>
"Step by step" Directed by Hidedaki Sunaga
"Sayonara feat. SpeXial" Directed by Daisuke "NINO" Ninomiya (IKIOI/ CLAKEN)

SpeXial appears by courtesy of WARNER MUSIC TAIWAN LIMITED and COMIC PRODUCTIONS Co.,Ltd.
SpeXial Staff: Sam Chen, Jon Ma, Faye Cha, Peiyu Teng, Midori Hsu, Jay Shieh (Warner Music Taiwan), Jerry Feng, Kohra Tung (Comic Productions)
Costume Image Direction & Design: ALVIN GOH

"Summer diary" Directed by Hideaki Sunaga

Tattoo Design: Shining Tattoo, FLASH TATTOOS (ARISE INC.)
Location Support: RYG COMPANY, INC.

Making Clips Directed by Keisuke Onodera
Photographer: Kazutaya Nakamura
Art Direction & Design: brg
A Stylist: Kei 'Okei' Ito (ab fab)
A Costume Designer: Masataka Kato
A Hair: Kazuyoshi Takahashi (ZACC)
A Hair: Yoshiyuki 'Sukesan' Sukegawa (Allure)
A Assistant Hair: Jun Mizoguchi (ZACC)
A Assistant Hair: Haruka Karasawa (ZACC)
A Make Up: Ryuji Nozaki (DONNA)
A Nail: Yui Yamazaki (es NAIL)
A Trainer: So Nagashima (tune:up)
A Adviser: Takako 'Turico' Tsuriya
Creative Coordination: Naoki Ueda (avex group holdings inc.)
Quality Control: Toshiyasu Takahashi (avex music creative inc.), Masaya Ishida, Kasumi Yoshida (avex group holdings inc.)
Authoring & Menu Design: Akihito Horikoshi (avex music creative inc.)
A Special Thanks to All my family, All my friends ...and YOU♥
Charts
Oricon Chart Positions
| Mon | Tue | Wed | Thu | Fri | Sat | Sun | Week Rank | Sales |
| --- | --- | --- | --- | --- | --- | --- | --- | --- |
| - | 1 | 3 | 2 | 2 | 3 | 6 | 2 | 30,988 |
| 3 | 9 | 6 | 8 | 6 | 5 | 11 | 5 | 5,533 |
| 10 | 27 | 19 | 15 | 18 | 21 | 27 | 26 | 2,512 |
| 19 | - | 49 | - | 41 | 48 | - | 54 | 1,536 |
| 32 | - | - | 46 | - | - | - | 66 | 1,114 |
| - | - | - | - | - | - | - | 93 | 621 |
| - | - | - | - | - | - | - | 195 | 409 |
| - | - | - | - | - | - | - | 210 | 340 |
| - | - | - | - | - | - | - | 206 | 393 |
| - | - | - | - | - | - | - | 276 | 226 |
| - | - | - | - | - | - | - | 130 | 468 |
| Year | Month | Rank | Sales |
| --- | --- | --- | --- |
| 2015 | August | 3 | 40,569 |
Total Reported Sales: 44,140*
Billboard Japan 'Hot Albums' Chart Positions
| | Week 1 | Week 2 | Week 3 | Week 4 | Week 5 |
| --- | --- | --- | --- | --- | --- |
| Position | 3 | 8 | 28 | 50 | 73 |
Billboard Japan 'Top Albums Sales' Chart Positions
| | Week 1 | Week 2 | Week 3 | Week 4 | Week 5 | Week 6 |
| --- | --- | --- | --- | --- | --- | --- |
| Position | 3 | 7 | 21 | 43 | 59 | 95 |
G-Music Japanese Chart Positions
| | Week 1 | Week 2 | Week 3 | Week 4 | Week 5 |
| --- | --- | --- | --- | --- | --- |
| Position | 1 | 10 | 6 | 8 | 9 |
| Percentage | 8.77% | 4.75% | 6.91% | 5.86% | 5.12% |
United World Charts
| Week | Rank | Sales |
| --- | --- | --- |
| 34 / 2015 | 11 | 31,000 |
External Links