Due to an influx of spam accounts getting through and joining the site, user registrations have once again been disabled until further notice as we work on a different solution.
Five (Hamasaki Ayumi)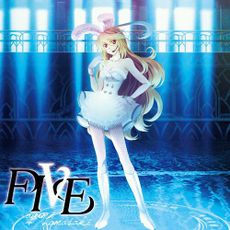 Artist

Mini-Album

FIVE

Released

2011.08.31
2011.11.09 (Blu-ray)

Catalog Number

AVXD-91641 (Blu-ray)
AVCD-38326/B (CD+DVD)
AVCD-38327 (CD-Only)
AVCD-38328 (CD-Only Limited Press)

Price

¥3,150 (Blu-ray)
¥2,940 (CD+DVD)
¥1,890 (CD-Only Editions)
CD Tracklist
DVD / BD Tracklist
Information
FIVE is Hamasaki Ayumi's second mini-album (3rd overall). It was released in three editions : a CD+DVD edition, a CD-Only edition, and a limited CD-Only edition containing an access card to download a character costume for the PS3 game Tales of Xillia. First pressings of the CD+DVD edition included a serial number to access a special website broadcasting the making-of movie of "ayumi hamasaki COUNTDOWN LIVE 2010-2011 A ~do it again~" in streaming. This is Hamasaki first album not to have any singles. The song "progress" was used as the theme song of Tales of Xillia. This is her 18th overall album to debut in #1 position at Oricon charts. FIVE is also her first album to top the Oricon charts for two consecutive weeks since (miss)understood released in 2006. A Blu-ray (BDM) version containing all five tracks, videos clips and as well the making clips was released on November 9th.
The mini album is certified Gold for shipment of 100,000 copies.
The song "progress" was certified Platinum by RIAJ for selling over 250,000 legal downloads on August 2016.
Credits
Click "Expand" for more details: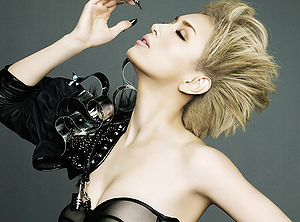 A&R + Director: Hidetomo 'KOME' Yoneda (avex trax)
Mastered by Shigeo Miyamoto at form THE MASTER
Recordist: Koji Morimoto (prime sound studio form), Yuichi Nagayama, David Reitzas, Jaycen Joshua, Steve Churchyard
2nd Engineer: Seiji Itabashi (prime sound studio form), Mike Houge, Ian Findley (Record Plant Recording Studios, LA), Alejandro Barajas (Westlake Recording Studios, LA), Jesús Garnica (Larrabee Sound Studio, LA)
Recorded & Mixed at Record Plant Recording Studios, LA, prime sound studio form, Westlake Recording Studios, LA, Larrabee Sound Studio, LA, Victor Studio, Warner Music Recording Studio, avex studio, avex studio azabu
Composer Management: Tomonori Takeda (Ryuken), Tadayoshi Matsuzaka, Yuki Iwabuchi (tearbridge production), Itaru Niimi (SCOOP MUSIC)
Players, Engineers & Studios Coordination in LA: Mai Takamizawa (Plenty)
Players Coordination: Yoji Sugiyama (Witchcraft)
Studio Setup Assist: Noriko Yajima (prime sound studio form)
Artist Management Chief: Kouji 'Ouji' Hashimoto (avex management inc.)
Artist Management: Tadashi Urakami, Shingo 'Minazo' Sano, Takahiro 'SUGI' Sugiue (avex management inc.)
Artist Management Supervisor: Yasuto Hoyamatsu (avex management inc.)
Artist Brand Management: Hideki 'Jackie' Endo (avex management inc.)
Visual Producer: Kiyoshi 'Mizumo' Utsumi (avex group)
Production Coordination: trk.2: Shinsuke Kubo, Takayuki Kurihara (avex management inc.), Yoshihisa Tokuda, Kazuki Kumagai (prime direction), Takuji Koga, Junichiro Kawata (avex entertainment inc.)
Production Coordination: trk.3: Yoshimi Watanabe, Toshio Fujiwara, Kasumi Aosaki, Yoshiyuki Takino (avex entertainment inc.), Ying Ye (MGA)
Media Promotion: Shigenobu Hoshino & All Promotion Division Media Room & Publicity Room Staff (avex entertainment inc.)
Sales Promotion: Norio Udaka, Takashi Saigo & All AMI Staff (avex marketing inc.)
Tie-up Coordination: Kenichiro Kimura, Masatomo Takagi, Kenta Kobayashi, Hidenori Nishijima, Shohei Taniishi, Kensuke Fujihara & All Tie-up Room Staff (avex entertainment inc.)
Casting Coordination: All Casting Room Staff (avex management inc.)
Merchandising Director: Naomi Mayuzumi (avex marketing inc.)
Team Ayu Operation: Yosuke Hojo (avex marketing inc.)
Web Designer: Yukiko Ito, Daisuke Kikuchi (avex marketing inc.)
A&R Desk: Hanako Kimura (avex trax)
Management Desk: Kyoko Yoshioka (avex management inc.)
A&R Assistant: Jiro Nakagiri (avex trax)
A&R Chief: Kentaro Furusawa (avex trax)
A&R Supervisor: Tetsuya Saito, Masatoshi Uchida (avex entertainment inc.)
A&R Executive Supervisor: Yoshihiro Seki (avex entertainment inc.)
Executive Supervisor: Hiroshi Inagaki (avex entertainment inc.)
General Producers: Shinji Hayashi, Shigekazu Takeuchi, Ryuhei Chiba (avex group)
<Video Clip & Making Clip>
progress Directed by Masashi Muto
ANother song feat. URATA NAOYA Directed by Masashi Muto
Why... feat. JUNO Directed by Masashi Muto
beloved Directed by Leslie Kee
BRILLANTE Directed by Leslie Kee
Making Clips Directed by Keisuke Onodera
Photographer: Leslie Kee (super-sonic)
Assistant Photographer: Ryan Chan, Alex Onizawa
Art Direction & Design: Takuma Noriage (brg), Ayumi Hamasaki
A Stylist: Kei 'Okei' Ito (ab fab
A Costume Designer: Daichi Miura (DOSQA), Hirosumi Saito
A Costume Designer Assistant: Naho Murata
A Hair: Jun Yoshida (ISM), Yoshiyuki Sukegawa (Allure)
A Assistant Hair: Mika Momose (ISM)
A Make Up: Jin 'Gori' Kiyota (Rond.)
A Assistant Make Up: Tomonori 'Kanie' Nagai
A Nail Artist: Shingo 'Minazo' Sano
A Trainer: So 'kurisuteru' Nagashima (tune:up)
Location Support: Stanly Izumi Kim (s.i.k.e)
Costume Support: DOSQA
Creative Coordination: Naoki Ueda (avex marketing inc.)
Quality Control: Yoichi Arai, Masaya Ishida, Hiroki Ishikawa (avex marketing inc.)
DVD Authoring & Menu Design: Yohei Sato, Akihito Horikoshi (avex marketing inc.)
A Special Thanks to All nt family, All my friends...and YOU♥
Oricon Chart Positions
| Mon | Tue | Wed | Thu | Fri | Sat | Sun | Week Rank | Sales |
| --- | --- | --- | --- | --- | --- | --- | --- | --- |
| - | 1 | 1 | 1 | 1 | 1 | 1 | 1 | 127,024 |
| 1 | 4 | 2 | 2 | 2 | 1 | 2 | 1 | 30,264 |
| 1 | 2 | 2 | 2 | 1 | 2 | 4 | 2 | 22,548 |
| 3 | 16 | 11 | 10 | 10 | 7 | 14 | 11 | 9,715 |
| 6 | 21 | 12 | 11 | 8 | 9 | 15 | 13 | 6,701 |
| 6 | - | 28 | 24 | 24 | 19 | 23 | 27 | 3,959 |
| 19 | - | - | 24 | 30 | - | - | 38 | 2,663 |
| 29 | - | 20 | - | 30 | - | - | 41 | 2,135 |
| - | - | - | - | - | - | - | 89 | 1,378 |
| - | - | - | - | - | - | - | 63 | 1,352 |
| - | - | - | - | - | - | - | 128 | 722 |
| - | - | - | - | - | - | - | 143 | 640 |
| - | - | - | - | - | - | - | 212 | 565 |
| - | - | - | - | - | - | - | 233 | 483 |
| - | - | - | - | - | - | - | 254 | 503 |
| - | - | - | - | - | - | - | 237 | 486 |
| - | - | - | - | - | - | - | 254 | 604 |
| - | - | - | - | - | - | - | 203 | 577 |
| - | - | - | - | - | - | - | 149 | 731 |
| - | - | - | - | - | - | - | 219 | 445 |
Total Reported Sales: 213,495
Total Sales in 2011: 210,652 (#30 album of 2011)
Total Sales in 2012: 2,843
Blu-Ray Chart Positions
Total Blu-Ray Reported Sales: 687
Billboard Japan Top Albums Chart Positions
| | Week 1 | Week 2 | Week 3 | Week 4 | Week 5 | Week 6 | Week 7 | Week 8 | Week 9 | Week 10 |
| --- | --- | --- | --- | --- | --- | --- | --- | --- | --- | --- |
| Position | 1 | 1 | 2 | 9 | 9 | 26 | 31 | 35 | 61 | 59 |
World Chart Positions
| | Week 1 | Week 2 | Week 3 |
| --- | --- | --- | --- |
| Position | 5 | 23 | 40 |
G-Music Japanese Chart Positions
| | Week 1 | Week 2 | Week 3 | Week 4 | Week 5 | Week 6 | Week 7 |
| --- | --- | --- | --- | --- | --- | --- | --- |
| Position | 2 | 2 | 3 | 4 | 13 | 12 | 15 |
| Percentage | 17.3% | 7.08% | 3.7% | 1.53% | 0.7% | 1.31% | 0.64% |
External Links