User registrations have now been re-enabled. If you previously had an account and logged in via OpenID, please create a new account. Thank you!
Ayumi Hamasaki Countdown Live 2014-2015 A Cirque de Minuit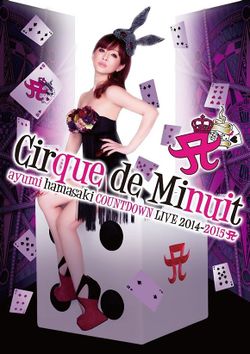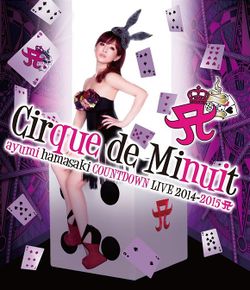 Artist

Video

ayumi hamasaki COUNTDOWN LIVE 2014-2015 A Cirque de Minuit

Released

2015.04.08

Catalog Number

AVBD-92226 (DVD)
AVXD-92227 (Blu-ray)

Price

¥6,380 (DVD)
¥7,480 (Blu-ray)

Tracklist
Tour Information & Schedule
The countdown concert was performed for three days at the Yoyogi National Gymnasium in Tokyo. DJ TORA and miccie made a guest appearance. DJ TORA performed "Movin' on without you", "XOXO" and "Lelio". miccie, a former back-singer of Hamasaki's, performed "End roll" on piano.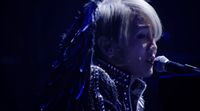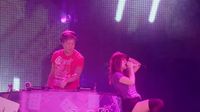 Date
City
Venue
2014.12.29
Tokyo
Yoyogi National Gymnasium, 1st Gymnasium
2014.12.30
2014.12.31
On-stage Performers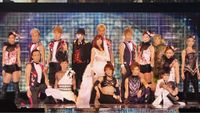 Band Members

Dancers

Aerial Performer

Acrobatics Performer

Special Guest
Credits
Click "Expand" for more details:
Executive Producer

max matsuura (avex group)

Live General Producer

Katsumi Kuroiwa (avex live creative inc.)

Live Producer

Takashi Ogawa (avex live creative inc.)

Director

Hidetomo "KOME" Yoneda (avex trax)

A&R

Jiro Nakagiri (avex trax)

Artist Management

Takahiro "SUGI" Sugiue (avex management inc.)
Seiko Suzuki (A COLLECTION)

Artist Brand Management

Hideki "Jackie" Endo (avex management inc.)

Visual Producer

Kiyoshi "Mizumo" Utsumi (avex group)

Media Production

Tatsuya Ikeda, Yasushi Sakai, All Promotion Room & Publicity Room Staff (avex entertainment inc.)

Sales Promotion

Ayako Murakami (avex music creative inc.)

Web Designer

Shunichi Yakuwa (avex music creative inc.)

TeamAyu Producer

Shinsuke Kubo (avex live creative inc.)

TeamAyu Staff

Yosuke Hojo (avex live creative inc.)
Misako Hamada (avex live creative inc.)

TeamAyu Web Designer

Yukiko Ito (avex live creative inc.)

Merchandising Director

Naomi Mayuzuki (avex management inc.)

Advisory Merchandising Producer

Koichiro Tanaka (avex live creative inc.)

Products Control

Noriko Matsumura (avex group holdings inc.)
Kyoko Shibuya (avex group holdings inc.)
Yukiko Konosu (avex group holdings inc.)

Products Sales Staff

Junichi Nozaki (avex live creative inc.)
Motekazu Nakano (avex live creative inc.)
Shigeki Sumomozawa (TAPIRS)
Chie Negishi (TAPIRS)

A&R Support

Kurato Sekiguchi (avex trax)

A&R Desk

Hanako Kimura (avex trax)

Management Desk

Tamae Sasaki (avex management inc.)

General Supervisor

Shintaro Higuchi (avex music creative inc.)

General Producers

Shinji Hayashi (avex group)
Shigekazu Takeuchi (avex group)
Ryuhei Chiba (avex group)
[PRODUCTION CREW]
Musical Director

Shingo Kobayashi (Quark)

Choreographer

ZIN
LICO
KO

Live Chief Director

Atsuo Inoue (avex live creative inc.)

Production Coordinator

Yukihiko Endo (avex live creative inc.)

Production Desk

Machi Akiya (avex live creative inc.)

Live Ticket Producer

Koji Takuma (avex live creative inc.)

Live Ticket Director

Yuka Takuma (avex live creative inc.)

Live Ticket Coordinator

Ayako Takahashi (avex live creative inc.)
Natsuko Yamauchi (avex live creative inc.)

Live Contents Adviser

Toshiro Hayashi (avex live creative inc.)

Live Contents Producer

Koji Takuma (avex live creative inc.)

Live Contents Direction

Osamu Kameda (avex live creative inc.)

Production Management

Akihiro "chusin" Onozato (Master Work)
Rie "Riechan" Hatabe (Master Work)

Production Dog

INU (wanwan.com)

Band Management

Yumi Kobayashi (B:ZAR)

Dancer Management

Mariko "Takechan" Takezawa

Live Production Cameraman

Yuji "MURATS" Murata (BIG BALL Co.)

Stage Chief Manager

Osama "Kantoku" Nomizo (BE FREE)

Stage Manager

Yosuke "Zan" Inoue (FULL FLAT Co.,Ltd.)
Hidenori "Kyouhei" Tanaka (Tanaka&Co.)
Akio "Bonjin" Watanabe (Comme ci Comme ca)
Keiko "Gau" Kamigaachi (FLAG★★)
Yasushi "Kogachan" Koga
Satomi Tanaka

Stage Set Producer

Tadahiro Sugaya (Shimizu Octo,Inc.)

Stage Set Designer

Kaoru "Baboo" Saisu (Shimizu Octo,Inc.)

Chief Carpenter

Tsuyoshi "Nyanyamaru" Kanamaru (Shimizu Octo,Inc.)

Carpenter

Tomomo "Bagie" Hagiwara (Hommage)
Masayoshi "Tono" Tamura (Universal Art)
Nanako Kumagai (Universal Art)
Tatsuya Aoyama (Shimizu Octo,Inc.)

Pop-up Technician

Hiromi "Kukio" Kukimoto (Curiosity)

Rigger

Tsuyoshi Shibukawa (RIGGER OHYAMA)
Fumito Ito (RIGGER OHYAMA); Illumination
Hitomi Tokue (TELMIC)
Jun Kashiwagi (TELMIC)

Lighting Designer

Takashi Ohama (LIGHTING BIG 1 CO.,LTD.)

Lighting Chief Operator

Mika Tomoda (LIGHTING BIG 1 CO.,LTD.)

Lighting Systems Engineer

Yoshinori Yoshida (LIGHTING BIG 1 CO.,LTD.)

Movinglight Technician

Yuuki Kokubo (LIGHTING BIG 1 CO.,LTD.)

Follow Spot Operator

Fumiko Hosugi (LIGHTING BIG 1 CO.,LTD.)

Sound Coordinator

Ryoichi Hashimoto (HIBINO CO.,LTD.)

F.O.H. Engineer

Koichi Mitsuya (HIBINO CO.,LTD.)
Shintaro Sato (HIBINO CO.,LTD.)

Monitor Engineer

Kenji "Tensai" Murata (HIBINO CO.,LTD.)
Yosuke Toda (HIBINO CO.,LTD.)

System Engineer

Susumu Miyawaki (HIBINO CO.,LTD.)

Stage Crew

Asuka Kanako (HIBINO CO.,LTD.)
Asuka Konishi (HIBINO CO.,LTD.)

Visual & Projection VTR Producer

Kiyoshi "Mizumo" Utsumi (avex music creative inc.)

Projection VTR Production Manager

Masaya Yonemura (avex music creative inc.)

Projection VTR Director

Masashi Muto

Visual Producer & Director

Masaru "Tacky & Ricky" Takigami (M's person)

Visual Director

Yusuke Kondoh (M's person)

Super Assistant Director

Jacky Ichimaru

Switcher

Yoshio Muroy (Dolly-Mu-)

Camera

Munetoshi Watanabe
Ryohei Matake
Yumiko Toyama (Dolly-Mu-)
Momoko Ikeda (Dolly-Mu-)

Video Engineer

Ienori Otomo (Dolly-Mu-)

Camera Assistant

Takafumi Hamano (Dolly-Mu-)

Image-Mesh

Toshimitsu Kaihara (Komaden)
Arata Yamada (Komaden)
Masato Takei (Komaden)
Yuya Kawai (Komaden)
Chisato Ichikura (Komaden)
Yuki Yamamoto

F-18L

Hiroshi Yoshino (HIBINO CO.,LTD.)
Ryo Hayashi (HIBINO CO.,LTD.)
Yuta Torigoe (HIBINO CO.,LTD.)
Hirohiko Sawada
Kiyotaka Omura
Syu Torigoe

CG Planning & Produce Director

Masaru "Tacky & Ricky" Takigami (M's person)

CG Planning & Director

Kirika Ebana (Komaden)

CG Directo

Miho Kanno (Komaden)
Michio Shiro (Komaden)

Special Effect Planner

Takeshi Hagino (HOT SHOT CO.,LTD.)

Special Effect

Yoshikazu "Mutu" Muto (HOT SHOT CO.,LTD.)
Emi Iwashige (HOT SHOT CO.,LTD.)

Aerotech

Kazunori Sato
Mami Yamada
Nami Mochinaga
Hisako Osada
Chie Harima
Emi Hatazawa

Special Props / Flying Designer

Yoshihiko Tanaka (atelier KHAOS)

Flying Operator

Takeyoshi Kokubu (atelier KHAOS)
Kinya Ikeda (atelier KHAOS)
Masayuki Tsukada (atelier KHAOS)
Yoshinao Kitta (atelier KHAOS)

Manipulator

Yoshinori Sasayama (Actyente)

Manipulator Assistant

Tomoko Osawa (Actyente)

Back Line Technician

Shinobu Fukashiro (STRAIGHT)
Masaki Okkuda (STRAIGHT)
Takafumi Aki (STRAIGHT)
Masateru Minami (STRAIGHT)

Show Power

Kazuhiro Nomiya (MITSUHO ELECTRIC CO.,LTD.)

Transporter

Takayuki Ogata (OZ)
Yasuyuki Miyazaki (OZ)
Katsuyoshi Kanzaki (OZ)
Tatsuji Sasida (OZ)
Katsumi Saito (OZ)
Kiyotaka Sakuta (OZ)

Local Promoter

Osamu Motomura (KYODO TOKYO)
A Tour Management

Atsuo Inoue (avex live creative inc.)

A Stylist

Kei "Okei" Ito (abfab)

A Costume Designer

Masataka Kato

A Hair

Yoshiyuke "Sukesan" Sukegawa (Allure)

A Make Up

Ryuji Nozaki (donna)

A Trainer

So Nagashima (tune:up)

A Wardrobe

Miki Okada
Hitomi Yamamoto

A Security

Makoto "Hiroshi" Hirose (IMSP)
Yasushi Imanishi (TEXS)

A Adviser

Takako "Turico" Tsuriya

Band Stylist

Ison Kawada (impannatore)

Cast Stylist

Wakana Saito

Band & Cast Costume Designer

Yasutaka Funakoshi (alice auaa)
Roche
Masataka Kato
Hirosumi Saito
Daichi Miura

Band & Cast Hair & Make Up

Tomoko Naka (ZEN)
Aki Endo (ZEN)
Reiko Okada
Shizue Yoshiura

Chorus Hair & Make Up

Tomonori "Kamle" Nagai (Allure)

Band & Cast Wardrobe

Natsue Kasai (office Natsu)
Kaede Kajino
Yoshino Yamada
Syoko Makino
Saori Segimura
Eriko Tada

Costume Support

TEAM MESSAGE

Thanks to

Orico
[VIDEO CREW]
Director

Chikara Tanaka

Producer

Asako Tsutsumi (avex music creative inc.)
Kiyoshi Utsumi (avex music creative inc.)
Yasufumi Fujii (avex music creative inc.)

Director of Photography

Sadamu Ishihara

Technical Producer

Taizo Akiyama (IMAGE DEVICE)

Technical Director

Eiji Hashimoto (IMAGE DEVICE)

Swither

Takashi Yamaguchi

Script

Eri Matsubara (Gonshiro)

Assistant Director

Hiroyuki Abe (avex music creative inc.)

Camera

Tadashi Aoki
Aya Asanama (IMAGE DEVICE)
Terukumi Ajisaka
Ayumi Iinami (IMAGE DEVICE)
Tatsuya Imamura (IMAGE DEVICE)
Takuro Iwagami
Yoshiaki Ujiie
Hirofumi Edo
Masasaki Ogasawara (Super Bomb)
Hiroaki Ochi
Akira Takamatsu (CAMERA HOUSE)
Kazuhiko Tanaka
Hiroshi Tamura
Chihiro Tobikawa (IMAGE DEVICE)
Yuki Nakamura (Genshiro)
HayachiN
Kenmei Hara
Yutaka Funaki
Shingo Horikawa (IMAGE DEVICE)
Yoshiharu Matsushima (SWIT)
Minoru Morita (IMAGE DEVICE)
Kaori Yagi (IMAGE DEVICE)
Yuki Yabumi (IMAGE DEVICE)
Ippei Yokota (Genshiro)

Camera Assistant

Naoe Shishikura (IMAGE DEVICE)
Tsusanobu Yamamoto (IMAGE DEVICE)
Kazunari Kikuchi (IMAGE DEVICE)
Mami Kitazawa (IMAGE DEVICE)
Moe Ichikawa (IMAGE DEVICE)
Masaru Suzuki (IMAGE DEVICE)

Video Engineer

Kaho Sakamoto (IMAGE DEVICE)
Riho Sato (IMAGE DEVICE)

VTR Operator

Takumi Izumisawa (IMAGE DEVICE)

Audio

Yuki Yoshitani (IMAGE DEVICE)

Grip Equipment Coordinator & Key Grip Operator

Hideo Sato (Grip Associate)

Pedestal

Sadae Fuji (RENT ACT)

Wing Cam

Haruhiko Takahashi (SIS)
Shigeo Tai (SIS)

Live Recording Mixer

Koji Morimoto (prime sound studio form)

Live Recording Manager

Tadashi Fukusawa (TAMCO)

Live Recording Operator

Rina Ohta (TAMCO)

Post Production Supervisor

Shigetoshi Nakamura (L'espace Vision)
Jun "zangus" Uchikawa (Twinkle Land.)

Data Wrangler

Kuniaki Miyake (L'espace Vision)

Offline Coordinator

Eri Sakuragi (L'espace Vision)

Online Editor

Yoshiteru Nomiyama (L'espace Vision)
Junya Akahoshi (Twinkle Land.)
Yasuchika Izunome (Twinkle Land.)
Fumi Iwasaki (Twinkle Land.)

Online Assistant

Hisashi Nemoto (L'espace Vision)
Ryuki Tsuji (Twinkle Land.)
Taku Nakai (Twinkle Land.)
Sakurako Aikawa (Twinkle Land.)
Yuma Kondo (Twinkle Land.)
Nana Saito

Compositor

Tadashi Nakagawa (L'espace Vision)
Tomomi Nakamura (L'espace Vision)
Tsutomu Suga (L'espace Vision)
Kohei Yamauchi (L'espace Vision)

Mix Engineer

Koji Morimoto (prime sound studio form)

2nd Engineer

Atsushi Ota (prime sound studio form)

MA Engineer

Keisuke Nakata (L'espace Vision)
Shouichi Irako (Twinkle Land.)

MA Assistant

Atsushi Mizutani (L'espace Vision)
Yasuaki Nagai (L'espace Vision)

Mastering Engineer

Motohiro Tsuji (form THE MASTER)

Making Director

Yuji Murata

Desk

Fuki Asano (avex music creative inc.)
Tamie Ogasawara (avex music creative inc.)
Yuki Arai (IMAGE DEVICE)
[PACKAGE]
Art Direction & Design

Kosuke Miyanaga (Super Big BOMBER INC.)

Photographer

Yusuke Okada

Creative Coordinator

Naoki Ueda (avex group holdings inc.)

Authoring & Menu Design

Akihiko Horikoshi (avex music creative inc.)

Quality Control

Toshiyasu Takahashi (avex music creative inc.)
Masaya Ishida (avex group holdings inc.)
Sonoko Takemasa (avex group holdings inc.)

Special Thanks to All my family, All my friends ...and YOU♥
Oricon Music DVD Chart Positions
| Mon | Tue | Wed | Thu | Fri | Sat | Sun | Week Rank | Sales |
| --- | --- | --- | --- | --- | --- | --- | --- | --- |
| - | 1 | 1 | 2 | 1 | 1 | 4 | 1 | 6,662 |
| 4 | 12 | 10 | 10 | 9 | 13 | 9 | 11 | 1,149 |
| 10 | - | 19 | - | 17 | - | 14 | 18 | 643 |
| 19 | - | - | 18 | - | - | - | 26 | 422 |
| x | x | x | x | x | x | x | x | x,xxx |
Total Reported Sales: 8,876*
Oricon Blu-ray Chart Positions
| Mon | Tue | Wed | Thu | Fri | Sat | Sun | Week Rank | Sales |
| --- | --- | --- | --- | --- | --- | --- | --- | --- |
| - | 8 | 8 | 10 | - | - | - | 3 | 2,697 |
Total Reported Sales: 2,697*
External Links