New user registrations have been disabled until further notice. If you would like to create an account, please message
Generasia on Facebook
. Thank you!
Difference between revisions of "Koda Kumi"
Line 159:
Line 159:
 

* [2012.01.25] [[Japonesque|JAPONESQUE]]

 

* [2012.01.25] [[Japonesque|JAPONESQUE]]

 

* [2014.02.26] [[Bon Voyage (Koda Kumi)|Bon Voyage]]

 

* [2014.02.26] [[Bon Voyage (Koda Kumi)|Bon Voyage]]

−

* [2015.03.18] [[Walk of My Life (Koda Kumi album)|WALK OF MY LIFE]]

+

* [2015.03.18] [[Walk of My Life|WALK OF MY LIFE]]

 

* [2017.03.08] [[W Face ~Inside~|W FACE ~inside~]]

 

* [2017.03.08] [[W Face ~Inside~|W FACE ~inside~]]

 

* [2017.03.08] [[W Face ~Outside~|W FACE ~outside~]]

 

* [2017.03.08] [[W Face ~Outside~|W FACE ~outside~]]
---
Revision as of 14:58, 17 September 2020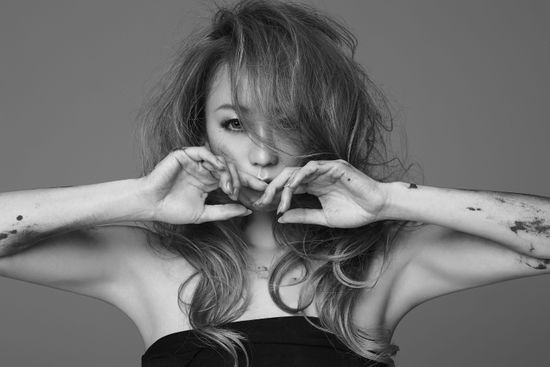 Koda Kumi (倖田來未) is a Japanese pop singer from Kyoto. She made her debut through avex trax's sub-label rhythm zone in late 2000 with the single "TAKE BACK", though it wasn't until 2002 that she released her debut album, affection. Since the release of her first best album BEST ~first things~ in 2005, her popularity has grown considerably. Other factors such as her appearance on the Japanese soundtrack of Final Fantasy X-2, her "ero-kakkoi" image, and her "12 Days of Christmas" wide-scale release of one single every week from December to February (2005-2006) had all contributed to her increase in popularity.
Koda is also the elder sister of Japanese pop-rock singer-songwriter misono.
Profile
Stage Name: Koda Kumi (倖田來未), Koda (US)
Birth Name: Kouda Kumiko (神田來未子)
Nickname: Kuu-chan, Kuu-tan
Birthdate: November 13, 1982
Birthplace: Kyoto, Kyoto, Japan
Blood Type: A
Height: 154 cm / 5'0"
Favorite Artists: Christina Aguilera & Ja Rule
Favorite Music: Rock, R&B
People She Respects: Her parents
Groups:
Biography
Early Life - Debut
Koda Kumi was the first girl born into her family. Since her mother was a lounge singer, Koda looked up to her and had dreamed of becoming a singer since elementary school.
When she was in her teens, Koda went through a number of auditions where she sang a songs such as JUDY AND MARY's "Hello! Orange Sunshine". She even auditioned alongside Goto Maki for the 3rd generation of Morning Musume when she was seventeen. In 1999 Kumi participated in "avex dream 2000", a singing competition in which hopefuls audition for a chance to become part of avex's next popular idol group of the new millenium. Kumi performed Alone by Okamoto Mayo. After placing second in the contest, she was signed onto the rhythm zone sub-label of avex trax. It is unclear whether or not she made it into Morning Musume when she auditioned, and if she turned it down due to the fact that she signed a contract with avex trax.
In December 2000, Koda's debut single, "TAKE BACK", was released. The single only reached #59 on the Oricon charts. Following her debut and partly as a result of poor promotion by avex, Koda ended up releasing a string of unsuccessful singles. Six months later, Koda released "Trust Your Love" which managed to crack the top twenty on the Oricon charts. She then released an English version of "TAKE BACK" in the United States which reached #18 on the US Billboard Hot Dance Music charts.
Having worked very hard on writing the lyrics to these tracks and having them not sell well, Koda became depressed. She began overeating to comfort herself. Later, when asked why Kumi was so poorly promoted, Matsuura Max replied that she was overweight and that promoting her with her current image would not help. Koda then started working on her image, keeping a strict diet and committing to a vigorous exercise routine. She has also mentioned that moral support from her then boyfriend helped motivate her to stick with the routine.
Near the end of 2001, Koda joined Komuro Tetsuya's charity drive, song nation. The song project, featuirng other popular avex artists such as Hamasaki Ayumi and Amuro Namie, came together to help raise money for victims of the attack on the World Trade Center on September 11, 2001. Koda collaborated with avex label-mate BoA on the single, "the meaning of peace".
In March of 2002, Koda released the single "So Into You". The single only peaked at #50, but was the lead single on her debut album, affection. affection reached #12 on the Oricon charts (a higher position than any reached by her previous single releases) and eventually sold around 100,000 copies.
Initial Success
Koda's next couple of releases were met with mediocre sales. The singles "love across the ocean" and "m・a・z・e" only peaked at #19 and #25 respectively on the Oricon chart, and failed to sell over 30,000 copies. During this time, she also released another single in the US, "Trust Your Love". The single did well reaching #19 on the Billboard Hot 100 Sales Chart, and #1 on the Billboard Hot Dance Music Chart.
It was rumored that Koda's contract would not be renewed and that she would be dropped from the label. Luckily, her big break came with the release of "real Emotion / 1000 no Kotoba". The single contained the two songs featured in the Playstation 2 video game, Final Fantasy X-2. The single reached #3 on the Oricon charts, becoming Koda's first release to enter the top ten and selling 282,734 copies. The single was #24 highest-selling single of 2003.
Within weeks of Real Emotion / 1000 no Kotoba's release, Koda's second album was released. Her sophomore album, grow into one, showed off a change in style, with more of the tracks having urban flavour to them. The album reached #9 on the Oricon charts, selling over double the amount of her debut album's sales.
Ero-Kakkoii Image - Major Success
Koda's next releases, ("COME WITH ME", "Gentle Words", and "Crazy 4 U") all managed to chart within the bottom half of the top twenty on Oricon. Her next album, feel my mind reached #7 on the Oricon, although it ended up selling less than grow into one.
With the release of the "Crazy 4 U" music video, Koda Kumi's image had noticeably changed, changing from teen idol to a more mature image focused on sexual appeal. She and her label avex mutually agreed that it was the best move for her career to develop a sexier image (much like how Sugimoto Aya was marketed in the 1980s). This style is referred to as Ero-Kakkoii, which means Erotic-Cool. In the "Crazy 4 U" music video, Koda is scantly dressed, and dances provactively. This image transition is often compared with Christina Aguilera's change going into her music video for her song "Dirrty". The Ero-Kakkoii image would become Koda's trademark and would rocket her to fame.
Success struck again for Koda with the single, "LOVE & HONEY". The a-side, "CUTIE HONEY" is a cover of 1970's anime opening by Maekawa Yoko. The song was originally found as a first press bonus track on her album, feel my mind. The song had two tie-ins: it was the opening theme song to both the Re:CUTIE HONEY anime OVA and the CUTIE HONEY live action movie (in which Koda made a cameo as the diva that sings to Sister Jill). The single did extremely well, reaching #4 on the Oricon charts and selling 150,634 copies.
Koda's next single, "Chase" only manged to reached #18 on the charts and is her last single thus far to not chart within the Oricon top ten. Her next two singles, ("Kiseki" and "hands") were both ballads, and both managed to reach #7 on the Oricon charts.
Koda Kumi's fourth album, secret was a major success. It reached #3 on the Oricon charts, sold a total of 522,201 copies, and became the #22 album of 2005. Two months later, she released the single "Hot Stuff", which is a collaboration with rapper KM-MARKIT.
The Best Sessions
In June 2005, Koda released her 16th single, "Butterfly". The single was an instant hit, reaching #2 on the Oricon chart and becoming the #85 single of the year. The song "Butterfly" won her the 47th Japan Record Awards in December, 2005. Koda then released two more singles: "flower" and "Promise / Star".
On September 21st, Koda released the album, BEST ~first things~. The album was a two-disc best-of compilation containing all of her singles up till that point (this is the only album where her previous three singles are found). The album was a massive hit and reached #1 on the Oricon charts. Even though it is a "best-of", the album is often considered Koda's breakthrough album. The album sold 1,207,793 copies in 2005, becoming the #6 album of the year as well as the highest selling album for a female artist in 2005.
Starting in December, Koda began a release project in which she would release twelve singles, one each week for twelve weeks, as a play on the 12 days of Christmas. Each single would feature Koda in outfits from a variety of places from all over the world; specifically, the theme locations were Alaska, Californa, England, Brazil, China, Spain, Africa, India, France, Hawaii, Italy, and finally Japan (in that order).
The first of these twelve singles, "you" was a winter ballad which rose to the top of the charts. The single became Koda's first #1 single. All of the singles managed to chart in the top-ten. The sixth single, "feel" also managed to reach #1 on the Oricon charts.
When the spines of all 12 singles are lined up, an image of Koda is revealed. The same happens when the back covers of the singles are placed next to each other, like a jigsaw puzzle.
In March 2006, Koda released BEST ~second session~, a compilation of all 12 singles of the release project. The album was another hit, reaching #1 on the Oricon charts, selling 1,768,628, and becoming the #2 album of 2006.
By the end of 2006, BEST ~first things~ had nearly sold two million copies, becoming the #17 album of 2006.
Black Cherry
"Koi no Tsubomi" was Koda's first single to be released after the 12 singles project. Released in May 2006, it debuted at #2 with 140,000 copies sold. This gave the single the highest weekly debut sales for female artists in 2006, until Hamasaki Ayumi surpassed it with her single "BLUE BIRD" in June. The title was reclaimed by Koda after her release of "4 hot wave", which debuted at #2 behind KinKi Kids.
Koda's first photobook, MAROC, was also released alongside "4 hot wave". The photos were photographed by famous fashion photographer Leslie Kee in Morocco.
In October, Koda released her 33rd single "Yume no Uta / Futari de...", described as a "two-story ballad single,". Both songs on the single shared the same melody, with different lyrics and arrangements. This is because Koda felt that the melody contained both sad and happy elements.
Koda's next singles were "WON'T BE LONG", a duet with fellow rhythm zone artist EXILE, and "Cherry Girl / Unmei". Both singles were released a week prior to her fifth studio album, Black Cherry. The album include all the a-side songs from her 2006 singles (excluding "Futari de..."). Black Cherry became the first studio album from a female artist to stay at the #1 position for four weeks since Hamasaki Ayumi's album third album, Duty in 2000.
Kingdom
On March 14, 2007, Koda Kumi's third best-of compilation, BEST ~BOUNCE & LOVERS~ (a special release limited to 300,000 copies) was released alongside her first single of 2007, "BUT / Aishou". Album and single both reached #2 on the Oricon charts.
Following the trend she started with the release of "4 hot wave" in 2006, Koda released another four-track summer single, "FREAKY". FREAKY became Koda's fourth #1 single.
She then released ballad single "Ai no Uta" in September, which charted at #2. Her next single, "LAST ANGEL" ( a collaboration with former rhythm zone artist Tohoshinki) features the theme song to the Japanese release of Resident Evil: Extinction.
On the December 21st 2007, Koda Kumi became the seventh Japanese female artist to hold a solo concert at Tokyo Dome. Celebrating the 7th year anniversary since her debut with "TAKE BACK" tickets for the KODA KUMI LIVE TOUR 2007 ~Black Cherry~ SPECIAL FINAL in TOKYO DOME show were priced at ¥7,777.
Koda's sixth studio album, Kingdom, was released on the 30th of January 2008, one week after her first single of 2008, "anytime". The album reached #1 on the Oricon charts and held the #1 position for two weeks, selling over 500,000 copies. The CD+2DVD included footage from her PREMIUM LIMITED LIVE IN HALL IN YOKOHAMA ARENA concert as well as music video's for every single track on the album.
Controversy
On February 1, 2008, Koda Kumi was retelling the story (on the TBS radio show, All Night Nippon) of how her manager recently got married and how she had asked her manager "whether or not they would have children". When her manager replied that they wouldn't for the time being, Koda responded by commenting on how they should have children early because "when women are around 35 years old their amniotic fluid go bad".
The comment was so offensive that many radio shows and newspapers received angry complaints from women around the country. avex trax decided that all promotion of Kingdom was to be canceled. Koda's official website was shut down. Websites featuring her were also closed down by companies that endorsed her, such as Kirin and Kose Vise.
One week later, Koda Kumi appeared in an exclusive interview on Fuji TV's "FNN Super News" to apologize for the offensive remark she made. Even though she tearfully apologized for the harm she caused, reactions to Koda's apology were mostly negative. An informal poll taken after the broadcast through Sankei Sports' website indicated that 81% of the viewers felt the apology was insufficient while only 9% said it was enough.
Post-Controversy
As of April 2008, her endorsements with Kosé and Gillette were reopened. However, she is no longer the spokesperson for Honda, Kirin, and GemCerey.
On March 31, 2008 her KODA KUMI LIVE TOUR 2007 ~Black Cherry~ SPECIAL FINAL in TOKYO DOME DVD was released and reached #1 on the Oricon DVD Charts. Her LIVE TOUR 2008 ~Kingdom~ went on as planned, starting on April 12, 2008, where she again apologized for her controversial remark. The shows on the 15th and 17th of May, 2008 at Yoyogi National First Gymnasium, Tokyo, were filmed for a WOWOW TV broadcast on the 26th of July. LIVE TOUR 2008 ~Kingdom~ was released on DVD on September 24, 2008, becoming her fifth consecutive #1 DVD.
On April 17, 2008, Avex Entertainment announced Koda's 40th single, a "four-elements single," featuring four tracks (much like "FREAKY" and "4 hot wave") called "MOON". It was released on June 11, 2008 and reached #2 on the Oricon Single Charts. Koda followed the release of "MOON" with her 41st single, "TABOO" on October 8, 2008. TABOO reached #1 on the Oricon chart, making it her fifth #1 single. Her 42nd single, "stay with me", was released on December 24th, 2008 and also debuted at #1. It is described as a "winter love ballad" and is featured in the au LISMO CM.
On January 28, 2009, Koda released her seventh studio album, TRICK, which topped the Oricon Charts at #1 for 2 consecutive weeks.
On March 25th, Koda released two albums: Out Works & Collaboration Best and Driving Hit's, the latter is a remix album remixed entirely by HOUSE NATION. On March 31, 2009, Koda released her 43rd single, "It's all Love!" a collaboration with her younger sister, misono. The second song on the single, "Faraway", was a solo ballad by Koda, and was used as a theme song for the movie "Subaru".
On December 13, 2011, Koda announced on her website that she would be marrying BACK-ON's guitarist and vocalist KENJI03 by the end of the month. Three days later, she revealed her pregnancy to her fans at a fanclub mini-concert.[1] On July 17, 2012, Koda gave birth to a baby boy.
Japanese Discography
Studio Albums
Best Albums
Remix Albums
Cover Albums
Live Albums
Singles
Digital Downloads
Split Singles
Music Cards
Vinyls
Promo Releases
Video Releases
Other Video Releases
Compilations / Other
US Discography
Singles
Vinyls
Live
Tours
Concert
[2005.06.11] secret -FIRST CLASS LIMITED LIVE-
[2006.04.10] BEST ~second session~ Release Party
[2007.06.20] LIVE IN HALL
[2008.10.23] KODA KUMI SPECIAL LIVE "Dirty Ballroom" ~one night show~
[2010.12.05] KODA KUMI 10th Anniversary ~FANTASIA~
[2013.12.10] Koda Kumi 2013 Taiwan Live
Concert Series
[2009.10.03] - [2009.10.04] KODA KUMI 2009 TAIWAN LIVE
[2010.07.03] - [2010.07.04] Dream music park
[2010.10.12] - [2010.10.24] ETERNITY ~Love & Songs~ Live at Billboard Tour
[2012.11.07] - [2012.11.27] KODA KUMI Premium Night ~Love & Songs~
[2013.10.27] - [2013.11.28] Let's Party Vol. 2==Filmography==
Filmography
Dramas
[2006] Cherry Girl (as Kumi)
[2006] Busu no Hitomi ni Koi Shiteru (as Kumi)
[2011] Ikemen Desu Ne (You're Beautiful Japanese Remake) (as Herself)
Movies
[2004] Cutie Honey (as Diva)
[2007] Saiyûki (as Fake Sanzo Hoshi)
[2013] Pink Spider (UULA Version) (as Candy)
Publications
Photobooks
[2006.07.27] MAROC
[2006.12.28] Koda Shiki
[2007.02.29] MAROC (Deluxe Edition)
[2010.12.06] BRAZIL
[2011.01.31] Koda Reki
[2011.03.28] BRAZIL (Deluxe Edition)
[2013.02.22] KODA KUMI "PAPARAZZI" Snap Photobook
Books

[2009.10.21] Koda Kumi LIVE TOUR 2009 ~TRICK~ Ura Book (裏)
[2016.10.14] Bibody no Shuukan - Customs of a Beautiful Body (倖田來未流 美ボディの習慣)
Calendars
[2006.10.14] 2007 Calendar
[2007.09.28] 2008 Calendar
[2008.10.25] 2009 Calendar
[2009.10.30] 2010 Calendar
[2010.11.20] 2011 Calendar
[2011.11.05] 2012 Calendar
Band Scores
Magazines
For a list of magazines Koda Kumi has appeared on the cover of or was featured, click here.
Awards
Music Related Awards
[2005] 47th Nihon Record Taishō for Butterfly
[2006] Artist of the Year (Japan Gold Record Grand Prix)
[2006] Pop Album of the Year (Japan Gold Record Grand Prix)
[2006] Music Video of the Year (Japan Gold Record Grand Prix)
[2006] Triple Crown (Japan Gold Record Grand Prix)
[2006] Best Collaboration Video for D.D.D. feat. SOULHEAD (Space Shower Music Video Awards 2006)
[2006] Best Female Video for Butterfly (MTV VMAJ 2006)
[2006] Best Video of the year for Butterfly (MTV VMAJ 2006)
[2006] buzzASIA from Japan for Trust you (MTV VMAJ 2006)
[2006] Grand Prize for Yume no Uta (Best Hit Kayousai 2006)
[2006] Grand Prize for Yume no Uta (39th Japan Usen Grand Prize)
[2006] Best Vocal (48th Nihon Record Taishō)
[2007] Best Female Video for Yume no Uta (MTV VMAJ 2007)
[2007] Best Video of the year for Yume no Uta (MTV VMAJ 2007)
[2007] Grand Prize for Ai no Uta (Best Hit Kayousai 2007)
[2007] Golden awards for Ai no Uta (49th Nihon Record Taishō)
[2008] Best Collaboration Video for LAST ANGEL (MTV VMAJ 2008)
[2011] Hottest Asian Artist (Mnet Asian Music Award 2011)
[2015] Contribution to Entertainment (VMAJ 2015)
Non-Music Related Awards
[2006] Best Jeanist (Woman)
[2006] Nail Queen
[2006] Women of 2006 by Vogue Nippon
[2007] Best Stylish Artist Award (MTV VMAJ 2007)
[2007] Best Jeanist (Woman)
[2007] Nail Queen
[2008] Best Jeanist (Woman)
[2008] Nail Queen
[2009] Best Jeanist (Woman)
[2009] Nail Queen
[2010] Best Jeanist (Woman)
[2010] Nail Queen
[2013] Music Short Excellence Award, Cinematic Award (with director Mika Ninagawa for "Pink Spider")
References
External Links